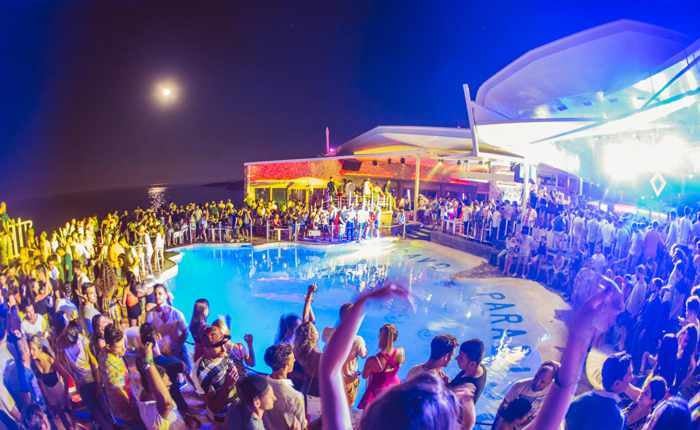 If you're traveling to Mykonos, chances are you're going to do some partying. The island is full of young international travelers from all walks of life, looking to spend a night out. This inflow of worldwide adventure seekers, makes for some awesome entertainment.
Some of the best spots in Mykonos revolve around the hostels there. When I was on the island, I stayed at the Paraga Beach Hostel, a beautiful beach front place. It is right next to Paradise beach, where some of the best beach clubs are.
Though Mykonos can be crowded and is a hot spot for tourists, driving through the island on a ATV is a great way to escape. Drive with caution, as the narrow roads as quite dangerous through the mountains.
Once the sun goes down, it's time to turn up the music and explore what most people come to Mykonos for: the nightlife. The best clubs are in the Paradise beach area and the Chora area. These clubs play a variety of international hits, spanning from American artists like Drake to Spanish classics.
Below are three must visit nightclubs in Mykonos:
This is a massive venue with an overall capacity of 5000 spread over several outdoor terraces. The popping club is set in one of the Mediterranean most glorious locations and has played host to the world's most influential DJ's over the past couple of years.
Here you'll meet people from all over the world. Drinks aren't too expensive are the bartenders pour pretty heavy! The club is open from May through to September.
A rocky crease on the southern part of the island of Mykonos, just a few minutes drive away from the island's main town, provides the ideal setting for Scorpios, a lifestyle commune where restaurant meets boutique hotel and nightclub becomes Zen retreat. Sitting on its own peninsula, hugged by the wild wonder of a protected natural reserve and overlooking Paraga and Kavos lagoons on either side, this is a spot that offers visitors uninterrupted views across the Aegean sea, as far as the mind can travel.
The 6,000-sqm beach property was completed in 2015 and feels just like new. Though this is a higher end spot, if you have the budget to spend a bit more, this is a must see!
Skandinavian Bar is located in the Chora area and has been around since 1978. It is one of the best known meeting points on the island and a place where you can easily meet new friends. They have a variety of fine cocktails and drinks plus a amazing music selection.
The club gets packed when cruise ships are in town, as it is located very close to the access point for these cruises. Drink prices are reasonable, depending on what you order. If you're staying in the main part of Mykonos, this is a must see club!
Though there are dozens of awesome clubs on the island of Mykonos, these are the three that I had the best experience at! Life is short so why not experience it to the fullest!
Calling all HuffPost superfans!
Sign up for membership to become a founding member and help shape HuffPost's next chapter
This post was published on the now-closed HuffPost Contributor platform. Contributors control their own work and posted freely to our site. If you need to flag this entry as abusive,
send us an email
.