Small Business Saturday happened this weekend. I celebrated America's 28 million small businesses at The Greenspot restaurant with Dealstruck, a San Diego lending company. There I met Jade and Jessika, the millennial daughter and gen-x mom co-founders of ristroller.
Over Mediterranean wraps and water, gen-x mom Jessika excitedly shared her startup journey in launching their health and wellness technology: the ristroller. She shared a story of inspiration and entrepreneurship. Her daughter, Jade, went off to Semester as Sea, where she fell in love with yoga foam rollers -- Jade used the rollers to reduce scoliosis-induced pain. Her mom, Jessika, was inspired to reduce her wrist pain with a small foam roller, but when Jessika went to find such a roller, she discovered no such thing existed. So, last year, Jessika decided to create the ristroller -- a small foam roller!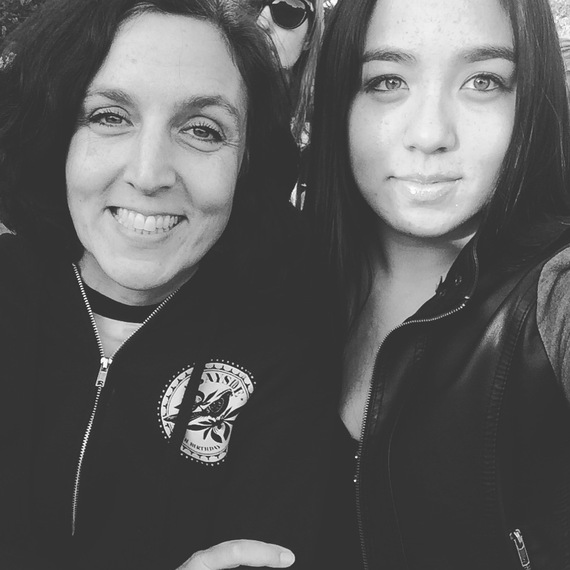 Millennial daughter Jade jumped in the conversation, excited to explain why the ristroller is the best thing to happen since sliced bread. First she elaborated on how the regular-sized foam rollers had helped her adjust her scoliosis-shifted back and work out back-knots at Semester at Sea. Jade shared that she loved it but needed a smaller version of the foam roller to work out knots that needed more precise pressure: "The ristroller gets in all the right spots because of its size. Plus, you have total control of how much and where to apply pressure. That's something not even masseuses can get right, in my experience -- mostly because they don't know all the spots that need to get worked out." Her passion radiated.
Besides wanting to try the ristroller after so much talk about it, I wanted to talk about the mother-daughter millennial-gen-x startup combination; I wanted to hear their success musts. From their vantage point they said they loved their cross-generational diverse perspectives. As for the success musts, here's what they shared:
Believe in what you're doing.

For Jade and Jessika, this means believing so much in their startup that they are willing to work, go to school, and run their business at the same time. It also means downsizing to a one-bedroom apartment.

Keep each other accountable.

For Jade and Jessika, this means keeping a to-do list on a whiteboard, dividing labor, and checking-in with each other on a daily basis.

Stay balanced, flexible, and enjoy what you're doing.

For Jade and Jessika, they take their startup seriously but not at the expense of having fun. They listen to their intuition and take breaks from their work when needed to go do something fun and then return when they're ready.
Jade concluded by sharing how she keeps up with the list of musts and how you can too: having a vision. The vision that keeps Jade and Jessika going is a shared dream. Their dream is for ristroller to one day become a platform to give back - much like Toms Shoes.
Why are you doing what you're doing? What's your larger vision? Know it and run with it until you reach success - whatever that means to you.
Popular in the Community