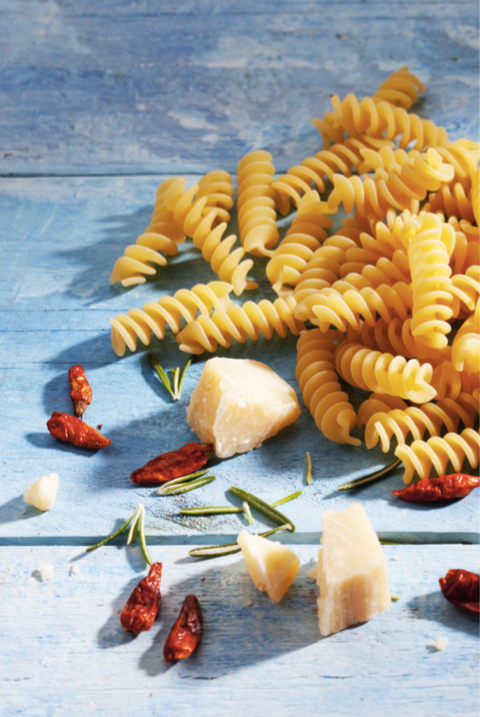 There's nothing more delicious, comforting and welcoming than a good plate of pasta! And nothing cheaper, more nourishing or healthy. Now all we need to gure out is how to make it fast—and good. Here are three recipes that are disarmingly simple but absolutely delicious.
Be sure to cook your pasta al dente—that means it's done but still rm—so you can toss it in a skillet for a couple of minutes to bring out all its avor. And be sure to serve it piping hot, unless it's a pasta salad. My mother has a secret: in addition to bringing the skillet with the hot pasta straight to the table, she also heats the dishes in the oven at about 200 °F and then puts them out a few seconds before serving. The basic rule for cooking pasta is super-easy, but essential: read the package to see how long it needs to cook and then proceed. Fill a tall pot with plenty of water and put it on to boil. When the water comes to a rolling boil, add a small handful of salt. At this point, with the burner still on high, add the pasta and time it according to the package directions. When the time is up, taste it. Does it seem done? Underdone? To see if your pasta is ready, simply bite into a piece and look at the heart. If it's still white, that means it's not done, so wait a few more seconds before draining. Drain the pasta and then toss it with the prepared sauce in the skillet over high heat.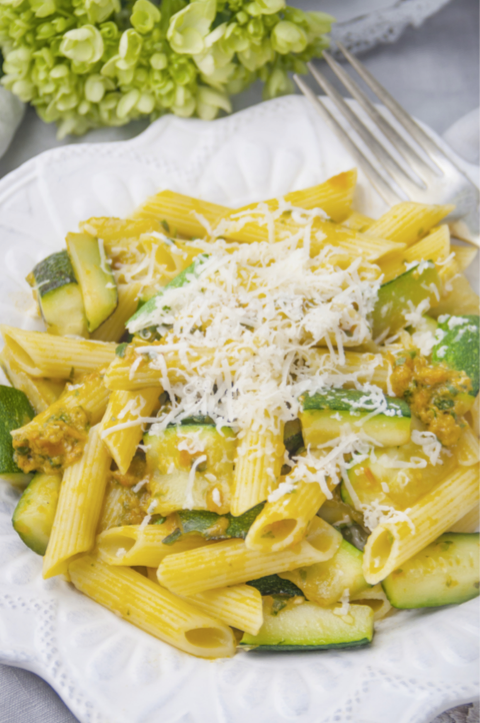 While your water is boiling, prepare the sauce. Here are three ideas: a vegetarian sauce, a rich sauce for a one-course meal, and a vegetarian sauce for cold pasta.
PENNE WITH ZUCCHINI recipe for all seasons (Serves 4)
350 g (12 oz) penne rigate 3–4 medium zucchini

2–3 cloves garlic

a small piece of fresh ginger (optional)

1 lemon (as garnish)

1 cup grated Parmigiano Reggiano cheese

extra virgin olive oil

salt and pepper
Peel the garlic and sauté in 3 tablespoons of extra virgin olive oil with the peeled ginger (no larger than the size of half a walnut). In the meantime, wash and trim the zucchini, and julienne. Add to the skillet and cook covered for 7–10 minutes (if the zucchini are on the small side, even less). Remove the lid and continue cooking on medium to eliminate any excess water. Season with salt and pepper. In the meantime, cook the pasta and drain. Add to the skillet with the zucchini and heat on high for 1 or 2 minutes, stirring to coat. Salt to taste and then garnish with small strips of lemon peel. Sprinkle with plenty of grated cheese. If you prefer a spicy dish, serve with a little chopped fresh chili pepper.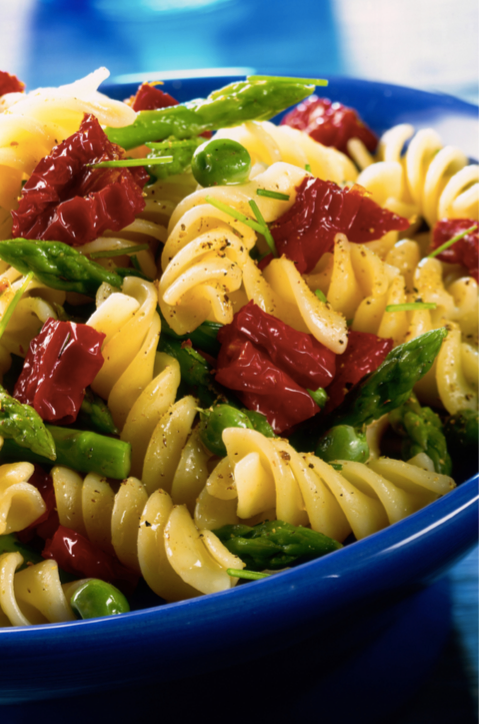 COLD FUSILLI perfect for the summer (Serves 4)
350 g (12 oz) fusilli (medium or large, as desired)

400 g (14 oz) ripe but rm tomatoes

1 medium or 2 small red onions 20 capers in brine (or 30 salt- packed, but rst rinse well and squeeze out the water)

cider vinegar

fresh basil leaves

extra virgin olive oil

salt and pepper
Cook the pasta al dente. Drain it, run it under cold water for a few seconds and then put it in a bowl.
In the meantime, prepare the sauce. Rinse and quarter the tomatoes. Peel the onion and slice thinly. Toss the onions, tomatoes and capers in a large serving bowl with some extra virgin olive oil, salt and pepper, and a few drops of vinegar. Add the pasta and toss well to coat. Serve with plenty of fresh basil. If desired, you can also mash a few anchovies and add them to the sauce.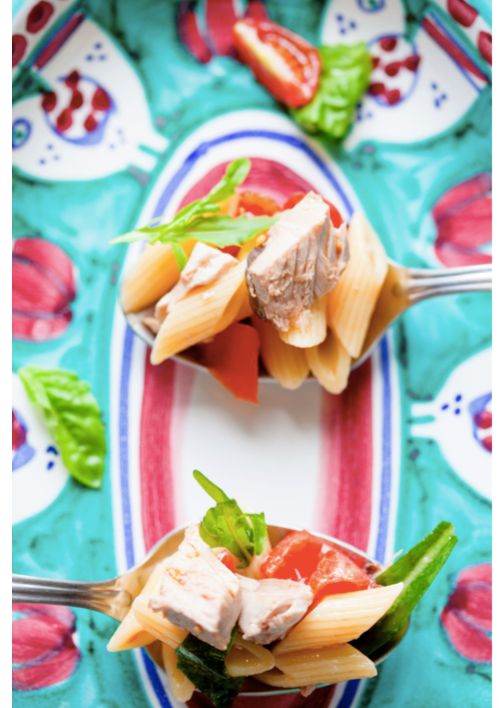 FARFALLE (OR MEZZE MANICHE OR TORTIGLIONI) WITH CANNED TUNA
(Serves 4)
350 g (12 oz) pasta

2 120-g (4 oz) cans of water- or oil-packed tuna

2 scallions or red, yellow or white onions (basically, two onions)

a few capers

a few Taggiasca olives (if you can't nd them, it's no big deal)

1 lemon

salt and pepper

a handful of fresh parsley, mint or marjoram

extra virgin olive oil
Start boiling the water. In the meantime, make the sauce.
In a large skillet, sauté the chopped or sliced onion in a little extra virgin olive oil (3–4 tablespoons) until soft. Drain the tuna and add it to the sautéed onions. Mash the tuna with a fork. Add the capers (if you use salt-packed capers, be sure to rinse them rst) and the Taggiasca olives. Cover for a minutes and simmer. Remove the lid and taste the sauce. Add salt if necessary. Add some freshly ground black pepper and the julienned lemon peel. Drain the pasta (but not too much) and add to the skillet. Cook on high for a few minutes and then bring the skillet to the table so it stays hot. Sprinkle with the coarsely chopped herbs.