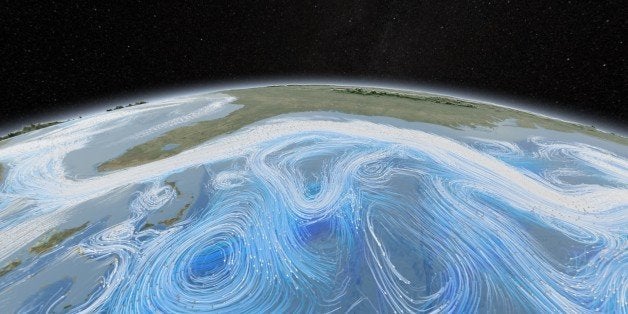 Let's start with the most profound change needed now: By 2024 we will have a price on carbon.
The tense and complex negotiations to get there will require no less than the UN Secretary General, the US president and the Premier of China, bolstered by mounting pressure from the generation who will inherit my generation's failure to act. The agreement reached and the market incentives that follow will expose, at last, the real costs of ignorance and inaction.
With clear price signals in place, markets can begin to do what they do best: allocate capital where it is needed. A thousand smart-energy projects underwritten back in the '90s and early '00s -- led by cities, regions and public-private partners across the planet -- will begin to pay off and reach much greater scale. We will no longer be subsidizing last-century energy sources. These early successes will demonstrate the economic imperative to mothball the biggest emitters and will convince laggards to join the parade. The needed "Clean Trillion" will become reality.
The US, for its part, will be playing catch up with the Chinese, the Germans and the Danes. We will double down on incentives that are already working to further innovation. Jobs will be created to serve new disruptive technologies. It will be too late to curb many impacts of decades of inaction, but disaster will be averted.
Back to 2014. Sound possible? Got hope?
"Confronting Climate Change" is one of the organizing themes for the 2014 Aspen Ideas Fest, the Aspen Institute's annual summer gathering of policy wonks, executives, academics, media notables and a public that is eager for answers. We are not here to wring our hands. It's a celebration of fresh ideas, in pursuit of solutions to real problems.
There is no more important challenge than the need to address climate change, and with my 2024 hat on, it's a relief to say we are now winning the war and will avoid catastrophe.
In 2014 we experienced The Tipping Point that kicked us into high gear.
First, we began to see real political will for change, manifest in students who used both virtual networks and high touch organizing to build urgency. Billionaires like Mike Bloomberg and Tom Steyer joined forces to put some backbone into our political leaders and the Supreme Court recognized the Obama administration's authority to regulate carbon as a pollutant.
Second, the markets started to move. Institutions like BlackRock created funds to facilitate "divest/invest," shoring up hundreds of small endowments, NGOs and religious orders who for years had campaigned in both the US Congress and board rooms against the status quo investment.
Third, in 2014, the price of solar began to compete cost-wise with the cost of energy from non-renewables. Al Gore captured this profound turning point last month in Rolling Stone and on the Ideas Fest main stage in an interview with David Gergen. Given this remarkable shift in the economics, Gore states "the only question is how quickly we can accelerate and complete the transition."
There are going to be winners and losers in this transition.
From my 2024 perch, looking back, the hardest part was neutralizing the naysayers and fear-mongers. That is where moderate business voices come in to the picture. Until 2014, business was largely MIA.
But as the waters rose and the storms increased, the costs of staying silent finally broke through. Hank Paulson, Treasury Secretary under George W. Bush, published an op ed in The New York Times in June 2014 to make the business case clear to his brethren. He was not the first business executive to speak out, but he is the right messenger and is persuasive. Now it's about greenbacks, not green politics.
As I climb down the Aspen mountain and return to the 2014 reality, I contemplate what parts of this story are not fully told. How will Paulson and his peers convert a well-reasoned argument into the political power needed to price carbon and unleash market forces? I say, we need ten CEOs of global companies with the commitment to recruit 100 more, who are ready to align their lobbying heft with our long-term need for policy to support the transition.
Brave souls like Gore and thousands of environmental activists have finally cracked the code. We have the facts, the public will and the economics. Now, where are our business leaders?
REAL LIFE. REAL NEWS. REAL VOICES.
Help us tell more of the stories that matter from voices that too often remain unheard.