Broccoli is a superfood and a powerhouse of nutrition that provides outstanding health benefits. Here are three of them:
1. It helps with body detoxification. Broccoli has three glucosinolates, phytonutrients that has been shown to help nourish the liver, which enhances its function, and aids in the process of removing unwanted contaminants.
2. It has anti-inflammatory properties. This is mainly due due to its rich source of the flavonoid, kaempferol. Research has shown that kaempferol reduces inflammation and lowers the risk of developing chronic diseases.
As you can see, broccoli has a unique combination of anti-oxidant, anti-inflammatory and pro-detoxification components that make it a superfood worth eating.
So how much should you eat? I personally eat and recommend to my clients to eat about 3-5 cups throughout the week. Don't forget! There is no one 'miracle food' that will prevent all diseases but rather the intake of various colors of all fruits and vegetables.
There are so many different ways you can eat broccoli, steam them and add lemon juice with a bit of salt and oil. You can also make soufflés, roast them, throw them in stir fry's, or make soups. Here I have created a warm and hearty soup, perfect for the cold season.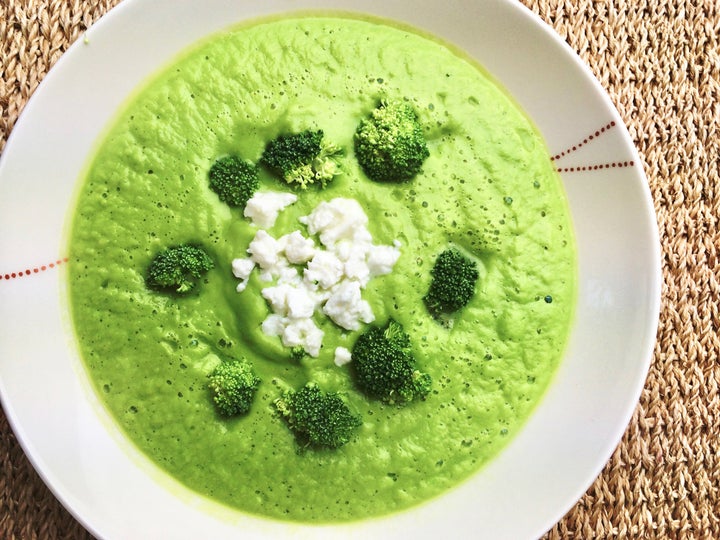 2 heads of broccoli, washed and cut into florets
1 tablespoon garlic, crushed
4 cups of chicken or vegetable broth
Parmesan or feta cheese as garnish [optional]
Steam broccoli until semi-soft, roughly 5 – 10 minutes.
Meanwhile, heat the oil in a large saucepan over medium heat. When the oil is hot, add the onion and garlic. Saute for one minute or until onion is translucent.
Combine steamed broccoli, saute, and broth to blender, hand-held blender, or food processor. Puree until evenly smooth.
Sprinkle Parmesan or feta cheese on top for added flavor and texture. Ready to serve and enjoy!
Manuel Villacorta is an internationally recognized, award-winning registered dietitian/nutritionist with more than 18 years of experience. He is a trusted voice in the health and wellness industry. He is the author of three books, Eating Free (HCI, 2012), Peruvian Power Foods (HCI, 2013) and Whole Body Reboot: The Peruvian Superfoods Diet (HCI, 2015). Manuel is the founder of the Whole Body Reboot App, a weight loss program with emphasis on superfoods. He is one of the leading weight loss and nutrition experts in the country.
Related
Popular in the Community