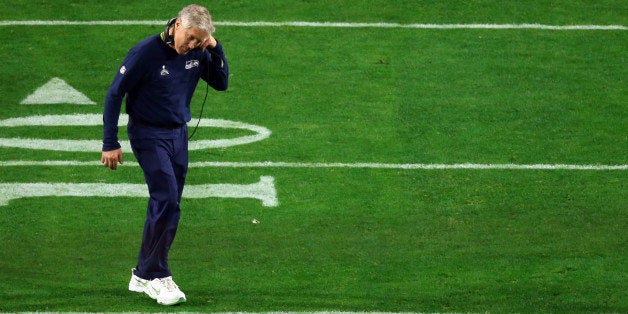 By now, we all know the shocking conclusion to Super Bowl XLIX: The Seattle Seahawks, trailing 28-24 and on New England's 1-yard line, decided to pass the ball instead of giving it to star running back Marshawn Lynch to run it into the end zone. The result was an interception by New England's rookie cornerback Malcolm Butler, giving the Patriot's the Super Bowl title.
Seattle head coach Pete Carroll came right out taking the blame and said, "There's really nobody to blame but me, and I told them that clearly. And I don't want them to think anything other than that. They busted their tails and did everything they needed to do to put us in position, and unfortunately it didn't work out. A very, very hard lesson. I hate to learn the hard way, but there's no other way to look at it right now."
What happened Sunday night in Arizona should be a learning lesson for everyone. There are three key takeaways:
Emotional decision making
When emotion runs high, logic is low. This can have devastating consequences on even the best world-class performers. It's a death trap if you're not careful because when you're caught drunk with emotion, you're not thinking clearly.
Pete Carroll is a great football coach, but he crossed the line into emotional thinking. When this happens, the performer feels invincible. Carroll should have compartmentalized his emotions by focusing exclusively on the problem in front of him. Had he been thinking through logic, he would have made the right call -- the call with the greatest statistical probability. The key is to keep a clear, unemotional mind when facing any problem, whether you're a NFL head coach or anyone else.
As Ralph Waldo Emerson said, "Nothing external to you has any power over you."
The Merriam-Webster dictionary defines "arrogance" as an insulting way of thinking or behaving that comes from believing that you are better, smarter, or more important than other people. There's a fine line between being confident or self-assured and arrogance.
In the final play of the Super Bowl Sunday night, Pete Carroll exhibited arrogance. The final call he made was done so from ego, in which pride and self-righteousness are the objectives of the game. Sure, a running play is always open to a fumble, but putting the ball in the air from the 1-yard line with little room to work, is definitely the riskier of the two choices. There's a time and a place for risk taking, but this was a clear overestimation of skills and ability that comes from pure arrogance. Unfortunately, arrogance always overrides judgment, and for the Seahawks the result was detrimental.
As Francois de La Rochefoucauld said, "The true means of being misled is to believe oneself finer than the others."
Underestimating the opponent
Remember when Buster Douglas, a 42-1 underdog, shocked Mike Tyson in 1990 knocking out the undisputed heavyweight champion of the world? Or just last year when Peyton Manning had been voted NFL's MVP for the fifth time and was expected to lead the Denver Broncos over the Seahawks for the Super Bowl win but lost, 43-8? Both are examples of underestimating the opponent.
In Sunday's Super Bowl, Seahawks Head Coach Pete Carroll completely underestimated the New England Patriots. After all, his team just needed to advance the ball only one yard and it seemed that the Vince Lombardi Trophy was coming back to Seattle. But Carroll underestimated the best team in football and its unbelievable defense. Even though it seemed like Seattle would score, did Carroll really think the Patriots were just going to hand them the victory? While Carroll and the Seahawks underestimated their opponent, New England Cornerback Malcolm Butler saw it coming all along.
Never, ever, ever underestimate your opponent. It's when you least expect it that the unthinkable will happen.
Related
Popular in the Community