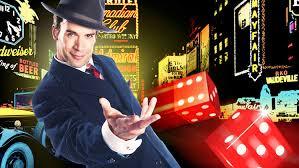 from the Oregon Shakespeare Festival 2015 playbill
"When you see a guy reach for stars in the sky..." I woke up to this song going 'round and 'round in my head this morning. Yesterday, it was, "I love you, a bushel and a peck, a bushel and a peck and a hug around the neck." And the day before, "If I were a bell I'd go ding, dong, ding, dong, ding." All because Gary and I just returned from Ashland, Oregon and a joyous performance of "Guys and Dolls." I had to restrain myself from singing along with the actors. At the end of the show, I sang my way out of the theater. I could have imagined it, but I saw other people dancing. There's nothing complicated about the guys or the dolls or the plot - just one upbeat song after another, strung together with funny one-liners and, of course, the love story. "Love is the thing that has nipped them." The production we saw had the audience clapping and stomping their feet after each song. Here's the link to the trailer.
(#1) You might be wondering why anyone would drive seven hours to see a regional theater perform a 65-year old musical. "Guys and Dolls" is part of this year's Oregon Shakespeare Festival (OSF). We always wanted to go but couldn't leave Ariela. She would have enjoyed the plays but not the long drive. We saw three performances in as many days -- "Guys and Dolls," "Sweat" and "Much Ado About Nothing." Some people see two plays each day, but we are novices at OSF.
(#2) We stayed in a refurbished Italianate Victorian mansion built in 1883, located just a short walk to the theater. The McCall House spoiled us with gourmet breakfasts and yummy gluten-free (thank you) treats. The innkeeper was a fount of knowledge for all things Ashland and beyond. The inn and the town, with its boutiques, bookstores, galleries, and wine tasting rooms, took us to another time and place, or maybe we just stopped time long enough to appreciate the lush Rogue Valley.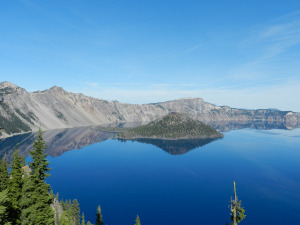 #3) One day, we drove another two hours to Crater Lake. There's a reason Olympic Paints, and Pittsburgh Paints, and even Toyota all named a color "Crater Lake Blue." But their paint boxes are nothing like the glorious hue of the lake, a lake so clear we could see the clouds reflected on the mirrored surface of the water. I took this photo myself with my very simple SLR. No photoshopping. That's the color! The stillness hypnotized us. We spoke in whispers so not to break the spell. "I dreamed last night I got on a boat to heaven..."