Here is an email I received from a financial advisor that recently attended one of my training sessions.
I was in a conversation with a small business owner today and he asked what I do. I fumbled my words and at that moment I realized I needed to change something. My biggest problem is I don't have a target market. The clients I have worked with are lawyers, pharmacists, small business owners, young couples, and pre-retirement individuals. I would like to work with small business owners or pre-retirement individuals/couples but those are not specific enough. I enjoyed working with the pharmacists so maybe that is my target market. I am not sure.
It's so important to have a target market - whom you serve best and therefore wish to serve most!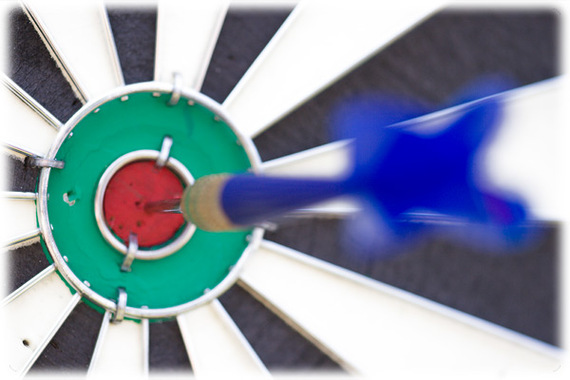 Now, you don't necessarily need a target market. I know plenty of advisors, reps, brokers, agents, and other sales producers that don't have one (or think they have one) and they run good practices.
But having a specific target market, or two, or three (probably no more!) simply makes it easier to have meaningful discussions with prospects and clients - especially if you're new or struggling.
Just to be clear, I don't consider small businesses, pre-retirees, individuals, families, the affluent marketplace, the super duper ultra-high net worth, or corporate executives to be target markets.
The more specific you can be about your target market, the more effective you can be about your marketing. Think about types - as in what type of small business? What industry, profession, market segment, niche, dynamic, demographic, and geography. Run through the same thought process with types of pre-retirees, families, and so on. You might back yourself into a specific marketplace tailor made for your practice!
Here are some benefits to defining your target market:
You'll Know Where to Go
If you can focus on a specific industry or profession, no doubt there's a professional association that hosts regular meetings (usually monthly) that attracts attendees that need to know what you do. These meetings might lend themselves to speaking opportunities where you can present important information that can help people and, ultimately, generate referral business. It happens!
You'll Know What to Say
As in the note above, you don't want to be in a position to "fumble your words". Especially when you're being asked to talk about yourself! The more specific you can be about what you do and who you help, the more gravity you create around having relevant discussions and again, meeting or being introduced to the right people. A format I talk about often to help sales producers know what to say (and also where to go!) is my variation of the elevator speech called The PEEC Statement. PEEC stands for Profession, Expertise, Environments, and Call to Action. Here's a sample that follows that format!
I'm a financial advisor with Knock Out Financial Group focused on helping small businesses with their financial management. My expertise is in the areas of life insurance, investments, and retirement planning. Most of my work is with small doctors' offices and dental practices. I'm always looking to meet or be introduced to office managers in medical practices, as well as pharmaceutical reps that work in the great New York City marketplace. Any advice you might have on how to make connections like these would be great to discuss!
You see how succinct and specific a statement like this is? Feel free to follow this structure and fill in the gaps as it pertains to your practice. Perfect for cocktail parties, networking groups, and for delivering that dreaded one minute "commercial"!
You'll Know Who to Meet
As in the PEEC Statement, you want to talk about specific people you want to meet that's relevant to your target market. Don't simply use this as a sales pitch to set sales appointments with everyone you meet because you will quickly run out of people to talk to. Focus on discussing the types of professions you want to work with, specific company names, and the centers of influence that serve them. If you stay focused about your message, you'll a mile deep into a marketplace rather than a mile wide. And that's great marketing!
Remember to always make your discussions collaborative. When you have conversations at networking meetings and even with clients and prospects (those that told you they want to become your client someday!), ask them about their target market so you can help them decide where to go, what to say, and with whom.
Like a good sparring match, it goes both ways.
Calling all HuffPost superfans!
Sign up for membership to become a founding member and help shape HuffPost's next chapter