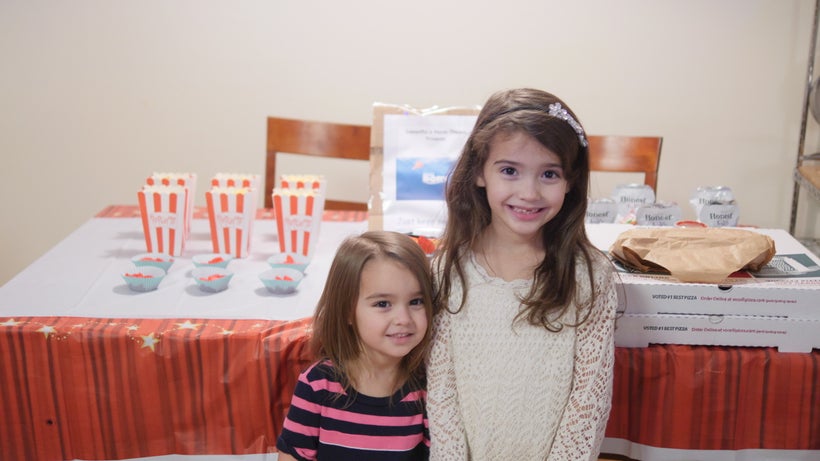 When my daughter asked me if she could host a girls-only movie night with her friends, I decided to go along with the idea. Before I knew it, I was running to the party store and picking up extra treats. Sacrificing time with other adults on a Friday night (oddly) didn't seem like a sacrifice at all. Although we had no special occasion, we celebrated spending time with others. Check out three reasons to host a kids movie night party, even if you have no reason to have a party at all.
1. To Give Your Child Creative Control Of The Party
With a party that happens for no reason, your children can have the ultimate creative control over all major decisions. This is a good way to give children responsibility. I asked my daughter to be in charge of the decorations. Not only did she design a Disney-inspired movie poster, but she also created a cardboard stand for it. The poster read, "Samantha's movie theatre presents," and it became a centerpiece for the table.
She was also excited to have a photo booth. With an instant camera, she became the photographer for the party. I brought out some fun photo props, which were all items we already owned, including a pink fluffy vest, hats, sunglasses, and scarves. As I quietly watched in the background, I realized that this was really a moment for my daughter to shine. She loved sharing her fun accessories, but more than that, getting to show her creative side with others helped her open up more. Each child left at the end of the party with their own instant picture.
2. To Make Strong Friendships
Childhood is so different now. With technology becoming such a major influence in children's lives, it's more important than ever for children to learn how to navigate the how-to's of friendship. You can't learn how to make friends by sitting in front of a device. Even though the movie was the focus of the party, simply having time with friends was the most important part to my daughter.
Free time still matters, even heading into second grade. As the weather gets colder outside, it can be easy to let the playdates taper off until summertime, or to let homework become the bigger priority. Remember, children don't play in school the way they used to, and having some time to get to know one another is incredibly valuable.
3. Bonding Time Changes As Your Child Gets Older
Throwing a movie party gave my daughter and me a chance to bond. From picking out party supplies to eagerly anticipating party guests, we enjoyed planning the event together. As guests arrived and the party began, I realized that she didn't mind that I was there. I saw a smile when I sat down to watch the movie too, and I realized that this might not last much longer.
There might be a day when she asks me to hang out in another room when the party begins. As much as I would like for her to enjoy sharing these special moments with me forever, it might not happen. For now, I can keep cherishing the fun we have.
Theresa Pickett is the owner of Theresa's Reviews, a modern parenting and lifestyle website. Since 2010, she has written for online publications and magazines. Although she has an M.Ed in Elementary Education from Vanderbilt, parenting two children under age 7 has taught her more than any class. You can follow her parenting journey on Instagram, Facebook, Pinterest, Youtube, and Twitter.
REAL LIFE. REAL NEWS. REAL VOICES.
Help us tell more of the stories that matter from voices that too often remain unheard.
This post was published on the now-closed HuffPost Contributor platform. Contributors control their own work and posted freely to our site. If you need to flag this entry as abusive,
send us an email
.