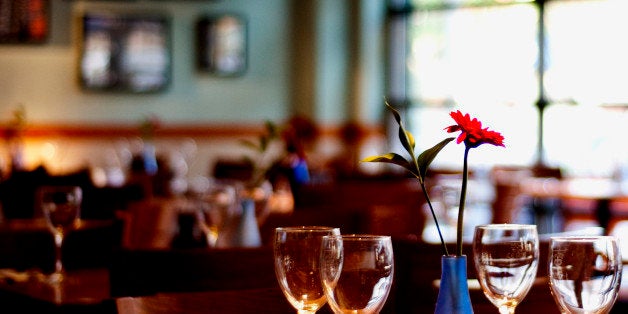 If going out to dinner as a family means fast food, Chuck E. Cheese or any establishment with the word "Hut," "Buffet" or "Corral" in the name, it's time you find a good happy hour. By the age of 5, your kid might be ready. Ask yourself the following:
Could your child's behavior ever be described as a tantrum?
Does your offspring communicate by screaming, hitting or throwing food?
If the answer to either of these is yes, then I'm sorry, but you need to stick with Chuck E. Cheese or hire a babysitter.
If your child understands the concept of behaving appropriately in the adult world...
If they can survive an hour without an electronic device in hand...
If they are capable of maintaining eye contact and conversation...
... then they're ready for happy hour. Of course, I'm not talking about bellying up to a bar with a kid on your hip. Find a restaurant with separate bar and dining areas and a menu that includes discounted food as well as drinks.
Here's why happy hour and children, contrary to what you might think, are actually a perfect fit.
1. Kids Eat Early, Anyway
Happy hour is designed to bring customers in before the evening rush. And it may work in the bar area of a restaurant, but the dining room is likely still empty at 5:30 p.m.. You get to eat in a nice restaurant and have the place to yourself, but still be home in plenty of time for homework, bath and whatever else your evening ritual entails.
2. Cheap Eats
Find a restaurant with a happy hour menu that includes plates from $3 to $7. Getting a few small plates allows your kids to try new foods without breaking the bank. A family of four can dine well and in style for under 50 bucks, and your child can cultivate an appreciation for fare that doesn't include processed meat formed into nuggets, and atmosphere without an indoor playground.
3. At Least One Parent Gets to Drink
If you're driving, limit yourself to one or, even better, none. If you're not driving, take advantage of half price drinks. Happy hour isn't about you making everyone else happy, so enjoy yourself.
Making the transition from happy meals to happy hour is delicious in so many ways. Enjoy the fact that you've moved beyond strollers and diaper bags and introduce your children to the salad fork. You might find that your family makes a fabulous dinner companion.