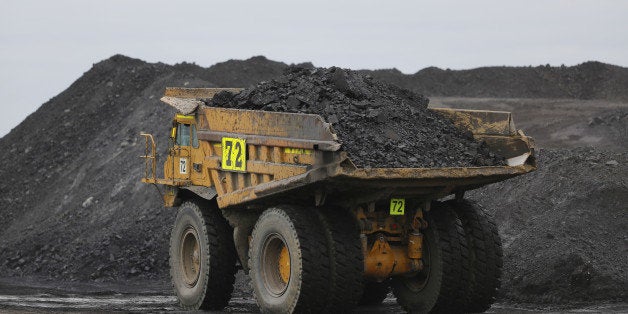 Peabody Energy made big news this week when it announced it had filed bankruptcy in the United States. It follows a who's-who of other major companies that have already done the same, including Arch Coal and Alpha Natural Resources. But Peabody is significant because it is the second largest domestic producer of coal and because even people who do not pay attention to the energy sector are turning in their seats to watch the coal industry train wreck as it happens.
What happened to coal? That depends who you ask, because both the environmental side and the coal side have finely crafted talking points. The environmental side would say that coal was asked to meet basic standards for carbon output and water toxicity and it failed to do so. Coal would say that a coordinated attack coming straight from the White House handcuffed the industry with regulations and then over-subsidized their competitors in the clean energy sector.
Neither narrative is completely accurate. But one thing can be agreed on: Peabody declaring bankruptcy is bad for everyone.
1. It's bad for the environment. The Surface Mining Control and Reclamation Act of 1977 requires coal companies who lease land from the Federal Government to rehabilitate the environment after they have closed their operation. What that means is that entire mountains have to be put back in place, trees have to be planted, and the terrain redesigned to prevent erosion or runoff of toxic water.
That kind of rehabilitation can cost tens of millions of dollars per mining site and the coal companies are supposed to hold money in reserve for doing so. Unfortunately, coal companies burn through that reserve in order to keep their doors open well beyond when they should. By filing bankruptcy, they are able to forfeit financial responsibility for cleaning up the mine sites and leave the government (read: taxpayers) holding the bucket.
2. It's bad for clean energy. Despite filing bankruptcy, Peabody will still continue to operate its open mines. That means that while they are being shielded from their mountains of debt, they will continue flooding the market with coal. A recent study reports that globally almost a trillion dollars is being spent on new coal-fired generating plants and mines. That volume of production, along with the continued production of bankrupt companies, can flood the market and substantially lower the cost of electricity.
Renewable energy sources, like solar and wind, struggle to compete on price, and would be even less competitive when the coal industry price gouges its way to the bottom while hiding behind bankruptcy protections.
3. It's bad for the future of American energy. Why are coal companies filing for bankruptcy and keeping their operations going? What future do they see in the coal industry with all of the pressures working against it? China's demand has dropped; India has invested heavily in solar; and the EPA is not done regulating the energy sector.
It's like the game King of the Hill. It's a last-man-standing showdown between the top coal producers in the U.S. to see who can hang on till the others have to close their doors and sell their assets. When that happens, one or maybe two companies will be positioned to corner the market with less competition, ample resources, and theoretically, no debt.
So coal will live on past the recent spate of bankruptcies, and it may even emerge stronger; more consolidated around a few key power brokers.
If the world stands a chance at making a lasting pivot towards renewable energy sources, the time to make a full court press is now. To think that coal is done for good is naïve. Coal is back on its heels for sure, but no combination of market forces and weak bureaucrats can hold it down for good. The nail in the coffin has to be viable alternatives ramping up to competitive scale and doing so quickly.
Calling all HuffPost superfans!
Sign up for membership to become a founding member and help shape HuffPost's next chapter