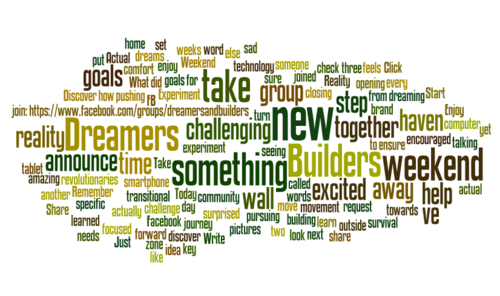 Conversation from the independent Start Experiment site, FrankenSTART.com.
Something awesome happened when bestselling business author Jon Acuff built a private Facebook group for his raving fans, 3,000+ people who'd fallen in love with his book START: Punch Fear in the Face, Escape Average and Do Work That Matters.
This week, he announced that he had to shut the group down -- but his fans quickly launched a new group called Dreamers and Builders, which has been booming with constant Facebook notifications since Monday. Why? Something powerful had resonated with them. They weren't about to let it die.
What Makes An Online Community Awesome?
When Jon Acuff made his Start Experiment Facebook group over the summer, he didn't just create a group to promote himself. He created a thriving online community built on the belief that anyone can start pursuing their dream, from building a business to a blog.
Perhaps you've heard of 'Jon Acuff from the Internet' -- otherwise known as the bestselling author of START who just resigned from the Dave Ramsey team. With his vague resignation, his website and famous Stuff Christians Like blog disappeared, and now, his private Facebook group called the Start Experiment has closed too. Jon didn't exactly announce why, but general speculation is that his employer owned the rights and he didn't.
Why does this matter? Regardless of the technical details of his transition, Jon was really on to something with his Start Experiment Facebook group.
1.) Jon built a giant community of raving fans.
Jon Acuff didn't let just anyone join the group. He invited his followers with a mysterious "Adventurers Wanted" message, asking them to sign up if they dared to do something awesome.
The result? Only Jon's most committed, raving fans, the people who most excited about his message and most prepared to take risks, signed up. And a community of dreamers with bold goals was born -- soon to generate more energy than Jon possibly could have on his own. Fans were quick to make friends and support one another, writing encouraging comments and following each other on social media. Positive energy dominated, and the usual mean Internet spirit of trolls and haters almost never surfaced.
2.) He gave these fans the freedom to own the group.
Jon wasn't obsessed with controlling everything that went on in the group. He emailed daily challenges to inspire members to pursue their goals, but then he let his fans run everything else. He made fans admins and leaders. He gave them the freedom to start their own FrankenSTART independent site about the Start Experiment and to issue their own daily challenges when he paused his emails.
Jon's involvement gave the group legitimacy, but his willingness to release control gave it viral power.
3.) His fans made it explode.
Jon Acuff doesn't define the START brand anymore; his fans determine what it means to be a Starter. They do a great job of promoting his content, including his upcoming #TeamAcuff newsletter -- but even more meaningfully, they promote each other.
Online relationships have grown into real-world supportive friendships. These Starters have met each other in real life, at meetups and at Jon's START conference in September. They've mailed each other encouraging notes. They've offered financial support and they've prayed for each other's struggles. They even created the #STARTjoy Generosity Project and raised $5,000 for five Starters to attend the START conference with airfare and hotel.
The group was never about Jon Acuff. It was about his fans, and all they accomplish once empowered by each other.
What Makes This Community Awesome? Starters Respond.
Rick Theule, @RickTheule of RickTheule.com: "What makes this community awesome is the willingness of virtual strangers to help support and walk alongside other members when they need assistance with a task or a rough patch, or they need to learn something quickly."
Jane Tuttle: "This community has a sense of optimism and generosity that most IRL communities don't. When you need help or an idea, someone comes to offer it to you without expectation of anything in return."
Becky Castle Miller of Wyn magazine: "This community is totally committed to encouraging. No judgment, put-downs, or criticism. Most people can't get that in their real-life communities."
Revka Stearns, @MyAcrylicMonkey of Acrylic Monkey: "I was hesitant about joining the community but quickly found out what an awesome place it is. Warm, welcoming, supportive, LIVELY, and willing to give a [kind] kick in the pants when needed. It's like finding 3,000+ best friends."
Have you ever been part of an online community like this one? What was your experience?
REAL LIFE. REAL NEWS. REAL VOICES.
Help us tell more of the stories that matter from voices that too often remain unheard.