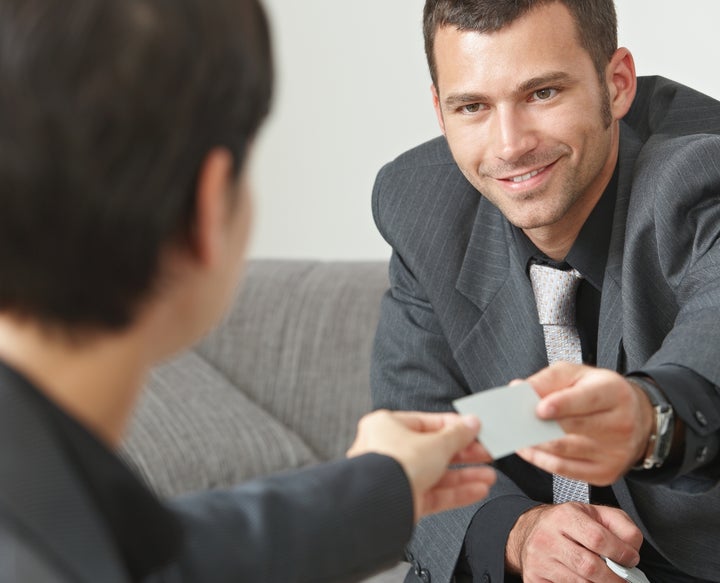 Here is the truth: if your marketing plan is sitting on your office desk collecting dust, your business may have to take anti-depressant pills soon.
Firms that boast about record earnings every quarter usually have a robust and creative marketing plan guiding their every move, and they constantly review it to make sure it meets their current and future needs. The best companies are always thinking about ways to outsmart their competition and do more with less resources. What if you could guarantee marketing success by adding one bullet point to your marketing plan that would yield a return on investment that is 10 times the cost of the product? It's possible: just order professional business cards.
Business cards are often an untapped marketing source for small companies and aspiring entrepreneurs. If you are not making the profits you want, look at the state of your business cards and who has access to them. If you don't have business cards, head on over to a promotional expert design site to choose from one of their professional designs. Trust me, you don't want to add business cards to your marketing plan and expect to yield positive results if your cards look like they were hand made by your 5-year-old niece. Make sure your business cards are top quality; this can enhance the value of your perceived professional brand and give you the profits you need to allow your business to thrive.
Don't miss out on the chance to grow your business by neglecting the power of business cards. Here are three reasons you should upgrade your marketing plan and include business cards.
1. Business cards are a small investment that could help your company reap huge financial benefits.
How much does it cost to purchase a business card? No matter if it's $10 or $100, it's much cheaper than the automated email marketing system that you'd have to pay for if you didn't have business cards, and it also eliminates the constant costs associated with hiring someone to design and update your website.
When you give out your business cards to others, you are giving individuals a piece of information that could lead to a six-figure assignment. The financial calculations work in your favor. You would have to be financially incompetent not to take advantage of business cards ASAP.
2. Business cards are personalized direct marketing tools that can't be replaced by technology.
There is nothing like face-to-face interaction. Seeing someone smile, being able to read their body language, and sharing common interests is something that can't be replaced by technology. Everyone wants to know the best tips for email marketing, but don't forget that business cards can be one of the most powerful tools in your business kit. Why? It's personal.
The digital age has made everyone want to become an expert digital marketer, but nothing seals the deal like exchanging a business card after a great conversation. When you attend a networking event, your business card is the first gift that you give to someone. Who doesn't feel good when they receive free gifts at events? You can guarantee that your company name will enter the mind of the business card recipient as soon as they look at the card. They might even say, "This must be a great company if you work there."
3. Business cards create brand ambassadors, at no additional cost.
Any holder of your business card becomes a brand ambassador for your company. So, if you give your employees, leaders, clients, and new friends (those you meet while taking a Starbucks coffee break) a business card, you will have hundreds of people who can attest to the quality of services that the company offers.
Once information is given to someone, you don't have to wait on snail mail for others to receive it. Information travels fast in the digital age-one mention on social media and thousands of people can access it with the click of a button. You essentially have people spreading the word about your business at no additional cost just because you graced them with a business card. Now, that's business strategy of the 21st century.
Popular in the Community