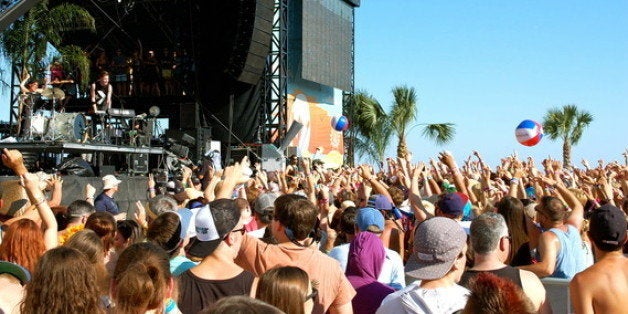 Before you scoff at hearing "pristine white sandy beaches" and Alabama used in the same sentence, just trust me on this one. This past weekend Hangout Music Festival took place in Gulf Shores, Ala., less than an hour away from my hometown of Pensacola, Fla. Although Pensacola may be more widely known for its sandy shores than this nearby beach town situated just over the state line, they give us a run for our money.
This year Hangout Fest exploded with attraction and grew to epic proportions. It ended up being a total sellout at more than 40,000 tickets, making it quite reminiscent of gigantic festivals like Bonnaroo, minus the whole sweating to death in your tent thing. If you're looking for a festival that allows you to bury your toes in sugar-white sand while gawking at the Gulf of Mexico instead of trekking through mud or muck, Hangout Fest just might be the one for you.
While the sun was considerably warm in the heat of the day with zero clouds in sight, it never reached a point of being gruelingly hot. As someone who has blacked out from the heat at Bonnaroo in past years, I find the heat factor to be especially crucial. Since I was attending the festival as a member of the media, rather than rocking a bikini (not that I would have anyway), I elected to wear light clothing each day and did not swelter. By dusk, the gulf breeze made the air cool enough to whip the sweaters out for cameo appearances.
Aside from the fashion trends I'm clearly far too out of touch to begin to understand (i.e. an overload of flower wreath headbands and shirts that are the size of bathing suit tops), here are three key reasons you should go ahead and plan to hangout at Hangout Fest in 2015.
In festival land, Hangout Fest rivals some of the big guns. This year brought in several legendary acts laced with nostalgia, including The Killers and Outkast. The packed roster also included well-known acts such as Conor Oberst, Matt and Kim, Modest Mouse, and Tegan and Sara. And with acts like the Avett Brothers and Jack Johnson in the mix, Hangout does a good job at keeping things diverse so that any music lover is sure to have at least three (if not five or more) must-see acts to totally swoon over. Each year the festival continues to add more and more wow-worthy acts to their lineup. It's with confidence I can say that next year can only be bigger and better.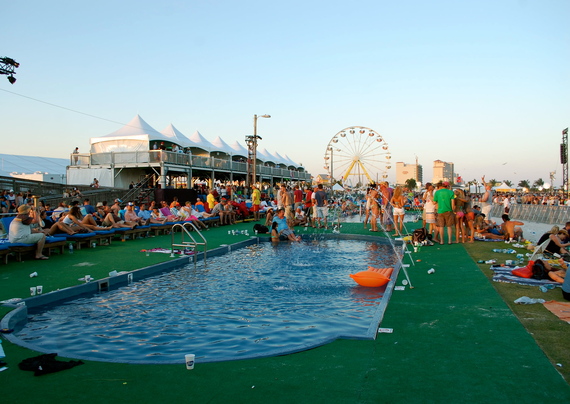 If you have the disposable income to step it up to VIP status, I highly recommend doing so. Media allowed us to have a taste of what the VIP experience is like and personally, once you cross the line and drink the juice, it's hard to imagine going back to the other side. The VIP upgrade gives you a separate viewing area at the two main stages, and grants you VIP pool access. Plus, you get a shaded grove to retreat to, and (drum roll please) free food and drink. Anyone who has purchased food and racked up a beverage bill at a festival, or Disney world for that matter, knows how much of a cost savings this is. For an added splurge, you can go for Super VIP, and land free meals prepared by celebrity chefs, and an elevated viewing area with a hot tub and super VIP bar, on top of all the VIP amenities. Still, the general admission tickets are not something to turn your nose up to. Although you have the intense crowd to battle, you can't quite beat three days of music for just under 200 bucks (assuming you purchase at the early bird price).
3) Picture Perfect Paradise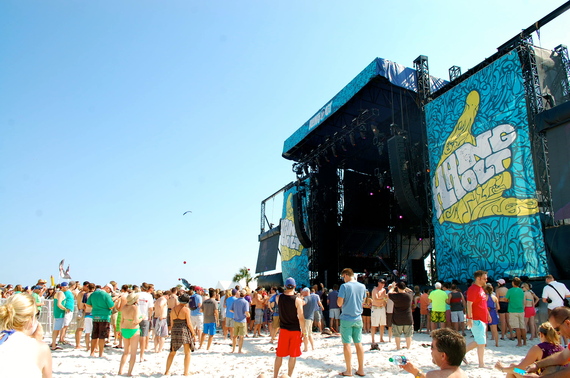 Granted your legs are sure to be sore once the weekend is over from dancing in the sand, there's something inviting about walking along some of the whitest beaches you might ever lay your eyes upon as you bounce from stage to stage. With the two main stages situated directly on the sand, you have plenty of beachside time throughout the weekend. And if you book your travel with intentions of staying a few days before or after the fest, you can have ample relaxed beach time sprinkled in the mix.
Logistically speaking, Hangout Fest's location makes it easy to reach via car if you are located in the Southeast, or you can travel by plane and land at either Mobile, Alabama, or Pensacola's airports. Condos and houses located within walking distance of the festival are available for rent (so long as you book early enough in advance). This means you can kick your feet up and relax at the close of each night, or host an after-hours dance party if you so choose. Either way, you don't have to remain in the elements and sleep in a tent at this festival. But don't worry, if that's your thing, there are nearby camping sights available.
So, what are you waiting for?
Ultimately, who doesn't want to kick off their summer seeing all the music imaginable in a picture perfect paradise?
I hate to use the phrase "You snooze you lose," but if you are a festival fanatic and missed this year's Hangout Fest, you might be snoozing. Even though the weekend just ended, personally, I am already counting the days until I am suited up again, beach bound for Hangout Fest 2015.
Sarah McCartan is a writer, long-distance runner and vegan foodie. For a full Hangout Festival recap and more, visit veganontherun.org.
REAL LIFE. REAL NEWS. REAL VOICES.
Help us tell more of the stories that matter from voices that too often remain unheard.