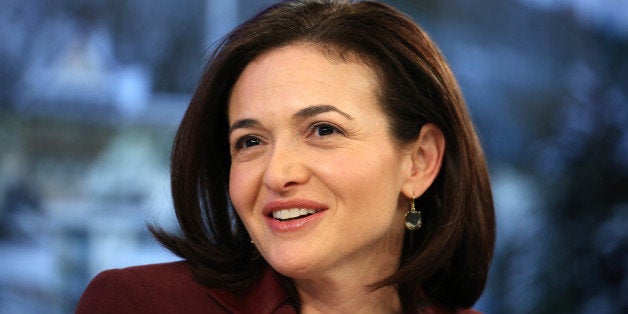 Working for yourself will always be a challenge. You are your own biggest critic, and you hold yourself to very high standards.
Fortunately, you're also your biggest motivator. That's why inspiration is so important: Watching others steer an idea from vision to realization can guide you down your own entrepreneurial path and fuel your passion along the way.
There are many entrepreneurs who inspire me, but I get the most inspiration from other women who persevere in a world that doesn't always welcome their voices or their work.
Here are three women who serve as sources of constant inspiration for me:
Sheryl Sandberg is the chief operating officer of Facebook and bestselling author of Lean In: Women, Work, and the Will to Lead. In 2013, she ranked fifth on Fortune's "The Most Powerful Women in Business" list, and she made the top 10 again last year.
But her career has accelerated in spite of larger workplace trends. In 2010, women still earned 77 cents to every dollar men earned, and according to Catalyst, most leadership positions are still dominated by men.
Gender stereotypes continue to create challenges for women in the workplace, but Sandberg urges women to follow their ambition, anyway.
"We can each define ambition and progress for ourselves," she says. "The goal is to work toward a world where expectations are not set by the stereotypes that hold us back, but by our personal passion, talents, and interests."
Here are a few more lessons from Sandberg:
Don't wait for someone to "fix" things for you. Take initiative and change things. You won't get what you don't ask for!
"Sit at the table." While men tend to overestimate their performance, women tend to underestimate theirs. When you're feeling insecure, remind yourself that you have earned your position. Sit down, raise your hand, and be prepared to surprise yourself.
Don't try to be superwoman. Sandberg urges women to ask for help if they need it and depend on their partners rather than try to "have it all."
As a biotech engineer and medical researcher at MIT, Dr. Bhatia also works as an inventor, entrepreneur, and professor. She recently invented a paper urine test (similar to a pregnancy test) to detect cancer in poor countries where few people are screened for common cancers.Her work to provide underdeveloped countries with cost-effective solutions makes her a true hero.
Here are a few lessons from Dr. Bhatia:
Never stop innovating. Dr. Bhatia is constantly looking for the next groundbreaking discovery in health, which makes her an excellent role model for girls and women.
Support the next generation. Dr. Bhatia is also a strong advocate for women pursuing careers in science, technology, engineering, and mathematics -- fields where women are still underrepresented.
Two years ago, terrorists shot 15-year-old Malala Yousafzai in the head on a Pakistani school bus after she published a piece in response to the Taliban closing girls' schools. But she survived, and two years later, she won the Nobel Prize.
In her acceptance speech, she said, "They thought that the bullets would silence us, but they failed. And out of that silence came thousands of voices."
Now, Malala is furthering girls' education through her work at the Malala Fund.
In Pakistan, where girls are often denied education and married at a young age, this message is clear. But her message is relevant to business leaders, too. It's our responsibility to fight for women's rights in the corporate world.
There are several more lessons to learn from Malala:
Speak up. The more we prioritize leadership and opportunities for women, the better able we are to foster a better environment for future generations.
Educate. Whether it's educating children in schools or women in the workforce, the more we educate ourselves and the people around us, the stronger we are as a group.
Be relentless. As Malala's story proves, there's no setback that determines defeat. We should all be fighting for a stronger, more empowered, and more balanced workforce.
Motivating yourself isn't always easy, but remember that the journey is bigger than you. You aren't just building your future -- you're paving the way for the female entrepreneurs who come after you, too. Just as I look to women like Sheryl Sandberg today, other women will look to you for inspiration and guidance in the future.
Originally from Turkey, Zeynep Ilgaz and her husband co-founded Confirm Biosciences and TestCountry, where Ilgaz serves as president. Confirm Biosciences is committed to being on the cutting edge of offering new, service-oriented drug-testing technologies and was recognized as one of San Diego's Best Places to Work in both 2013 and 2014.
Calling all HuffPost superfans!
Sign up for membership to become a founding member and help shape HuffPost's next chapter