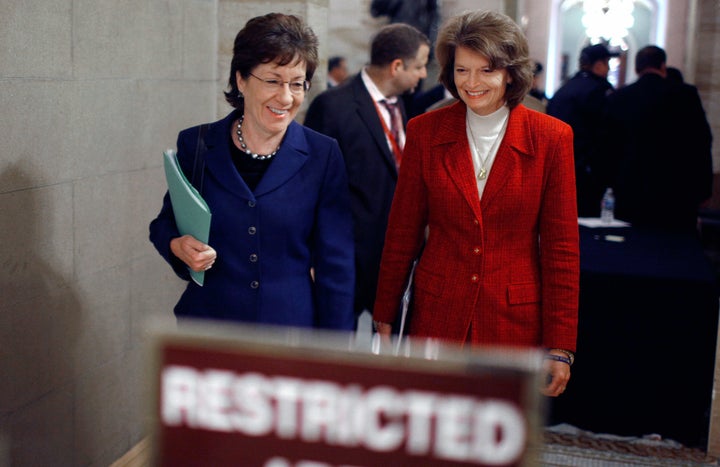 Susan Collins, Lisa Murkowski and Shelley Moore Capito have a few things in common. They are all senators. They are all Republicans. They are all women. And they all near-immediately opposed Mitch McConnell's plan to repeal the Affordable Care Act with a delayed replacement.
After the GOP Senate health care bill was effectively killed from within on Monday night ― Sens. Jerry Moran and Mike Lee from the conservative wing of the Republican Party dealt the bill its final blow ― McConnell, the Senate majority leader, announced he would move forward with legislation that would effectively repeal the Affordable Care Act without replacing it. The repeal of key parts of the ACA would be delayed until two years after the vote, which McConnell told reporters he wanted to hold in the "very near future." (The same legislation was vetoed by former President Barack Obama in 2015.)
By Tuesday afternoon, three Republican senators ― Collins, Capito and Murkowski ― became the first to announce that they would oppose a motion to proceed on a repeal of the ACA without a replacement.
"My position on this issue is driven by its impact on West Virginians," she continued. "With that in mind, I cannot vote to repeal Obamacare without a replacement plan that addresses my concerns and the needs of West Virginians."
"I do not think that it's constructive to repeal a law that is so interwoven within our health care system without having a replacement plan in place," the Maine senator said, recommending that the Senate Health Committee hold hearings to look at ways to fix the ACA.
Following Collins, Murkowski, a senator from Alaska, announced that she would not vote to proceed to repeal the ACA, encouraging the Senate to "take a step back and engage in a bipartisan process to address the failures of the ACA and stabilize the individual markets."
As many pointed out on Twitter, these three senators are all women.
Sometimes, irony is sweet.
Related
Popular in the Community