Strawberries, peaches and rhubarb taste especially heavenly in June when summer is almost upon us. They are gorgeous and abundant at the farmer's market. Summer fruits make the best desserts, and we give you two of our favorite recipes below. In a nod to our childhood, we also offer an incredible recipe for ice cream sandwiches. This ambrosial homemade version is crispy and densely chocolaty.
A chocolate dessert is fine on occasion, but we Pollans have always been enamored with any dessert with fruit inside. So it's not surprising that some form of a crumble appears at just about every one of our family gatherings. One summer we departed from our classic apple crumble and experimented with different fruit combinations, from peach-blueberry, to mango-strawberry, to pear-cranberry. We even tried a piña-colada crumble -- an unlikely mix of banana, pineapple, and coconut -- and like the others, it was delish. And yet, we must admit that the rhubarb-strawberry crumble holds a special place in our hearts -- the fragrance alone captures what we love best about summer.
Rhubarb was used in China for medicinal purposes thousands of years ago, but when a new strain of rhubarb was introduced in England in 1837, it was the beginning of a passionate love affair. The Victorians became obsessed, and very quickly they were using it in everything -- jams, jellies, pies, custards, fools, even savories. Soon rhubarb was as costly as such rare spices as cinnamon and saffron. But by the 1950s rhubarb had fallen out of favor -- it was considered old-fashioned. It's only in the last decade, when chefs have begun using rhubarb in inventive ways -- with braised chicken, as a tangy-sweet topping for fish, or as a spicy BBQ sauce for ribs -- that this wonderfully sour food (deemed a fruit by a New York City court in 1947) has regained its popularity.
Caramelized Peaches à la Mode With Raspberry Sauce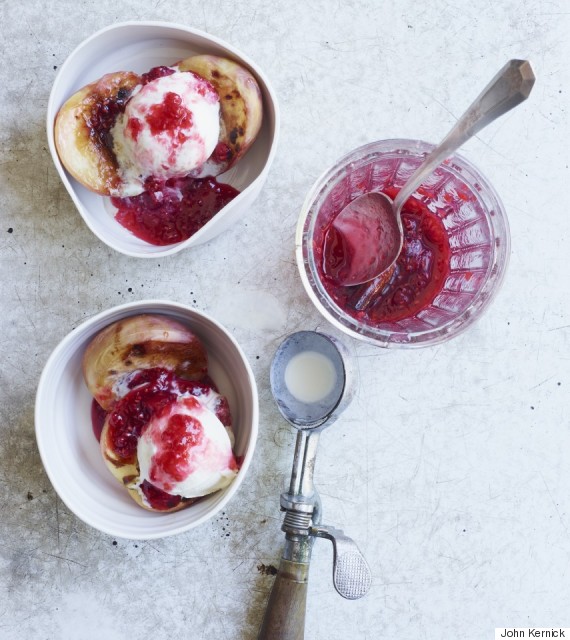 Broiling peaches caramelizes them and intensifies their flavor; adding scoops of ice cream and a drizzle or two of raspberry sauce turns these peaches into an impressive dessert.
1/2 cup granulated sugar
1 cinnamon stick
1 bay leaf
1 tablespoon finely grated fresh ginger 1 cup fresh raspberries
3 tablespoons unsalted butter
3 tablespoons dark brown sugar 4 peaches, halved and pitted
1 tablespoon balsamic vinegar
1 pint vanilla or coffee ice cream
Set racks in the middle and the upper third of the oven and preheat the oven to 400oF. Line a rimmed baking sheet with parchment paper.
In a small saucepan, combine the granulated sugar, cinnamon stick, bay leaf, ginger, raspberries, and 1/4 cup of water. Simmer, stirring occasionally, for 8 minutes, until slightly thickened. Discard the cinnamon stick and the bay leaf, and set aside.
In another small saucepan, melt the butter. Add the brown sugar and stir.
Arrange the peaches cut side up on the baking sheet. With a pastry brush, spread on the butter mixture. Drizzle each half with vinegar. Roast until the peaches are tender, 8 to 10 minutes. Remove the baking sheet from the oven.
Set the oven to broil. Return the baking sheet to the top rack of the oven, and broil until the sugar begins to bubble and caramelize, about 5 minutes.
To serve, arrange two peach halves each in four individual bowls. Top each serving with a scoop of ice cream and drizzle with the raspberry sauce.
Rhubarb and Strawberry Crumble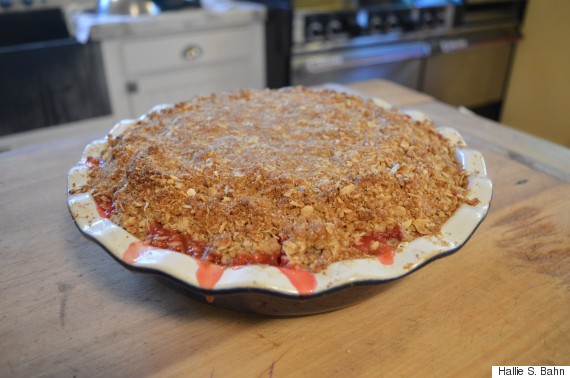 3 cups rhubarb, cut into 3/4 inch pieces
2 1/2 cups strawberries, hulled and quartered
1/2 cup granulated sugar
1 tablespoon freshly squeezed lemon juice
2 teaspoons ground cinnamon
1/4 teaspoon ground nutmeg
1 teaspoon finely grated fresh ginger
3 tablespoons quick-cooking tapioca or all-purpose flour
Kosher salt
1 1/4 cups all- purpose flour
1 1/4 cups old-fashioned rolled oats (not instant)
1 1/4 cups firmly packed dark brown sugar
1 /2 teaspoon ground cinnamon
Kosher salt
10 tablespoons unsalted butter, cut into small cubes
Set a rack in the middle of the oven and preheat the oven to 375° F.
Place the rhubarb and the strawberries in a large mixing bowl. Add the granulated sugar, lemon juice, 2 teaspoons of cinnamon, the nutmeg, ginger, tapioca, and 1/8 teaspoon of salt and gently toss to combine. Spoon the filling into a 9-inch round, 2-inch deep pie dish.
In a medium-size mixing bowl whisk together the flour, rolled oats, brown sugar, 1/2 teaspoon of cinnamon, and 1/8 teaspoon of salt. Add the butter, and working with your fingers, a fork, or pastry blender, combine the mixture until the crumbs are pea sized.
Sprinkle the topping evenly, but thickly, over the fruit filling.
Place the pie dish on a baking sheet or sheet of foil (to catch any spills) on the middle rack of the oven. Bake until the fruit is bubbling and the top is nicely browned, about 1 hour. To insure even baking rotate the baking dish halfway through. If the top begins to get too brown, cover it with a sheet of foil. Serve warm.
Jack's Brownie Cookie Ice Cream Sandwiches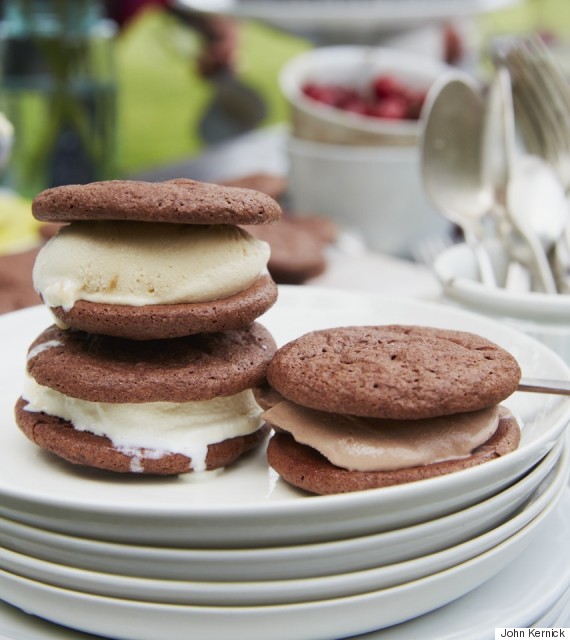 Makes 2 dozen cookies or 12 sandwiches.
"There is nothing like finding homemade treats in your freezer. I love to bake these brownie sandwich cookies because of their versatility and unmatchable deliciousness. Almost anything tastes good sandwiched between these rich, strongly chocolaty cookies -- whipped cream, buttercream, raspberry jam, hazelnut spread -- allowing me to experiment or to stick with the classic ice cream sandwich on hot summer days." - Jack
1/2 cup all-purpose flour
1/4 teaspoon baking powder
2 tablespoons Dutch process cocoa powder
1 1/2 cups good-quality semisweet chocolate chips
4 tablespoons (1⁄2 stick) unsalted butter, at room temperature
1/2 cup granulated sugar
1/4 cup packed light brown sugar
1 1/2 teaspoons pure vanilla extract
2 teaspoons Kahlúa, or 1 teaspoon instant espresso mixed with one teaspoon hot water
2 large eggs
1/4 teaspoon kosher salt
1 1/2 cups vanilla ice cream or vanilla frozen yogurt
In a medium mixing bowl, sift together the flour, baking powder, and cocoa powder. Mix well and set aside.
Melt the chocolate chips in the microwave, 15 seconds at a time, for about 2 minutes total. (You can also use a double boiler or a metal or glass bowl set over simmering water.) Pour the melted chocolate into a large mixing bowl and add the butter, granulated sugar, brown sugar, vanilla, and Kahlúa. Mix well. Allow to cool slightly, 3 to 5 minutes.
In a small mixing bowl, gently whisk the eggs together. Add the eggs and salt to the chocolate mixture and stir until blended. Fold in the dry ingredients, mixing well. Cover and refrigerate until the dough is chilled and firm enough to shape into balls, at least 30 minutes.
Set racks in the upper and lower thirds of the oven and preheat the oven to 350°F. Line two baking sheets with parchment paper.
Form the dough into 1 1/2- to 2-inch balls and place on the baking sheets about 2 inches apart. Press down on each ball with the palm of your hand to form a disk about 1/3 inch thick. Bake until the tops are cracked but the cookies are still soft, 12 to 13 minutes. To ensure even baking, rotate the pans top to bottom and front to back halfway through.
Allow the cookies to cool on the baking sheets for about 5 minutes, then transfer them to a wire cooling rack to finish cooling.
When the cookies are completely cool, spread a small scoop of ice cream onto the bottom of one cookie and top with another cookie, pressing down to make a sandwich. Stack the cookie sandwiches in an airtight container with a sheet of parchment or wax paper between the layers of sandwiches and freeze for at least an hour to allow the sandwiches to firm up before serving. These will last for weeks in the freezer.
Calling all HuffPost superfans!
Sign up for membership to become a founding member and help shape HuffPost's next chapter