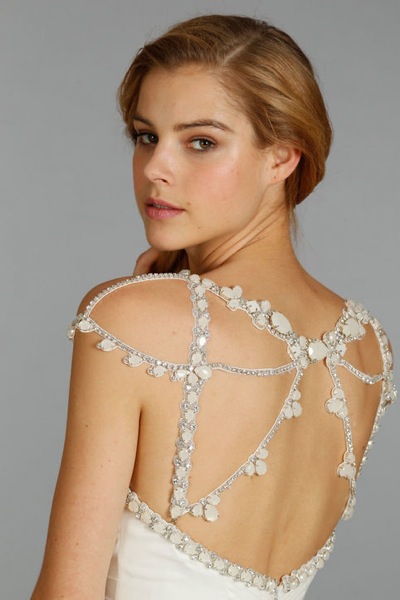 If you feel pretty, you'll look pretty! Dress 6362 from Hayley Paige. Courtesy of Hayley Paige.
It's totally normal to have doubts after you THINK you've found your dream wedding dress -- and (dun dun dun dun) handed over your plastic. What if you hate it when it arrives? What if you find something better?
Nine and half times out of 10, I've found the bride is still thrilled when her dress arrives. But here are three signs you might not be.
1) You're not quite comfortable with the cut. Maybe your mom encouraged you to go strapless, or a salesgirl convinced you that you HAD to have an open back. But any tugging and adjusting you're doing in the shop are going to be multiplied by 100 on your wedding day. If you feel awkward and uncomfortable in your gown, that's exactly how you're going to look walking down the aisle.
2) It has ZERO wiggle room. It's easy to be tempted by a marked-way-down sample or a deeply discounted showroom gown, but if you can't breathe in your dress, you're going to spend hundreds having it fixed -- or seriously suffer on your wedding day. (Good to know: In general, wedding dresses are made with alterations in mind, but samples and showroom dresses don't always have the extra fabric allowances.) When in doubt, size up. And if the fit of a sample-size dress is questionable, don't risk it.
3) It costs three times more than you should have spent. With so many well-priced options out there, it's just not worth it to blow your rent on your wedding dress. I can pretty much guarantee you won't look back on your wedding day and wish, If ONLY I had spent more on my dress. Plus, thinking about your wedding dress should make you feel starry-eyed, not panicked and stressed.
If you've made any of the three goof-ups above, I recommend selling your "Oops!" dress on OnceWed or PreOwnedWeddingDresses, both of which have great reputations in the industry. If you mark it "new with tags," you might not lose money on the sale. And if your dress is a fancy-pants sample, you might even make some cash!
Are you worried about wedding dress buyer's remorse? Did you buy a gown and later regret it?