In an ideal world, we'd all either do every single bit of work that needs to be done to our cars on our own, or we'd all have enough money to never have to lay a finger on it. In reality, though, there are times when you need certain skills, either to save you a boatload of cash on basic maintenance or to get yourself out of a jam. These are five absolutely anyone could and should know how to do themselves.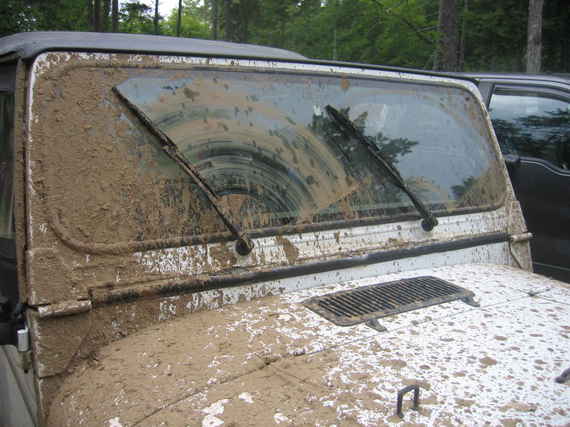 Credit: Flickr/Steve Hamel
1. Change your wiper blades
As a general rule, your wiper blades have a short lifespan. Depending on where you live, they should only last a few a few months. The good news is they only take a few seconds to change out, so paying someone anything more than a debt of gratitude is fiscally silly.
Get the right blades for your car. They differ in size not just from car to car, but from one side of the windshield to the other. Most online retailers will have you enter your car's year and model and will pre-select options that fit, and at brick and mortar stores you can usually look it up yourself, or ask for help.
Lift the wiper arm (the piece connected to the car) and remove the old blade. There are several different mounting methods, but usually all you need to do is turn the blade perpendicular to the arm and push down.
If that doesn't do it, look at the directions that came with the new blade, find the drawing that looks like your setup, and simply reverse the instructions. The whole process should take under a minute for each side.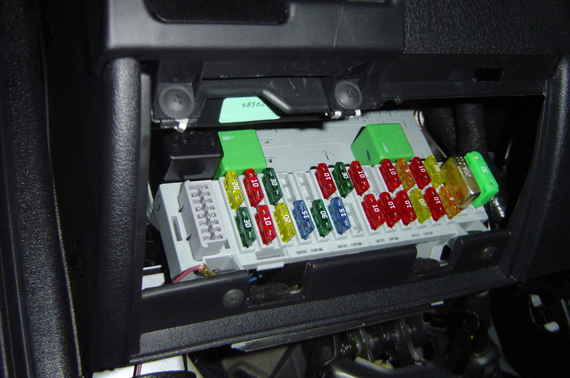 Credit: Flickr/Henrique Pinto
Whenever something electrical suddenly quits working on your car, like your radio, window switches, or both headlights (simultaneously), the fuse panel is always the first place to look.
Grab your manual and find your fuse panel. The manual should tell you which fuse is for the item in question -- don't worry about having to find it, they're all numbered.
Simply pull the fuse straight out with a pair of needle nose pliers and look at it (within many fuse boxes you will also find a small plastic tool just for removing fuses). You'll see a piece of metal running across the middle -- if it's burnt or broken, like a burnt out lightbulb, that's your culprit.
Grab a new fuse that is of the exact same color and that has the same number on top as the fuse that blew, and put it in where the old one went. Problem solved.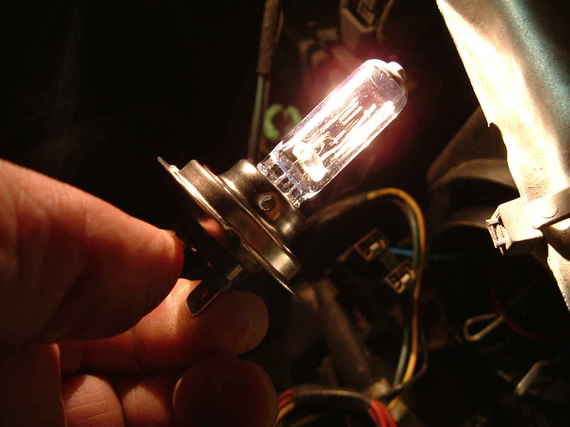 Credit: Flickr/Alan
There are several different types of headlights on newer cars, so the first thing you need to do is figure out which type you've got. If you have Xenon (HID) or LED lights, it's generally a good idea to just go to the shop unless you're comfortable with a job like this, since you can potentially hurt both yourself and the car. But unless your car has a sticker with
under the hood, you've almost definitely got the basic halogen bulbs, and you're good to go:
First things first, make sure the car is off and the headlights are switched off as well.
Figure out what you need to remove to get to the headlight. There will likely be at least one cover in the way, and possibly more, depending on your car. Your manual should cover all of that, so definitely keep it with you.
Once you're at the headlight itself, simply unplug it. You might need to use a flathead screwdriver to help remove the plug, but again, that depends on the car.
Turn the bulb just a little bit counterclockwise, and you should be able to pull it straight out.
Repeat the process in reverse order to install, but whatever you do, don't touch the bulb with your fingers. The oils from your hands do not interact well with the heat of the bulb, and you'll be changing it again before you know it. Then again, practice makes perfect...
More from Supercompressor: