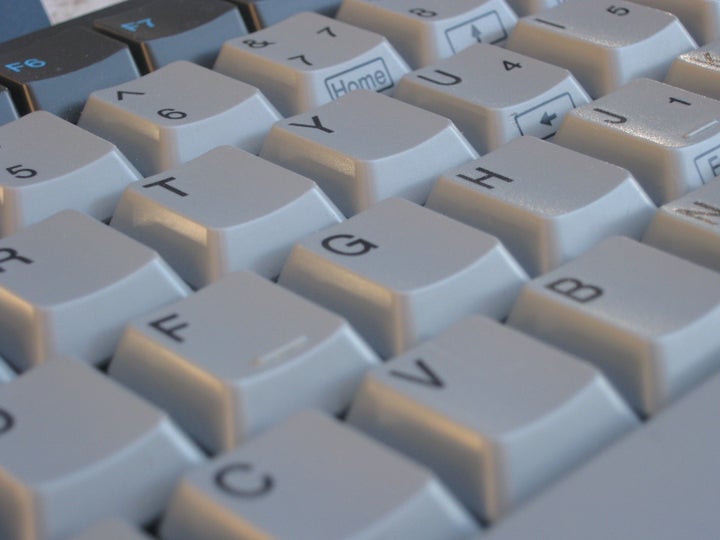 OK, so your business has a beautiful website that people love and trust. Your SEO team has worked hard and your site finally has the growing traffic you've been waiting for. That social media strategy you implemented now has a great following on Facebook, Twitter and Google+, which is further adding to your site's traffic.
Oh, and your newsletter has people signing up, but it costs money, it's hard to come up with topics, you're not sure it's offering value, blah blah blah. Sound familiar?
Well you'd be surprised to know that your newsletter may be offering/could offer more value than you think. In fact, a survey done by Ecommerce Quarterly in the first quarter of this year found that while newsletters do not create the most traffic (search still generally does), email lists on average produce some of the best conversion rates, and even more so, add to cart rates among traffic sources. Check out these numbers.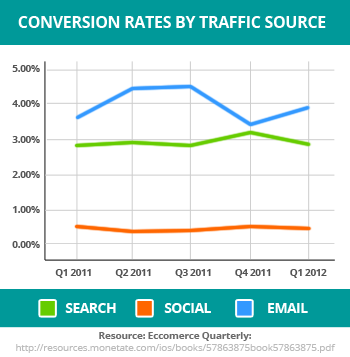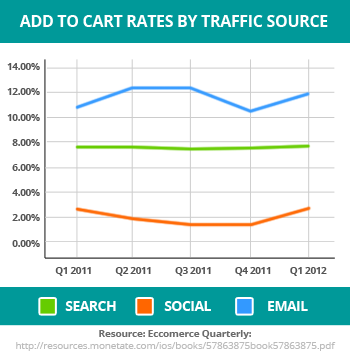 But you're still skeptical. You're not gaining the traffic from the newsletter as you are from search. And you're still saying that the benefits aren't outweighing the cost.
Well, how about considering monetizing your newsletter?
There are many options to this circulating around the web that are generally easy to do and, depending on the size of your list, could bring in some nice capital.
To make your search a little easier though, we've listed three simple ways to make money from your subscriber list. We've laid them out here:
1. Monetize the Real Estate within Your Newsletter
One of the easiest and most profitable methods of monetizing your newsletter is to monetize the real estate within your newsletter. This can be achieved in one of two main ways:
•One, you could work in banner ads/text ads to your own products or services that would hot link to your cart page on your site.
•Two, you could sell the space to advertisers to put their own banner ads/text ads within the real estate space you allow -- payment to you works a lot like pay per click advertising. You can do this through cost per impression or cost per click depending on the service you use.
We've developed an example here of what this form of monetizing your newsletter might look like:

As you can see, the ads that can be displayed within an email can be as harmless as what it would look like on many websites.
Furthermore, there are even companies providing ways to connect advertisers to publishers to make monetizing your newsletter even easier. In fact, the company LiveIntent (an email advertising solution company for both publishers and advertisers) says that after you set up a campaign with them, you'll receive a "LiveTag" to add to your newsletter layout (a simple piece of code to load).
After the code is loaded and you are launched, you "can sell ads into your own tags or easily accept demand from LiveIntent or DSPs hooked into the platform," the company says. Further, they say you can also "create cross-channel campaigns that reach valuable subscribers wherever they are, on any device."
In other words, after you have campaign set up, all you need to do is add a piece of code and you are in the driver's seat of monetizing your newsletter! Fairly simple.2. Work with Affiliates Working with affiliates can also be a pretty fantastic opportunity to monetize your newsletter. It's kind of like advertising through your newsletter, but not exactly. In a nutshell, affiliates will pay you on sales/signups/leads, etc. that you direct to their site. The general process for this within your own email would be to talk about a product/service of the affiliate company and add a link to the product/service that the affiliate company will provide you.
There are multiple ways you can do this within your email. You can have full banner ads that you create, you can have subtle ads, or you can dedicate the whole newsletter to the product/service of the affiliate.
As a caveat to this process though, just as in selling your advertising space expressed above, it is generally very important to make sure that the affiliates you are working with can complement your brand. What we mean by this is, if the brand you are promoting is not relevant, has some troubles in the press, etc., that can translate back to your brand through your promotion. And frankly, your subscribers are generally savvy enough to connect the dots.
With all that said though, monetizing your newsletter through affiliate channels can be pretty fruitful and there are some companies out there making it very easy for you to do. For instance, Commission Junction works with many different companies across a variety of industries who are already interested in working with companies in the affiliate marketing space. They work with companies like Visa, Roku, Canon, Groupon, Etnies, etc. etc. etc. Thus, they're serving as a way to make it easier to connect with a company that you trust, you feel your subscribers will respond to, and that may be relevant to your audience. Furthermore, they even offer the ability to manage the relationship for you.
3. Charge for Subscription
While this option may not work for all companies, it can be a viable option to monetize your newsletters. The basic concept is this: If you are able to offer your subscribers value that would entice them to pay for a subscription while doing so at a positive ROI, it might be worth it to offer a paid subscription.
The key to this whole structure is how much value you are adding to get people to pay. Thus, strategies like baiting through your newsletter (offering a taste of the premium content) might be a good method to gain paid subscribers.
As an example of this, let's say you have a fantasy sports site and are sending out a bi-monthly newsletter to your subscribers. Within this newsletter, you talk about the top 5 players for these two weeks and give a nice full outline of why you should start them, pick them up off of waivers, or trade for them. You could then offer access to see the top 100 players via a paid newsletter subscription that offers exclusive access to some of the best tips, advice, etc.
We know that this list is by far not all inclusive, but thought to open the doors to further discussion. If you have any other thoughts/methods or success/failure stories, please feel free to comment below. Cheers.Lisa Swan writes for marketing sites including LiveIntent.com.
Popular in the Community