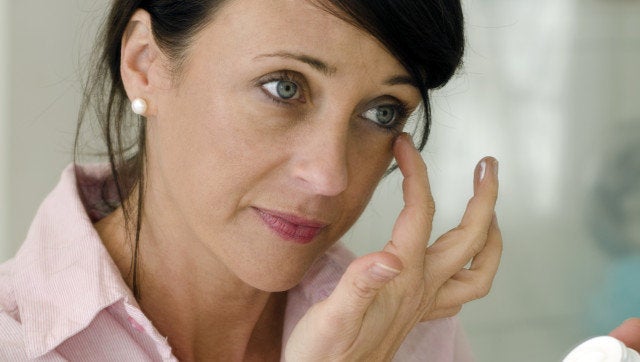 I hate to sound accusatory, but I talk to women every day about beauty, and they all seem to be guilty of the same skincare crimes whether they are self-proclaimed beauty addicts or beauty novices who don't know a BB cream from a tinted moisturizer. These women beg me for my beauty secrets, and I'm not sure if it's because they are expecting me to give them some magical elixir recipe for flawless skin or to send them to some unmarked store in Chinatown to purchase a magical anti-aging potion, but they all look a little disappointed -- and a lot guilty -- when they realize it's as easy as correcting these preventable skincare blunders:
1. You're not wearing enough sunscreen. I am astounded when I hear the excuses from women as to why they're not properly protecting themselves with at least an SPF of 30: "It's cloudy today so I skipped it" or "It makes me look like a ghost" or my favorite, "There's SPF in my moisturizer (or BB Cream) so I'm fine." Newsflash: you're not fine. The National Institutes of Health says you need at least a half of a teaspoon to properly protect your face. If you're relying on the SPF in your moisturizer, think about how much you're using. Is it a half-teaspoon? Doubtful. If you're counting on the SPF in your BB Cream then it's then it's practically guaranteed you're not getting the proper protection. Think about it... if you apply a half-teaspoon of BB Cream to your face you are either going to end up looking like an Oompa Loompa or "Tan Mom.: You want to know the secret to not aging your skin? Use a half-teaspoon of a separate sunscreen with a minimum of SPF 30 for your face everyday. My go-to is COOLA Face 30 Matte Finish Organic Mineral Sunscreen, which acts as a primer as well as a sunscreen.
2. You are applying your skincare in the wrong order. Every morning and night you're just slapping on your skincare products in no particular order, figuring the products will just simply do their jobs. Wrong. If you just applied a thick cream to your face how is the thinner serum going to make its way through that freshly applied barrier, penetrate your skin and be effective? Answer: it's not. Always apply your skincare products from thinnest to thickest. There is one exception to the rule -- if you are using a chemical sunscreen you need to apply it before all other products to ensure its efficacy. If you're using a physical sunscreen (like a mineral SPF) you apply it last so that it acts as a protective veil. (I got that gem of advice from the CEO of First Aid Beauty Lilli Gordon.)
3. You're not using primer on a daily basis. Let's face it, there's a good chance you wouldn't be able to pick primer out of a product lineup. I'll never forget when I pleaded with a makeup-loving friend of mine to wear primer under her makeup and her response was, "Girl, I don't need an extra step." An extra step? Primer is not extra credit! If you wonder why your makeup doesn't last past lunchtime and no matter how much makeup you apply or how much you pay for it, your enlarged pores and fine lines are still visible -- it's because you're not wearing primer! Primer diffuses fine line and large pores and gives your skin a matte, airbrushed look. It also acts as a barrier between your skin and your makeup creating the perfect blank canvas for your makeup, ensuring your makeup last all day. My favorite primer? Tarte Clean Slate Poreless 12-Hr Perfecting Primer -- it instantly mattifies, makes my imperfections look less pronounced, and guarantees my makeup lasts until I'm ready to wash my face. The kicker: it's packed with skin-loving natural fruit- and plant-derived extracts for anti-aging and restorative benefits.
Remember when your mother used to say you're only hurting yourself? That's right. Committing these skincare crimes is just making things worse for your skin. Our poor skin doesn't need a magical elixir or potion; it just needs a little TLC and SPF.
Are you guilty of these skincare sins? Leave your comments below or tweet Janna on Twitter @BeautyBinge. For more skincare tips, product reviews, and beauty-how to's with an attitude, visit Janna's blog at www.mybeautybinge.com and Facebook.