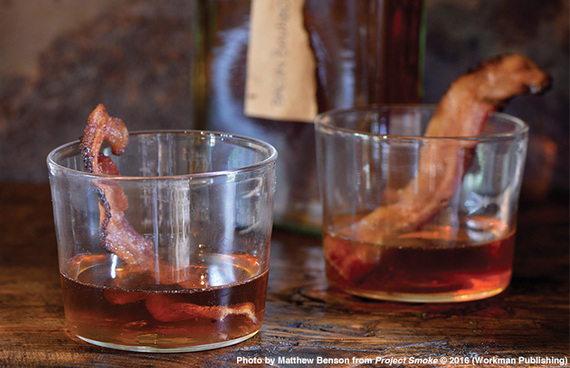 Bumping up against December's "order by" deadlines? Running low on funds? Or just tired of the mall scene? Find respite by using your grill and/or smoker to make homemade gifts for the important people on your list. In the process, you might even recapture some of that old-fashioned holiday spirit.
Here are some worthy projects, most of which not only require very little hands-on time, but that travel well, too. So relax: We've got you covered.
Bacon Bourbon: What happens when bourbon and bacon have a one-night-stand? The best thing to happen to bourbon since the Manhattan. Mix warm smoked bacon fat with bourbon, freeze overnight, and strain into an attractive bottle. (For a complete recipe, click here.) Old Fashioneds, not to mention eggnogs, will never be the same.
Sriracha Beef Jerky: The heat-seekers on your gift list will be looking to hide their stash and avoid sharing once they taste this terrific jerky, blasted with wood smoke and everyone's favorite hot sauce. It ships exceedingly well, too. For another jerky recipe and helpful tips, click here.
Smoked Nuts: Vastly superior to the "smoke-flavored" nuts you buy that have likely never seen the inside of a smoker. Toss 2 cups of your favorite "raw" nuts (unroasted, unsalted) with 1 tablespoon of olive or vegetable oil. Stir in 1 tablespoon of sugar, 1 teaspoon each of sea salt, freshly ground black pepper, and smoked paprika, plus 1/2 teaspoon each of ground cinnamon and cumin. Tip into an aluminum foil pan or mesh grill basket and smoke at 250 degrees until toasted and browned, 40 to 60 minutes, stirring several times. Let cool for 2 hours before packaging. Customize using your own favorite barbecue rub.
SIGN UP for Steven Raichlen's UP IN SMOKE newsletter to learn more about barbecue!
Steven Raichlen is the author of the Barbecue! Bible cookbook series and the host of Project Smoke on public television. His web site is BarbecueBible.com.
Related