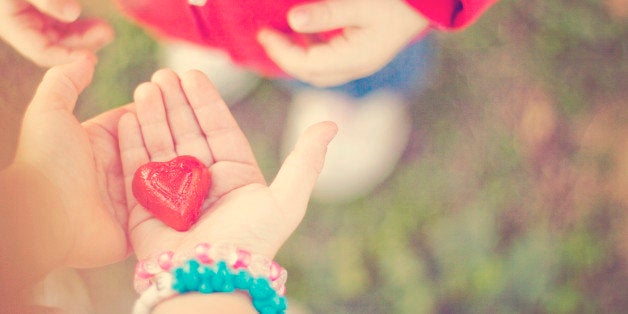 Louise works for the Case Foundation, whose efforts are aimed at revolutionizing philanthropy, unleashing entrepreneurs and igniting civic engagement.
If you were to look under my dining room table on any given evening, you'd see four sets of little feet wiggling around. While my husband and I never dreamt we'd enjoy such a full table, our gratitude for this merry bunch is only matched by our sense of responsibility to do well at this parenting thing. All of us -- mammas, grandpas, honorary aunties -- want the best for our children, but there are myriad pathways to raise a happy and whole child. I'd like to suggest that one approach is to be a "Philanthro-Parent."

We know intuitively that doing good is good for us. Giving back makes us feel better, improves our health and may even help us live longer. Incorporating doing good into our parenting can be equally beneficial to our kids bringing them a different kind of happiness. We know that gratitude may improve our children's school performance. Researchers have also found that encouraging acts of kindness or philanthropic behavior can lift our kids' self-esteem and even improve their friendships.

Being a Philanthro-Parent simply means we encourage these acts of kindness authentically. And we can start with what's already built in to our children's daily lives -- their world, talents and interests.

1. Start with their world
Have a peek at the closet and toy chest together; are there any items ready for their next owner? In our house, when something new comes in, something has to go out and be donated. It's not always easy, but it's sparked great conversations about who might be getting that gently loved toy truck or jacket.
Walk out your front door. Do the people who live around you need any help -- shoveling, bringing in mail? Does your child's school have opportunities to help out? Perhaps their favorite park or playground needs some cleaning up. Come up with plans to give back in the house, neighborhood and any places they spend time.

2. Start with their talents
Have a kid who loves drawing? Their artwork could be a big lift to troops or to a Children's Hospital. Challenge your little chef to whip up their specialty and deliver to your local firehouse or police station. Do you burst with pride watching your daughter zip across the soccer pitch? Suggest running in a 1k or 5k to raise funds for a cause. If your kids pine for an iPad, have them dream up a great video pitch for something important to them, launch on a crowdfunding site like Indiegogo and see what happens. Perhaps your child is a social butterfly; perhaps their next friend is waiting to be made at Special Olympics.

3. Start with their interests
Encourage your bookworm to volunteer at their local library, or invite their friends to donate books. If your budding adventurer can't wait to see the far reaches of the world, maybe it's time to find a pen pal to learn about other communities. Your technophile can brush up on learning code and then turn around and teach a friend old or young. And your local animal shelter might just need your animal lover's capable hands.

We've just scratched the surface of all the ways to engage our amazing kids in doing good, from the time they're toddlers to their teenage years. It's more than likely you may already be doing many of these things and have other ideas about how to be a Philanthro-Parent. Please share your thoughts below in the comments so we can all learn together, and thank you for making our world better one pair of wiggly feet at a time.