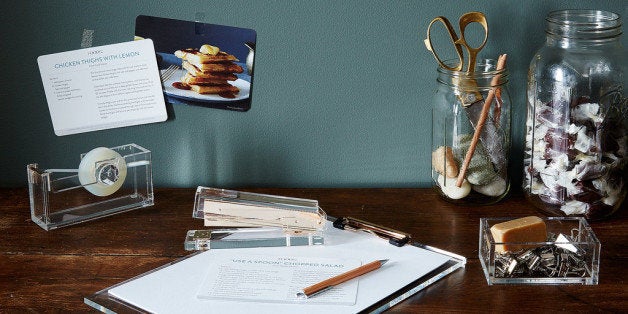 It's always exciting to launch new products, but some we actually get giddy to share. These are the stories of those extra-exceptional pieces.
Today: How to make your desktop a place where things actually get done -- while also being truly comfy-cozy.
Yes, all of it! The first step to workspace zen is to hide your uglies. The sad fact of the matter is that most office supplies, no matter how cute in your hand, are just clutter when heaped in stacks and crammed into a pencil holder. I know: Who doesn't want a pen in every color, or so many stationery sets you could open a store?
Don't cry! This isn't a post about purging. Just tuck them away. Make use of those desk drawers, and if you're without them, consider big woven baskets underfoot where you can toss pencil holders and reams of printer paper. Colored glass jars are good for wrangling loose clips and rubber bands, and you can set them up on a windowsill or shelf within reach.
2. Add back a few useful, attractive accessories.
What should go on your desk? A very few thoughtfully selected tools -- items that actually serve a purpose, and ideally, are delightful to look at. A large, flat writing pad is a great choice for scribblers; just tear away the top piece when it's covered with doodles of your name in block letters. We also approve of keeping a good mug nearby -- not as a graveyard for unused pens but for your coffee! Or an afternoon bourbon. Or a breakfast mimosa! Whatever gets your creative juices flowing.
As for those often-ugly necessities (tape dispensers, staplers, etc.), look for lightweight but durable options. We love this Acrylic Home Office Set from Russell + Hazel, which is so chic it's scary and made of gleaming, translucent acrylic with muted gold hardware. You'll actually want to use its palm-sized stapler, and the matching clipboard is the perfect place to trap loose papers that invariably find your desktop within moments of cleaning it. Check back soon for the other pieces to complete the set: a delightful geometric tape dispenser and a business card holder -- yes, it's time to print some.
Don't get so comfortable that you want to take a nap, but get warmer: This is a space you want to be happy to walk into (and, realistically, stay there for a while). Whether you're in a home office or working from a stylishly taupe cubicle, find a way to make it more comfortable. Textiles are a great solution. A lightweight throw can play slipcover on your swivel chair (and protect you from corporate A.C.). Better yet, find a small modern rug like these Shapes Rugs by Alyson Fox for Hawkins NY. Their designs are muted but infectiously fun, woven in a durable blend of wool and cotton.
And if you can, add some plants. Ususally kill them? Consider fitting low-maintenance succulents into these tiny Wind & Willow painted planters. There's something undeniably encouraging about a green and growing deskmate (and you're more likely to water it if you see it everyday). Hanging them also ensures no added desktop clutter, and this triple-tiered ceramic planter by Light + Ladder will also double as extra storage space.
Food52 is a community for people who love food and cooking. Follow them at Food52.com -- and check out their kitchen and home shop, here.