In some ways, business to business marketing, or B2B marketing, is very similar to selling direct to customers. In other ways, it's incredibly different. A B2B business might have far fewer customers or clients than a B2C business, but each of those clients might spend thousands of dollars a year with a B2B business. Make sure that your marketing properly targets businesses to be sure that you get the exposure you deserve.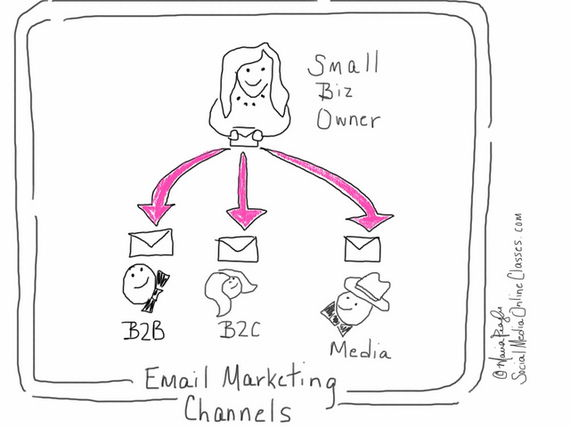 Image Credit: Creative Commons, Maria Peagler
Personalization
In the modern Internet, personalization is key. Steve Olenski, Forbes Contributor,
about before about how important it is to let the personalization of your business shine through, from encouraging clients to customize your services and products in order to meet their needs, to making sure that your website is customized to target the customers that you're seeking.
When a business encourages customization, it says "We're here to meet your needs. Let us help you." Even though an industry expert might feel that a customer's pain point is very standard and easy to solve, the client themselves often feels as though no one has ever had this problem before, and that it must be met in a new and original way in order for the client to benefit. Personalization honors that feeling for customers, and helps them feel like a business is putting forth its best effort.
You can personalize your business by:
Offering both "packages" and "a la carte" options for customers to choose from, so that they're only paying for the services that they need
Making sure your webpage has separate sections targeted for each industry you serve. This will also help you climb in search rankings!
Setting up your customer service system to avoid automation and auto response. By the time someone's picking up the phone and calling you, they want to talk to you. Make it easy.
Content Marketing and Thought Leadership
One way for businesses to excel in the modern Internet marketplace is to establish themselves as Thought Leaders in their industry through content marketing. Thought Leadership is the concept of sharing business "secrets," processes, and concepts in order to position a business as an expert in its field. By sharing information about how a business is completing a task, they tell clients "Of course you could do this by yourself. But you want our help because of our excellent service, our years of experience, and because it's more of a hassle than you thought."
Companies establish themselves as thought leaders in many different ways. Often, their thought leadership does connect to their services and products. A marine supply store, for example, might blog about energy efficiency, then suggest that their LED lights are a great choice for boaters who care about these things. A printing company might talk about how variable data printing is both eco-friendly and great for business. Marketing gurus regularly blog about how important marketing is in the modern world, but they also talk about business management and misconceptions, the importance of product development, and occasionally current events.
Excel in thought leadership within your industry by:
Giving away your secrets for free
Creating great content, either in house or contracted out, that puts your business forward and creates exciting insights and involvement
Whichever social media networks you choose, commit to your involvement, and treat every social media contact the same way you would a customer in your physical location.
Community Involvement
Businesses, both B2B and B2C, benefit from connections to their local community. Margarita Hakobyan of
shares that, "B2C companies benefit from their community connections more directly, but for B2B companies, building their reputation in the community remains crucial. When your community reputation is excellent, your business partners can do the following:
Boast of their involvement with you to their customers
Network through you to find new clients and new employee prospects"
Many B2C strategies are applicable to B2B companies, but there are also additional ways that business to business companies can maximize their exposure. To start with, build on your B2B connections and strategic partnerships to market your business to other companies.
REAL LIFE. REAL NEWS. REAL VOICES.
Help us tell more of the stories that matter from voices that too often remain unheard.