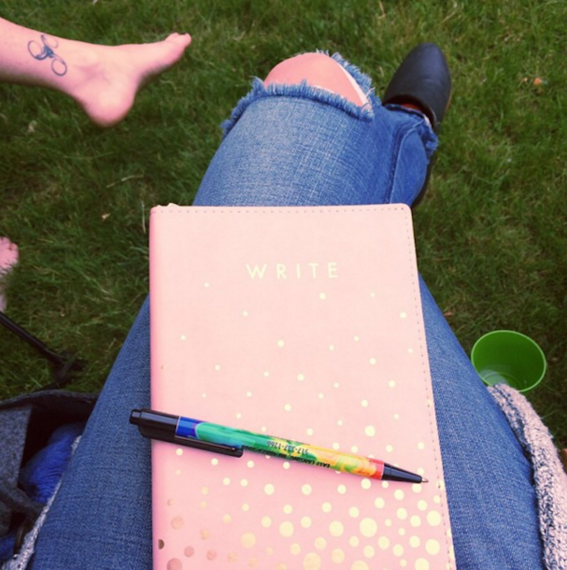 Photo: Instagram/katiedalebout
By Katie Maguire for Well+Good
Have you ever kept a journal?
Whether you've made it a nightly habit or just fondly-slash-embarrassedly flip through your diary from junior high, chances are you've put pen to paper--and chances are, it's also helped you handle stress, deal with super emo feelings, and even made memories, well, more memorable.
But journaling can do way more than just keep your emotions in check--and Katie Dalebout is on a mission to spread the (written) word.
When she was 22, Dalebout attended a writer's workshop in New York City that featured three of her all-time favorite writers as keynote speakers: Gabrielle Bernstein, Kris Carr, and Nancy Levin. After a series of serendipitous events, she entered--and won!--a contest set up by the publishing house behind the workshop, Hay House, which was offering a deal to the best book proposal. Dalebout's book? Let it Out: A Journey Through Journaling, which breaks down the art of--you guessed it--journaling.
As a part-time yoga teacher and marketing professional, Dalebout led a healthy life, but struggled with self-esteem issues and an eating disorder. In other words. she felt lost. "After months of relentless meditating, I finally put my finger on it. How could I clear my mind of thoughts, or even focus on a single idea or mantra, when I didn't even know what all the thoughts in my mind were?" she explains.
The answer, she found, was journaling. "I wrote down all the things I was thinking but never saying," says Dalebout. "By putting these deep thoughts and fears down on paper, I acknowledged their presence--and was one step closer to releasing them, along with each of my failed attempts at control."
1. It ups your productivity levels, big time
You know those days where, after you've skipped your usual smoothie or slept through a.m. bootcamp, you've decided to just throw in the towel and order a pizza for one and spend the entire weekend at home bingeing on the new season of Unbreakable Kimmy Schmidt? (And not wash a single dish, while you're at it.) Dalebout thinks that writing exercises can help put a stop to "give-up" days.
"While one day of laziness might be restful and needed, days of laziness sink you further into the quicksand and require more work and tools to pull out of," she explains. "[This journaling technique] nips laziness in the bud by helping you pivot your energy back to a positive vibe immediately."
Step 1: Write at the top of your page "Things I'm Loving Right Now" and write down everything, no matter how big or small.
Step 2: Halfway down the page and underneath your list, write "Things I want to Change." From negative thoughts about your body to the annoyingly long winter weather you may experiencing, write it down.
Step 3: Count how many things are on your "Thing I Want to Change" list. For every item on that list, add an additional item to the "Things I'm Loving Right Now."
Step 4: Notice the fact that the former list is longer than the latter and feel gratitude for the things you're loving, plus write any new additions until you feel better. Dalebout promises that your mood will lift, even if it's just a little, and that's all you need to shift your attitude for the whole day.
Step 5: Once your mood lifts, write a third list: "Three Things I'll Accomplish Tonight." From what you're going to cook for dinner, to promising to do a 15-minute stretch sesh, these things are not meant to overwhelm you, but to give yourself a few actionable things you can look forward to that will pivot you into productivity.
2. It can make you a meal-planning pro
It's not just grocery lists that help you eat smart; whether you grab the first thing you see when you're starving, to constantly forgetting all the food that you bought (and now have sitting in the fridge, going bad), Dalebout believes that your best tool in the kitchen is a notebook and a pen.