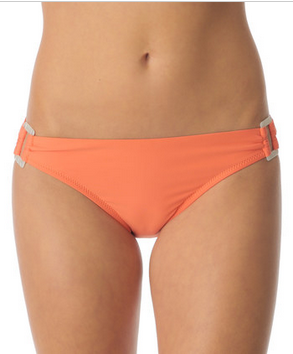 Bathing suit season has arrived and though I'm headed to ski locally this spring break, I need to shift my mindset. The down coat needs dry cleaning. My gym trips need to increase. It's time to de-winterize the water pipes and... go shopping for this season's swimsuit.
Ugh. Let's say it all together. For many of us busy moms, there are a multitude of things we'd rather do than go shopping for a suit and a plethora of excuses as to why the task needs putting off, among them mine: my skin hasn't seen sunlight for months and will likely shrivel up upon contact.
To get us to a better place, I was recently asked to help three brave Rachael Ray Show viewers test out products that claim to help with common beach body issues. Let's see how they measured up.
FLAT BUTT
So you can do tons of squats every night to tone up your derrière, but for our tester who did just that and recently lost 60 pounds, she still lacked definition in her rear. Enter this new product from Beach Bubbles, which they claim is the first padded bikini bottom of its kind to give you an instant, lifted and separated booty--up to three-quarters of an inch! After a dunk in our studio shower before a live audience (I told you these women were brave!), our viewer loved the results and said the foam didn't feel heavy when wet. She plans on getting it for her island honeymoon.
Padded Bikini Bottom, $109; LoveMyBubbles.com
FRONTAL WEDGIE
We have smoothers and shapers for every part of our body, and our next product called Braza's Camel Not--a soft, wafer-thin insert with securing tapes that you attach to your clothing--purports to eliminate the embarrassing issue of the frontal wedgie forever, even with swimwear. I'm blushing while writing this because it's an intimate issue for a woman and not one that even dear friends would likely point out to one another...especially at the pool when enhanced by water. Our viewer was nominated by her daughters for this issue and volunteered trying out the product, which she reported felt simply like a pad, stayed in place after her shower and successfully smoothed her out, undetected.
3 inserts per package, $9; SwimOutlet.com
SMALL BUST
For small-chested women such as myself, who go to the beach and just wish that their chest would bounce a little in their bikini top...Envy Body Shop Silicone Push-up Breast Pads say they work like other silicone inserts akin to "chicken cutlets" that you'd use in your bra. You place them towards the base of your bikini top or one-piece swim top and supposedly boost your twins from below, creating lift and natural looking curves. Because they are made with silicone, they are safe to use in water and reuse. I found them fairly weighty to the touch as well as contoured. Our tester gasped when she put them on. She couldn't wait to try it with both her swimwear but also in her bras and regular clothes, and because they didn't slip out during the water test, she gave them an enthusiastic thumbs up.
Envy Silicone Push-up Pads, $23.99; BestBreastForm.com
Related