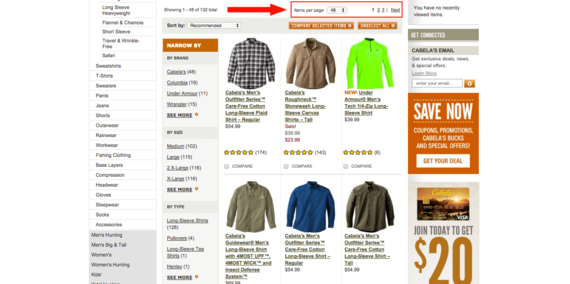 The end goal of your ecommerce website is to make a sale.
If you're not making sales, there's a good chance your technical SEO strategy is failing you.
Don't know what 'technical SEO' is? It's taking a look at the "technical" part of your business -- your website code and architecture -- to determine how "quality" your site is in terms of search.
The technical SEO strategy for an ecommerce business has a lot to do with your products, how they are displayed, how your customers interact with them, as well as your site's design and construction. Basically, it's your store's best kept secret that's embedded in the most basic parts of your site.
Not many ecommerce stores have a solid technical SEO strategy since it seems like a highly nuanced area, but if you capitalize on it you can use it to solidly beat out your competitors.
If you audit and address these 3 simple areas, the improvements made on your technical SEO can help you begin your ascent to the top 3 in rankings.
Product Page Structure
Your product pages are the first place you want to go when looking to boost your technical SEO, and there are two areas built into the code of them that you definitely want to address.
Product Titles & Descriptions
You need to have an < h1 > title and product description on your product page, and it should absolutely include your target keyword. The trick is making sure that your target keyword is specific enough. The below image is a great example of what your title and description should look like.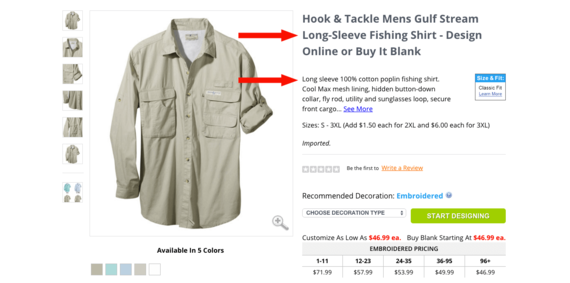 Rich Snippets
Rich snippets are pretty simple in and of themselves: they're just pieces of code that identify elements of a product like price, type, and reviews, and then translate them to a search engine. If your rich snippets are lacking, you won't appear as high in search results.
By optimizing your rich snippets and product titles & descriptions, you are enabling the search engine to better understand your website. This in turn results in a higher rank and improve your chances of converting a visitor to a purchase.
Product Category Pages
Search engines like fast loading websites, so if your site is slow it's affecting your rankings. Believe it or not, having too many products on your category pages can contribute to a slow site load time.
For example, if you have a category for "men's casual shirts" you may need to load upwards of 200 products on this page depending on your company's size. However, loading all 200 on the "men's casual shirts" landing page will definitely take longer than if you only loaded 25 per page.
If you implement pagination, you allow your customers to immediately see a much more manageable number of products. They can then page through to see other options, as well as potentially choose how many products to see per page. This not only reduces your load time, but gives the customer a sense of control.
Depending on how many products you have in your categories, you may not need to implement pagination. But if you have over 20 products in one category, breaking the category into pages with 20 products per page can greatly reduce load time.
Mobile Site Performance
It's a fact: Mobile search has surpassed desktop. There's zero excuse for any ecommerce brand to ignore this and not optimize their site for mobile.
And believe it or not, one of the most important pieces of Google's algorithm is asking the question: "Is this website mobile-friendly?" If the answer is "no", don't expect to be in a competitive position in search results.
Since ignoring mobile is not an option, be sure your site is mobile friendly. You can get started by testing it here through Google.
Wrapping It Up
Analyzing these three areas of your technical SEO can be a mini-audit for your ecommerce store, and is a great place to start. Having a conversation with your development team around these areas can lead to further technical SEO improvement, and your site can begin steadily climbing the rankings.
Calling all HuffPost superfans!
Sign up for membership to become a founding member and help shape HuffPost's next chapter