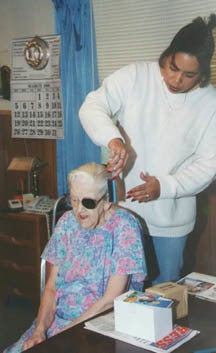 As both Medicare and Medicaid are moving toward payment based on value instead of volume, hospitals, health plans and physicians will all be held accountable for spending and quality. Medicare enrollees with chronic conditions and functional limitations represent over half of Medicare's highest spenders.  The good news for health plans and providers is professionals with the skills and know-how to care for these populations often reside in the communities where these folks live and can deliver results. 
#1     Increased CAHPS scores.  Nearly all Area Agencies on Aging (AAAs) provide evidence-based health programs such as Chronic-Disease Self-Management and Diabetes Self-Management Training.  As Consumer Assessment of Healthcare Providers and Systems (CAHPS) scores are being used to affect CMS payment rates to providers, it is important for patients to have access to important tools that can improve their experience.  These chronic disease programs help older adults learn how to better manage their medications and communicate more effectively with their doctors – exactly the critical aspects of care these CAHPS patient experience surveys focus on.
#2     Increased preventive screening rates.  Medicare Advantage plans are rated on how well they perform in five different categories which produce the five stars that consumers use to choose health plans each year.  One is directly related to staying healthy: how well does the plan do on preventive screening, tests and vaccines. AAAs, Center for Independent Living and other community-based organizations frequently hold events for older adults and people with disabilities at community centers, senior centers, health fairs and other gatherings.  These events offer great opportunities to partner with a health provider or plan to boost immunization rates by offering flu shots, mobile cancer screenings, or blood pressure monitoring. 
#3     Reduced readmission rates.  As new shared savings arrangements and bundled payments penalize payers whose patients are readmitted within 30 days of hospitalizations, AAAs developed important experience in implementing the Community-based Care Transitions Program.  Unfortunately, much of the funding for this program has expired but the tested and proven methods employed can be transferred to alternative payment models in the future.
Both the health care and long-term services and supports communities are undergoing tremendous change and disruption.  To succeed, they should play to each other strengths and take advantage of the new opportunities to provide services where people say they want to receive them most: in their homes and communities. Join us for future webinars!
Calling all HuffPost superfans!
Sign up for membership to become a founding member and help shape HuffPost's next chapter
This post was published on the now-closed HuffPost Contributor platform. Contributors control their own work and posted freely to our site. If you need to flag this entry as abusive,
send us an email
.