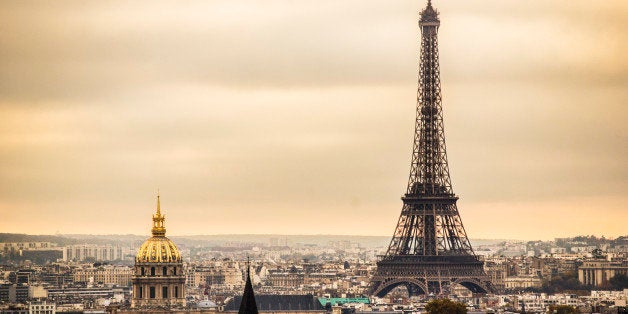 You've heard it before: traveling solo can be one of the most terrifying, yet rewarding experiences of your life. My first solo trip was to a place many consider the most romantic city in the world: Paris. Why would I do such a thing to myself?
I've always had a fascination with the French culture, so I figured what better way to live the crepe-eating, red wine drinking, café-hopping life than to do it by myself, indulging in all the Parisian culture had to offer without having to structure my trip around a companion. So when I first arrived, hurtling off the plane with more gusto than any tired flight attendant could comprehend, I decided my first stop should be the Eiffel Tower. When I finally stood alone atop that lavish structure, I realized I could learn more about traveling and myself than I ever had before. Solitary reflection can be your worst enemy, or best friend.


1.) You can still feel alone in the most beautiful places
Little did I know that first stop meant waiting in a long line and climbing hundreds of stairs, all while being jostled by the couples holding hands and families struggling to herd their children. And here I was, unencumbered and unaccompanied. As I climbed and climbed a structure I had seen in pictures my entire life, I was struck by how alone I felt. How could it be? I was in the most beautiful place, surrounded by people from all over the world. Lovers and families and foreigners alike. Then I realized I had no one to share my excitement with, and that felt weird. I had dreamed of this my whole life, why was I feeling sad?
As I entered the observation deck, I noticed little smiles being sent in my direction. Were they mocking me? Did I just look like a foreigner? We were all foreigners! No, many tourists just felt that by standing alone on a glittering tower, it meant something must be really wrong with me. Who comes alone to this iconic symbol of romanticism? But once I got past it, I looked up and really took in my first views of the bustling Parisian streets below. I realized these people weren't really staring at me. I was just uncomfortable. But it was ok because I was there and doing it. And just showing up is often half the battle.

2.) Comfort zones be damned when traveling solo
Soon after walking around the observation deck, I decided to buy an overpriced glass of champagne to celebrate this momentous occasion. For 10€, you can get a half-full glass of cheap bubbly, definitely not made in the regions finest vineyard. Apparently in buying that champagne, it also included an open invitation to strike up small talk with me. Booze makes everyone feel more comfortable, right?
One man shyly came over, and asked in quiet English, "Picture of you?"
"Sure!" I exclaimed, bouncing excitedly on my toes as I pulled out my camera, eager to have one memento of myself with the most expensive glass of wine I had ever purchased. As I handed over my camera, he said, "First your camera. Then... mine." Oh. So you can remember the weird girl alone at the Eiffel Tower?
Then I realized: who cares!?! It felt strange as I smiled broadly at the camera, but I ended up striking up an interesting conversation with the man and his friends, as it was their first time to Paris as well. They got me out of my solitary bubble of loneliness, and it was exactly what I needed.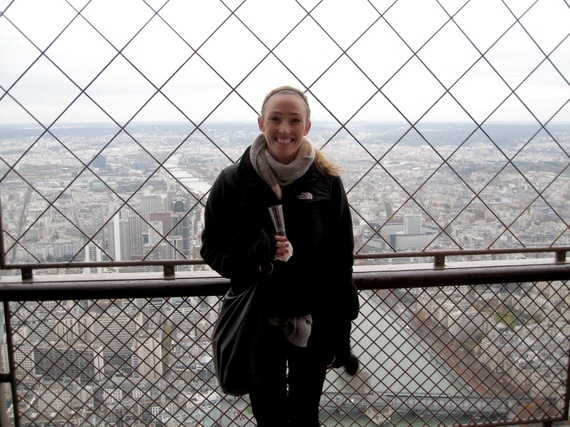 (yes, this is the picture!)
3.) Continue to strive for that special kind of happiness
As I downed my champagne, I decided then and there to hold my head (and glass) high and really look around me. I realized I didn't need someone to share a glass of champagne, or a beautiful view, with. A wave of contentment washed over me, as I grasped what I was doing. I was f*cking doing this! Sure the champagne buzz helped, but in that moment I was so proud of myself. We are not often happy, content and utterly in love with just us. But I was, and recommend having that feeling, that pure BLISS feeling, more often. I was doing one of those things that seem so impossible...until you actually do it. I was alone in Paris!
And being that girl alone in any of the world's best locations - the bustling streets of Tokyo, The Inca Trail in Peru, the Opera House in Sydney - is just this glorious. It is not as scary, lonely, uncomfortable, and terrible as you may think. Please, I beg you to try it.
To learn more about solo travel, visit my blog.