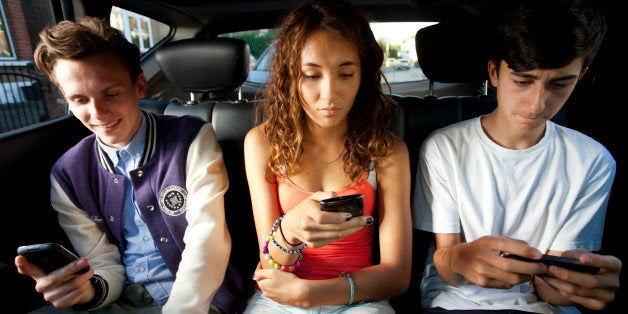 Last week, I received a robocall from the principal at my daughter's high school telling me something that no parent ever wants to hear: "[T]he school has been placed on lockdown due to a bomb threat."
San Clemente High School, in Orange County, Calif., and its 3,000-plus students were one of the latest victims of a Yik Yak attack. "Yik Yak" is a new social network that has quickly gained popularity amongst young people. In this case, it was used to post an anonymous bomb threat, causing authorities to swiftly order a school-wide lockdown while a bomb squad swept the campus. Students were "sheltered in place" with nothing to do except, predictably, download the app that caused the ruckus in the first place.
Isn't that what you would do if you were a kid?

Part of Yik Yak's allure, besides the fact that is just the latest of a long line of apps that let kids communicate with one another -- like Ask.fm, Snapchat, Vine, Kik, and more -- is that users are anonymous. In fact, as the app's tagline on iTunes App Store boasts -- "no profile, no password, it's all anonymous."
San Clemente High School's bomb threat comes on the heels of similar incidences at high schools in Mobile, Ala. and Marblehead, Mass. To the app-maker's credit, Yik Yak officials rapidly modified the app so that it can no longer be used on some campuses, including my daughter's. Additionally, our school principal advised parents to have the app deleted from our children's phones.
But according to family internet safety advocate Sue Scheff:
Simply deleting the app is not resolving the bigger problem. That is like taking a cigarette away from a child and saying, "Don't smoke." You know as soon as you turn your back, they will be finding a way to get a pack of cigarettes -- discretely, and smoking again.
So what's a parent/teacher/administrator to do?
Talk to your kids and tell them these three things:
1. Anonymity is an illusion in the digital world.
In Mobile County, Ala., the 16-year-old and 14-year-old who made threats about a campus shooting on Yik Yak have been arrested. Authorities were able to track down the youth after Yik Yak shared location data collected by the app. Yes, location data. In other words, tell your kids that if they own a mobile device they should know this: They can run, but they can't hide. Every digital device has an IP address that allows for it to be tracked.
2. Criminal charges don't look so good on a college resume or job application.
Kids need to know that they can be charged with making a terrorist threat or another serious offense when their online behavior includes things like making anonymous threats. Just ask the 14 and 16-year-old kids who used Yik Yak to post threats in Alabama. They are facing charges that could keep them locked up for up to three years. Ouch.
3. Your digital footprint lives with you forever, and that's a long time.
It's important for kids to be constantly reminded about their "digital footprint," or reputation, and how it will forever define them to the world. This is generally not a concept a teenager will think about often, but if the adults surrounding that young person talk about it with enough frequency, eventually, the concept will sink in, or at least becomes a nagging voice in the back of that teen's head any time they might be tempted to post anything remotely inappropriate or threatening. Awareness of one's digital footprint and digital citizenship, for that matter, extends across all our actions, online and off. This includes being honest and truthful. For example, nearly every social network requires users to confirm their real age before downloading. In the case of Yik Yak, a push notification appears asking users to confirm they're older than 17 before using the app. Yet many kids under 17 have downloaded, and continue to download, this app and others. Remind kids that lying is as damaging to their digital reputation as it is to their offline one.
There will always be a Yik Yak or Ask.fm -- but if our kids are equipped with the right emotional and educational tools to know how to respond online (and offline, for that matter), hopefully these pranks and threats for attention will soon disappear. That's why educating our communities on the importance of digital citizenship, online security, treating people with kindness, instilling empathy, and more, is critical. If we aren't doing it, who is?
Okay, it's time for full disclosure: I happen to teach "digital citizenship" (aka Cyber Civics) to middle school students at a school in the same district as San Clemente High School. So as I was spending the day worrying about my daughter locked down in her high school classroom, I was also feeling extremely grateful for the opportunity I have to continually talk to kids about the three things above.

Maybe, just maybe, it will help prevent a similar incident on a yet-to-be-created app from occurring in the future.
Related