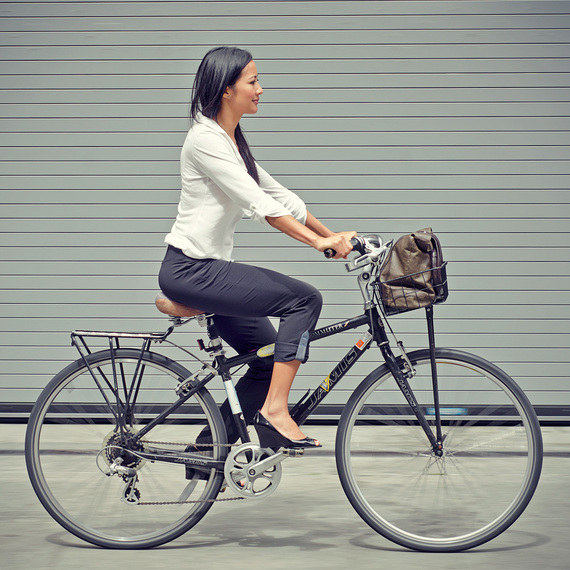 The cycling community is exploding with positive attention. Bike share programs are expanding from San Francisco to New York, and we're seeing more people on bikes every day.
Women in particular make up a major piece of the cycling community. According to the League of American Bicyclists, women bike commuters increased 56 percent from 2007 - 2011, and accounted for 37 percent of spending in the bike industry in 2011.
So why in the fashion industry, with increasing options for men's bike commuter apparel, are we still seeing limited options for women? This is the challenge my co-founder and I took on as the focus of our Shopify store, ILADORA Apparel.
We were tired of our jeans losing the battle against our everyday commute. We were tired of looking for performance-ready apparel that works for the office too.
This is what drove our inspiration for our very first product: The Perfect Bike Pant for women bike commuters.
There are three key items we focused on -- the three key areas we feel are most overlooked in women's every day bike apparel:
Fabric is incredibly important; this and the construction of the pant will dictate the strength. While jeans will always be a go-to for pants, denim is actually a challenging fabric to work with. The fibers are created in such a way that wear and tear cannot be prevented. Even with newly created hybrid denims, the cotton will eventually wear out, leaving behind the more durable cross-fibers.
Lucky for us, the outdoor fabric industry is making incredible strides in creating fabric blends that look and feel more like natural fibers. Choosing a performance fabric provides the best combination of durability and comfort. These fabrics also allow for features like durable water repellency to keep you dry (think water bouncing off your pants), serious abrasion resistance and more.
With more fabric innovation on the horizon, this is an exciting time to use performance materials in everyday wear.
Cut, seam choices, features, fit: These create the overall style of your apparel piece. For women's apparel, finding cohesiveness with a pant design can be challenging. The issue we've found is most apparel designs overlook one or two of these elements, making the overall style just not work.
The aim should be to create an elegant staple for a woman's closet supported with just enough features for everyday bike commuting. For us, that meant making sure to include features important for cyclists without shouting, "I am a pant for cycling!"
A higher waistband, equestrian-inspired seaming, and hidden additions like our magnetic cuff roll not to be seen when it's not in use -- these choices make the style attractive to both riders and non-riders.
The balance of performance and beauty may be the most challenging piece of design. Which features should we include for the daily bikers, and what features should we leave behind so anyone feels comfortable wearing our apparel?
The choices designers make, such as the weave of their fabric or the placement of a reflector, can make the difference between athletic gear and office wear. Beauty is the overall aesthetic of design. This is what women will react to first. Women want to buy clothing that makes them feel beautiful.
One year ago, my partner and I decided to create the Perfect Bike Pant because we couldn't find a pant we loved for biking to work. After multiple iterations and a successful Indiegogo campaign, our very first product in the ILADORA Apparel line is now available on our Shopify store.
We are inspired by and excited to join designers like Ann DeOtte of Iva Jean and Nona Varnado, to create a new level of apparel focused on the everyday female cyclist. We aim to create a world where every woman can bike beautiful.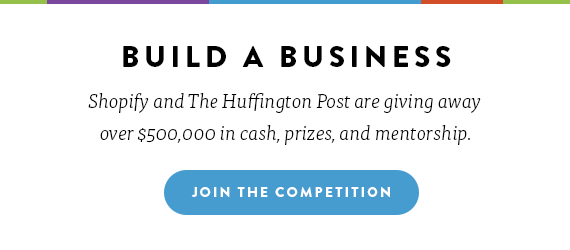 Meghan Murphy is the co-founder of Iladora Apparel. She is an avid city cyclist with a passion for marketing. Meghan has spent her career raising awareness and building communities around innovative products and services.
Ilana Siegelman has spent her life designing clothing. Technically trained at The Academy of Art University and an alumni of The North Face, her design is driven by both high fashion and performance.
Shopify is giving away more than $500,000 in cash, prizes and mentorship in its fourth annual Build A Business Competition. Contestants create a store and try to sell the most in their category for a chance to win $50,000 and a VIP trip to NYC to meet their mentor.
Calling all HuffPost superfans!
Sign up for membership to become a founding member and help shape HuffPost's next chapter