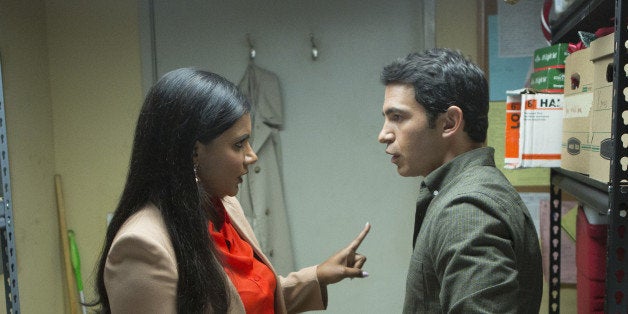 By now we've all been accosted by the news that Fox -- the brilliant organization behind such gems as Bones! and The Swan! (note my sarcasm) -- has canceled The Mindy Project.
Let's all take a moment to sob. And sob some more. Now hiccup cry. Now breathe deeply. One more sob.
I guess in some ways the cancellation makes sense. I mean, it was a witty, well-written, often insightful look into the lives of women. There were episodes that made me fist pump alone in my living room. Scenes that made me cry. And moments that made me feel less alone. It was groundbreaking in a way I've been begging female-driven vehicles to be for years. Rather than securing show's future, all these things made the too-soon cancellation of the series practically certain from the first episode. Network TV is an aging behemoth that is sustained by soap operas and reality TV. Are there exceptions to this rule? A few. But they fill an ever-diminishing need. For the most part, anything that challenges or engages or lifts has no place on network TV. Because, like, that's not the point.
Am I pretty fried that I no longer have a fall date with Mindy's parents and Danny? Yeah, pretty much. Pretty fried. But I am also a little relieved on the behalf of the best show I've seen in the past 10 years. Mindy deserves to hang her Wreath Witherspoon in a home that feels lucky to have her.
I've got good hope that if a situation that is good for cast and crew presents itself, they'll take it. Maybe Hulu, where the show already has a fierce viewership. Or Netflix, the home of #femalesarestrongashell. Or maybe we can all just kickstart and get Mindy Kaling her own damn network already.
In the meantime, as a way to distract myself from the grief cloud hovering over this house (MORGAN!!!! MORRRRRGANNNNNNNNN!!!!), here are three things I learned from The Mindy Project.
God rest her soul till we meet again.
1. I don't have to wear sleeves. This one may not seem like much. Really, Meg? Sleeves? This is worth noting? Hell yes, it is. When I was 15, someone told me to avoid sleeveless clothes because, "although you look great, your arms are a bit heavy." I guess I shouldn't have been surprised. I mean, I knew I wasn't waving around Madonna stick pins... I wasn't delusional. But the wording really worked me over.
My arms were heavy? That description took my upper limbs a step beyond chubby and into the world of practically deformed. My heavy arms that hung heavily by my side while trying to lift light things that were too much weight to add to the heaviness of my already heavy arms. Holy hell, forget sleeveless. It was obvious to me that the best thing I could do for myself, and the pitiable people who had to look upon me, was to cover those weighted monstrosities the hell up. So I did. With ¾ length sleeves on hot days and thin sweaters on cold days. (Cable knit would have amplified the heaviness.) When I did venture out in anything less than full arm coverage, I did so as an act of defiance, "I know I don't deserve to have the sun hit the skin above my elbow, but look me in the eyes and see if I give a damn."
I was nearly 30 years old before Madcap Mindy showed me how ridiculous I'd been. Mindy isn't my sister in "heavy" arms. I didn't find solidarity in her lack of pin thin appendages. Rather I found inspiration in the easy grace with which she handled her body -- arms, legs and all. There was no point being made by her choice of sleeveless blouses or short skirts or va-va-voom dresses. Her clothes were not an act of defiance. (Which was revolutionary in itself.) She wore what the hell she wanted because she was being who the hell she wanted.
In Mindy's world, a woman who weighs more than a package of stevia could wear something something more fashionable than a sack of flour. That fact wasn't revolutionary... it was simply a matter of course. And that, for me, was freeing as hell. I'll never be able to thank my "best friend I've never met" enough for that fact. She's changed my outlook and consequently, changed the dialogue I have with my own daughters.
2. Women don't have to be ashamed of what they want. And they don't have to be angered by what other women want. I'm not delusional. I know that Mindy Kaling is different from Mindy Lahiri. I know that Dr. L's life goals diverge greatly from Grand Dame Kaling's life goals. That being said, Kaling wrote Lahiri, and she did so with a great degree of grace and tolerance. As I watched the show, I didn't feel Kaling judging Lahiri for having different aspirations than her creator. I felt her honoring her, rooting for her, pushing her forward. Oh my goodness, what if we could extend that same respect to the real women in our lives not just the ones we meet on TV? Could you imagine the dialogue that would ensue? The steps we'd take forward? The wounds we'd heal?
What does Mindy Lahiri want? We know early on in the series that Mindy L. is a professional woman who is also "looking for someone to go apple picking with." She wants marriage and babies and she defines those things as integral to her happy ending. And she isn't ashamed of it. Do you know how refreshing that storyline has been for me? A writer who also has two babies and a husband? A girl who wants her name on the front of a book and wants bubbles and baby laughter in her backyard? The Mindy Project doesn't preach the false hope of "having it all." Mindy has given up plenty of almost dreams for her better parts. (Dammit, San Francisco) But she is unwavering when it comes to her core happiness. To the things she feels she deserves. To the dreams she isn't afraid of dreaming... no matter how outdated they might seem to the people around her.
Whether your dream includes babies or not, a career or not, a partner or not, compromise or not, Mindy Lahiri's quest for her personal happiness should speak to you. You get to seek what you want without shame.
3. And finally, there is communion in the ridiculous. Listen, Mindy Lahiri is a little ridiculous. She spouts off half-baked political assessments, once said recycling makes America seem poor and went seven years without paying her taxes. But as the series went on, I didn't find myself laughing at her, I found myself laughing with her. No one of us is free from elements of the ridiculous. We are all filled with half-baked opinions...the fact that we might keep them to ourselves doesn't mean they don't exist. We are all ignorant until we are not. (And then ignorant some more until we are not again.) We all have literal or figurative un-opened envelopes with contents that are past due.
Maybe we would all be better off if we stopped assuming ridiculousness was the burden of others and accepted it as the ever-evolving state of all of us. And maybe, just maybe, Mindy Lahiri style, we should just start being honest about it. Who knows? Maybe, like the great Project Herself, we'll learn something about each other and ourselves along the way. (And laugh a little more, too.)
You know, when I heard about the cancellation, I wasn't upset for the people in the show. They've proven they can create and sustain a small world and its misfit inhabitants. The actors will go on to movies. The writers will be asked to be a part of the next big thing. Mindy will continue her trajectory to a place in the stars next to Nora Ephron. (And maybe beyond?) They're doing just fine.
Me? I'm queuing up the first season and counting my lucky stars. For a half hour every week, in a little show with little pretension, I found a brand of feminism that spoke to me, rather above or below me. I found men that loved strong women and strong women that loved men. And I found a world in which my arms were released from the constraints of décor and became beautiful and free simply because they were attached to me.
Calling all HuffPost superfans!
Sign up for membership to become a founding member and help shape HuffPost's next chapter