As someone who has flown internationally in all stages of parenthood (pregnant > with a newborn > pregnant and with a toddler > with two toddlers and two dogs and 6 suitcases) I can confidently say that Husband and I are Master Flyers and even though United hasn't given us access to their club lounge, our airport experience is minimal stress and star rated (and I'm optimistic about United Club). We have getting through the airport quickly and easily down to a science; we are a parental flying well oiled machine, so I wanted to share some of our time saving airport travel tips with other travelers (parents or not) to make your airport experience as effortless and painless as ours is these days.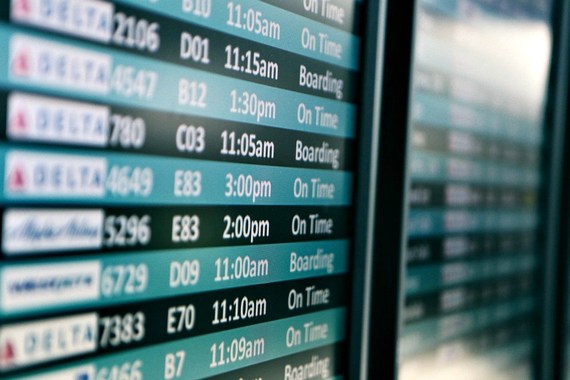 Time Saving Travel Tip #1: Organize Your Bag & Bundle

Every night before a flight, I organize my purse. I take out old receipts, garbage and unnecessary crap that I don't need for the flight and put in only what I need for the next day's trip: wallet, tickets and/or printed confirmation number and itinerary, lip gloss, nasal spray, any medications needed, a pair of socks and our passports. Most of those things will stay in my purse, except the passports.
The passports will go in and out of my purse a bunch of times before I actually set foot on the plane so to save time I bundle them together in a small packing cube which stays with me through check in and security. I've found that by doing this, it limits misplacing our passports (no more throwing passports into a catchall purse having to rifle through it later or shoving one passport in a pocket and another in a stroller compartment). I've also found that by bundling them together - but separate from other important documents -- they are easily accessible and easily found in an organized, vibrant colored packing cube which is hard to miss. A bonus use is that I also use it as a safe place to keep our boarding passes and baggage claim tickets. It's an airport document holder of sorts.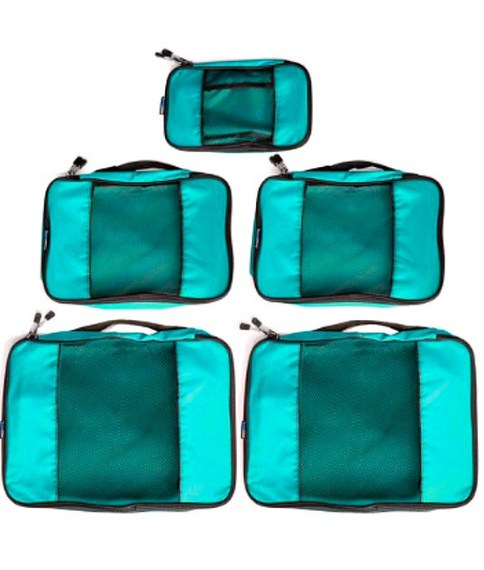 Time Saving Travel Tip #2: Passport Stickers

If you have a 15-minute coffee break and stop to talk to 5 coworkers for a couple of minutes each, chances are you're heading back to your desk without coffee. You didn't spend a big chunk of time talking to each individual but all of those little moments add up. The same goes for wrangling passports at the airport. For each time you have to take out your passports and boarding passes and hand them to security and they have to look through the name on the passport and find the name on the ticket, you're wasting time. So let's make that easier.
When I thought about this tip I couldn't believe I hadn't thought of it earlier and having tested it recently, it is a major time saving travel tip and organizational miracle. Each sticker represents the people in our family (J) Jen, (R) Rafaella, (S) Santiago, (M)Husband. Simple enough. It seems small but when you're in the airport every moment counts and blindly checking each passport for the correct person wastes valuable time if you're running behind. Not to mention, it makes placing the boarding ticket inside the appropriate passport way faster and easier.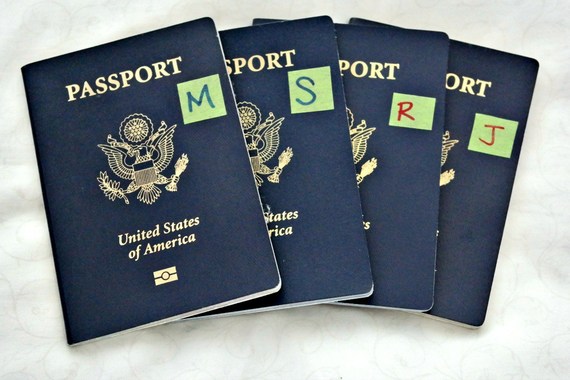 Time Saving Travel Tip #3: Extra Forms

Moms know that extras are our best friends. When I go away on vacation, I don't just take one pacifier (unless I'm looking for trouble), I take an extra. I pack extra bottles, extra clothes, extra food. Husband and I took it one step further and bought an extra GiRafa (our daughter's bedtime giraffe pillow) just in case it ever got lost. So we used that same principle with airport forms.
Filling out forms at the airport -- especially with kids -- can waste a lot of time. The form itself, between taking out, flipping through, and finding passport numbers takes about 10 minutes for a family of four (although tip #2 should help with this). Add to that the constant checking on your kids to make sure they haven't wandered off or crashed into another passenger and that time is doubled. We've cut out that hassle by taking extra airport forms and filling them out at home. Now after airport check in, we walk straight through security and get on the next line without skipping a step, beating out all of the other passengers who have to stop at the kiosk, look for a pen, wait for a pen and fill out their forms while whisper-yelling at their kid to "get the f*c$ over here!"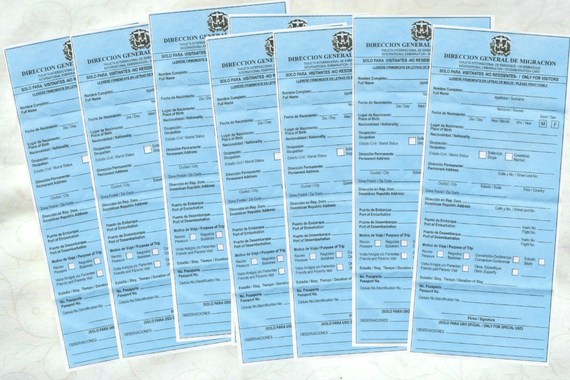 That's it. Three easy breezy time saving travel tips that will make a world of difference. I swear by it.
Do you have any time saving travel tips that help you breeze through the airport?