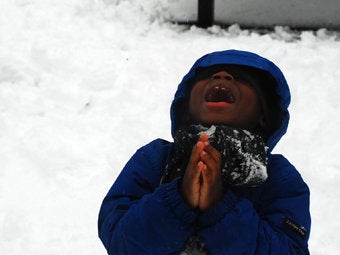 Ah winter! Fun in the snow making snow angels with the kids, ice skating and snowshoeing. If only all that joy and satisfaction could be found at your local grocery store come January. And unless you live in warmer climes, most of us along with warding off colds, the flu, and grouchiness at the thought of a looming long winter, are at a loss as to what to buy and eat when the choices are almost as bleak as the weather.
Sure, lots of us will crave warmth reaching for cans of soup, full of sodium and other stuff too difficult to try and pronounce. We'll scavenge the produce aisles in hopes of finding some lively looking salad greens from California and fruit from Florida, instead of some foreign country. We'll console ourselves with grapefruit, navel oranges, apples and pears while dreaming of fresh local strawberries not due until June.
January, February and March can be tricky if you are picky about where your food comes from. Chilean plums, Mexican grapes, blueberries from Uruguay, anyone? Even in the winter months, it's important to choose foods that are as local as possible.
Here are three suggestions for choosing foods that can sustain you from January until the first bunch of locally grown asparagus makes its lovely anticipated appearance in spring.
1) Dried beans such as garbanzo, kidney, split pea and pinto beans are readily found on grocer's shelves. They can be turned into delicious, high fiber, high protein dishes that will power you through the cold. For instance, how about a hearty sausage, lentil and ditalini soup from my latest cookbook: Ciao Italia, Five Ingredient Favorites from an Italian Kitchen? Easy to make and you won't believe how good just a five ingredient soup can be.
2) Winter squashes of every color and description are in my opinion, the workhorse vegetables of winter along with onions, Brussels sprouts, and mushrooms. Creamy and velvety squash soup is a favorite as is a rich risotto made with diced squash, and spaghetti squash does a great stand-in for spaghetti and meatballs. If you have some eggs, an onion and mushrooms, a tart is a nice change of pace as is a steaming bowl of onion soup with a blanket of melted cheese over the top.
3) Don't overlook leafy Swiss chard, kale, carrots and beets. Swiss chard and kale can be steamed for use as a side dish, incorporated into crustless quiche or stuffed and baked. Combine cooked beets and carrots for a nice winter salad; add some feta cheese, and a handful of walnuts or pine nuts and you have a perky salad that can banish winter blues with one taste.
Yes, January can be a challenge on many levels but sacrificing good food does not have to be one of them if you think, choose wisely, and cook in season.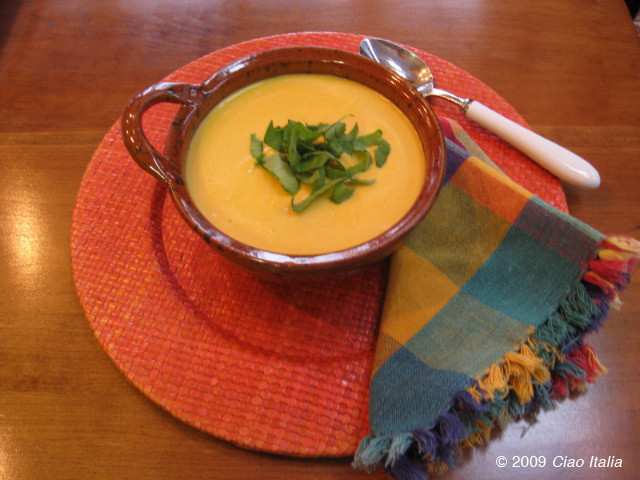 Squash and Spinach Soup
Zuppa di Zucca e Spinaci
Now, this soup uses real ingenuity. A vibrant green, the soup is beautiful to look at as well as eat. I call this a kitchen-sink soup because it uses vegetables, milk, and pasta, and was created just by having the ingredients on hand.
1 10-ounce bag fresh spinach, washed, drained, and stemmed
4 tablespoon (1/2 stick) butter
1 medium onion, peeled and diced
1 pound yellow summer squash (about 3 small), cubed
1 pound potatoes, peeled and cubed
3 cups water
1 cup milk
1 1/2 teaspoons fine sea salt, or more to taste
Freshly ground black pepper
1 cup ditalini or other soup pasta
Grated Parmigiano-Reggiano cheese, for serving
Place the spinach in a 3-quart soup pot, cover, and cook without any additional water until limp, about 3 minutes. Drain the spinach in a colander and let cool. Press out the excess water with a wooden spoon, then coarsely chop the spinach. Set aside.
Wipe out the soup pot, return it to the heat, and melt 2 tablespoons of the butter. Add the onion and saute over medium heat until soft. Add the squash and potatoes, and cook the vegetables together, stirring often, for about 5 minutes. Add the water, milk, salt, and pepper. Stir, combining ingredients well, cover the pot, and boil gently for 20 minutes, or until the potatoes are tender. Turn off the heat.
In a skillet, heat the remaining butter. Add the spinach and cook for 3 or 4 minutes. Add the spinach to the soup and stir well to blend.
In a food processor, puree the soup in batches until smooth. Return the soup to the soup pot and set aside.
In a medium saucepan, boil the pasta in salted water until al dente. Drain and add to the soup.
To serve, reheat the soup and serve in individual bowls. Pass the cheese for sprinkling on top.
Variation: Use thin slices of uncooked yellow squash as a garnish.
This recipe is from NELLA CUCINA by Mary Ann Esposito, published by William Morrow and Company Inc., in 1993. © Mary Ann Esposito
Author Bio
Mary Ann Esposito, author of Ciao Italia Five-Ingredient Favorites: Quick and Delicious Recipes from an Italian Kitchen, is the creator and host of the long-running PBS series Ciao Italia, celebrating its 20th anniversary in 2010. She is the author of eleven successful cookbooks, including Ciao Italia Slow and Easy and Ciao Italia Pronto! She lives in Durham, New Hampshire.