When choosing your wedding style, Instagram and Pinterest can offer some fabulous ideas, but it's easy to get totally overwhelmed! Actress Anna Camp, and her fiancé, Pitch Perfect co-star Skylar Astin, are planning their wedding and are facing this very challenge.
We worked with Anna and her wedding planner, Tessa Brand, to bring Anna and Skylar's top three looks to life. Three different wedding invitations from Wedding Paper Divas inspired the gorgeous coordinating tablescapes designed by Jesi Haack Designs. While this kind of real-life custom installation may not be in the cards for all couples, simple inspiration boards can be done in a snap and without spending a dime!
Step One: Consider your relationship
You want your wedding to be a reflection of the two of you. Melding that style to find something cohesive can be tricky but start by thinking about your love story. Any special places or ongoing themes? What do you like to do together? Do you love going out for a night on the town? Sunday hikes? Anna and Skylar are a low-key couple and love staying home and hanging out with their dog, Rocky. One of the looks we explored for them was a relaxed, rustic chic feeling that was reflective of them.
Step Two: Get specific
Your head is probably spinning with visual inspiration from magazines, Pinterest and Instagram, but at some point it's time to step away from the iPad! Sit down with your partner and pick two or three styles that excite you both. Once you narrow down your specific ideas, you can spend time exploring each look in more detail to help you identify your unique style.
Step Three: Build out your inspiration.
Gather pictures, fabric swatches and invitation samples (these are often complementary from your stationer) for each look and lay them out or paste them to a simple board. Alternatively, go all digital and make professional quality virtual inspiration boards with easy apps like PicMonkey. Seeing how all the different elements of a wedding work together at-a-glance will go a long way in helping you identify a clear favorite.
Once you've decided on a direction take a break! Save your gorgeous inspiration board(s) and step away for a day or two. Anna and Skylar won't be making their decision immediately - they are going to take some time to let it all sink in. While we all anxiously await their wedding details, check out their gorgeous tablescapes below and let us know which style is your favorite!
Elegant Romance
To create this sweet romantic look, embrace sweeping, full florals in soft tones like blush, ivory and even rich, warm burgundy. Dress up neutral shades with delicately patterned china, rose gold flatware and vintage pressed glass goblets. To create an intimate, personal atmosphere, incorporate hand-painted details and signage warmly lit with clusters of glowing candles or softly sparkling chandeliers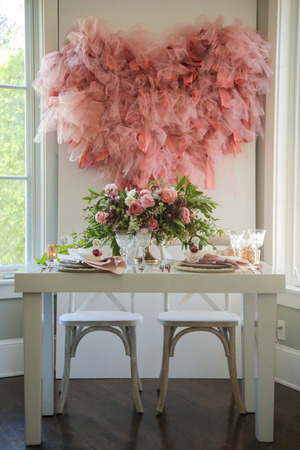 Photo credit: Dennis Kwan Photography for Wedding Paper Divas
Hollywood Glam
Achieve timeless elegance and glamour with a clean color palette with special, noteworthy details. Energize a classic color combination - like black, white and gold - with stunning china with a unique silhouette and luxuriously gilded edges. Pair delicate vintage champagne coupes and low, lush white blooms in warm, golden tones for a little extra romance.
Rustic Chic
This outdoorsy look can be achieved by embracing textures and colors found in nature, from dark, rich browns to luscious, flowing greenery and soft white and ivory flowers. Incorporate long, wooden farm tables with flatware and table décor in muted, mixed metallic to compliment the natural color palette.