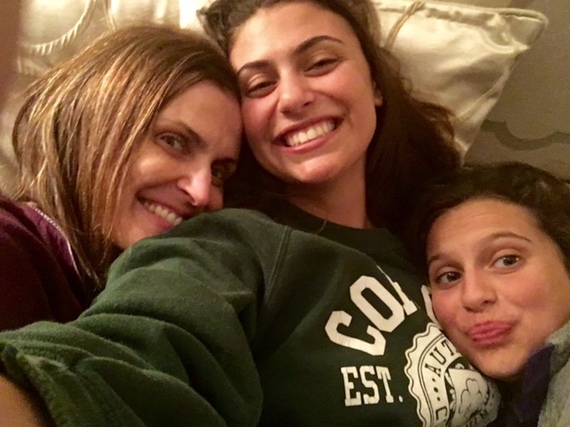 Photo by Julia Sprenger ©2016 Reprinted with permission of the photographer
At least once a day when I have my kids, less often when I don't, I feel defensive about my parenting. Usually, something happens with one of my teens or pre-teen and I'm reminded that I'm imperfect (they have a way of reinforcing that, don't they?). My instinct, usually, is not to remind myself how I make good decisions about and for my kids. Instead, I think less than fondly of my ex-husband because I know he doesn't have my back, which is, often, a detriment to the kids and to both of our parenting efforts.
After divorce, there is still much co-parenting that should be done. It takes great effort, sometimes, to listen openly and without criticism to a former partner's thoughts about your child but it's incredibly important too. It keeps kids from pitting one parent against the other and manipulating many situations to their advantage. It also means the kids know you are really there for them as parents, whether or not you are still a couple, and there is great emotional security in knowing that.
Most professional advice suggests trying a rational shared approach with good communication to keep kids healthy, emotionally and physically. But, what if that collaboration doesn't exist and you still share the children 50/50? Parallel parenting may be required, that is, one set of rules and expectations applies in your home and another in theirs. And, by the way, just because the children are no longer technically minors doesn't mean they don't need lots of parental guidance. So, how do you manage it, practically speaking?
Don't buy into the kids' manipulations, no matter how tempting. I think it's not always made explicit in divorce that, more often than we acknowledge, there is a new and undesirable competition between divorced people with kids. It's not always the Disneyland parent problem, although certainly it can be, but rather the almost certain instinct of a child to tell you that "Dad doesn't do that" or "I like my other room better," that can make one's teeth grind. Yes, I've developed a few easy "go to" catchphrases like, "These are the rules in our home together," and "It doesn't seem kind to say that," but internally I'm both beating myself up just a little and, inevitably, angry with my ex. However, if I set aside the resentment, I can hold firm to the behavior expectation in our home together, repeatedly if necessary, and find my kids will respect and, sometimes even, appreciate it.
Don't criticize the other parent but do guide your kids when they need it. My ex may or may not have done what the kids represent he did. I'd love to be able to share the event with him and know he will remind the kids they are very lucky to have two loving parents that back each other up. However, he doesn't want to hear from me on shared parenting issues and won't back me up even when I'm trying to do that for him. So, even though he won't do it for me, I still remind the kids that their dad and I both want the best for them.
When my ex acts in an indefensible manner, I simply remind my kids they can work on their skills for dealing with a difficult person without criticizing their dad. Although it may be tempting to offer your critique of what the other parent is or is not doing, even if the other parent does it when with the kids, you shouldn't. Although momentarily satisfying on many levels, it isn't just bad for the kids, it is bad for us. The sad reality of divorce from an ex who doesn't want to co-parent is that it is a very long game to be played with conscious regard for possible change, even if none occurs, and for the well-being of the kids in mind. Period.
Get the support you need. Yes, I have my own support, and that's invaluable. Whether it's legal, emotional, financial or coaching support, make sure you get it. Beyond that, it is well-documented that it's not divorce that hurts kids but conflict between parents in divorce that isn't good for them. Doing everything I can to remember that important fact protects my kids, at least in the home we share. I'm human and imperfect and make mistakes but it's never about how much I love the kids. Sometimes it takes everything I have to remember that and keep my mouth, if not my feelings, clamped shut.