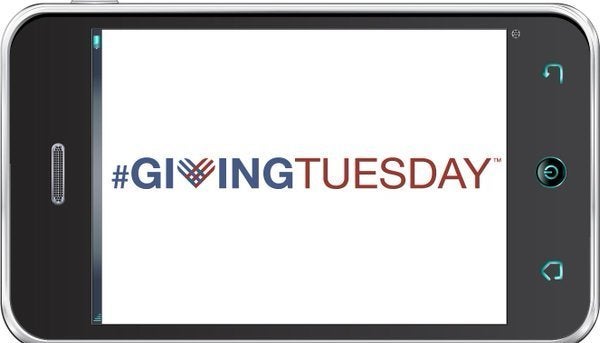 When I was approached about being a Giving Tuesday Ambassador in Spring of 2013, I jumped at the opportunity. I love making a difference and helping people move from point great to point awesome. I remembered the first #GivingTuesday in 2012 and its tremendous backing from Bill and Melinda Gates, and, I started thinking, "this clearly is something that can become a vehicle to connect every corner of the planet."
And our planet is big, dynamic, and very diverse. I not only talk about diversity in speeches, and presentations, and post about it in social media, but also I practice it in my daily interactions with people I meet. So it wasn't hard for me to connect that with the aims of the U.N. Foundation - which does #GivingTuesday outreach to individuals, businesses, foundations, and charities on continent after continent.
For an effective online promotion of #GivingTuesday on my Twitter, Facebook, LinkedIn, Pinterest, and Instagram accounts, I use the framework of Michael Silverstein and Neil Fiske's Trading Up, one of my favorite books of the last decade. I took their brilliant, three pronged approach - "Conceptualize the Idea — Create a Prototype — Launch and Consistently Refine" - and have been putting it to good use on a daily basis for years now.
As you decide what approach you will have for 2016, here are three tips everyone should consider when you become an ambassador - tips I talked about at the Giving Tuesday Best Practices Summit:
Think Like There Is No Box - Be unlimited in your thinking. For example, it would have been easy for me to simply retweet and share #GivingTuesday links only on Tuesday. But when you're helping to build a brand or a movement, you take full advantage of every hour of every day, and every day of the week. It is not uncommon to see the #GivingTuesday hashtag on my Twitter feed daily. I include it with quotes about giving, and put it on links about social good activities. So don't just think out of the box, so to speak; think like there isn't one in the first place.
Support Other Ambassadors - One of the biggest trends in the social space over the past few years is "collaboration." The partnership between GivingTuesday.org and the U.N. Foundation is a great example of that. So when retweeting #GivingTuesday links, I don't simply support people I recognize and personally like. That's easy. I like to share links throughout the year from ambassadors I may not know, folks who are really trying to rock the social good. At the end of the day, we're all on the same team. When we work together, we shine together.
Have Fun - When I connected with that entrepreneur in Ireland, that student in South Africa, that educator in Mongolia, and that traveler in Peru, they all told me about what a joy it was to give back. And they are just four out of many people who either shared their story, or simply asked me what #GivingTuesday was, and how to get involved. Global connectivity and cultural exchange is, in my view, fun. Big fun. I enjoy connecting. And when we enjoy what we do, we do it so much better. So by all means, take fun to the next level!
I see #GivingTuesday being a permanent part of the social landscape, and, being a platform upon which inspired philanthropy and service can thrive like never before. I am excited about the possibilities and looking forward to helping it expand further.
Looking to be a #GivingTuesday Ambassador? Click here to get started, and be sure to check out Twitter's great write-up on what makes #GivingTuesday a huge success.
Below you will find our infographic, detailing the results from 2015's record-breaking efforts. This is a global movement of dedicated individuals, nonprofits, businesses, and communities: moving the the world forward in a most dynamic, and extraordinary way.
Sean Gardner is a board member and V.P. of Social Media with the World Communication Forum in Davos, Switzerland, and an advisory board member with the Digital Media World Forum Series. He is also a global keynote speaker, business creative, and digital producer who lives in the Seattle area. He currently conducts workshops and social media training for small business, nonprofits, celebrities, and multinational corporations. You can follow his global adventures on Instagram.
Related
Popular in the Community