Picture this: Stacks of taped up boxes fill your home and the moving truck is about to arrive. In the corner of the room you are still staring at a box of important documents. What should you do with your birth certificate, social security card, passport, banking documents, will, and all of the other valuable papers? You know better than to pack them up and send them in the moving truck or ship them. But, what is the best way to keep them safe and accessible during your move?
The first step is to place them in a portable file box. Purchase a file box with the lid attached and a secure latch. Next, sort your documents into separate folders within the file box. Use colored folders and create a color-coded system, so at a glance you can find documents easily. Mark the outside of the box very clearly, indicating that it is not to be moved with the rest of the household goods. Let's call this file box the "Lock Box."
Once you have your Lock Box organized and labeled, there are three simple ways to ensure your precious documents are safe and sound: New School, Old School and Phone-A-Friend tactics.
1.New School: It's important to have back-up of all of your important documents. Rather than taking photo copies of everything to then find a place for all of the photo copies, take pictures of your documents and save them to your smart phone. Be sure your phone has a password for security and that you have secure backup or encrypted cloud storage. You can also email the pictures to yourself and save them on a removable flash or external hard drive, or consider using a secure cloud-based service. Visit here to learn how to use electronic encryption to protect sensitive information.
Now you have all of your documents easily accessible during the move and copies safely saved! It is a digital world after all.
While you're at it, make sure all of your contacts in your phone are up to date so you have everyone's contact information at your fingertips during your move (i.e. bank, doc, vet, mom, etc.). It is also a good idea to include health insurance, doctor and medication information in the case a loved one is in the hospital suddenly, you have access to everything in one place.
If you will be in your car from point A to B, keep the originals in the Lock Box with you during the move. If not, follow the next tips.
2.Old School: They still do exist. Check with your new local bank to see if they offer safe deposit boxes and place the important papers from your Lock Box there for safe keeping during your move. You can place all of the documents there or select the documents that you must keep the originals safe, such as your social security card, passport, and birth certificate. Keep the remaining in your Lock Box with you.
3.Phone-A-Friend: If you are not going to be in your car the entire move or simply have a lot of stops along the way, ask a trusted friend or family member to keep your Lock Box during the move. This way you will know it is somewhere safe and you can simply phone them when you need access to your documents.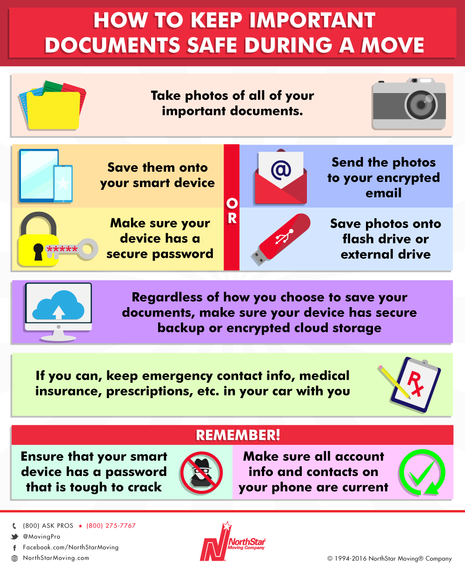 Knowing where your records and identifications are during a move will give you peace mind. And, you need a little peace of mind during a move!
Support HuffPost
A No-B.S. Guide To Life
Related
Popular in the Community