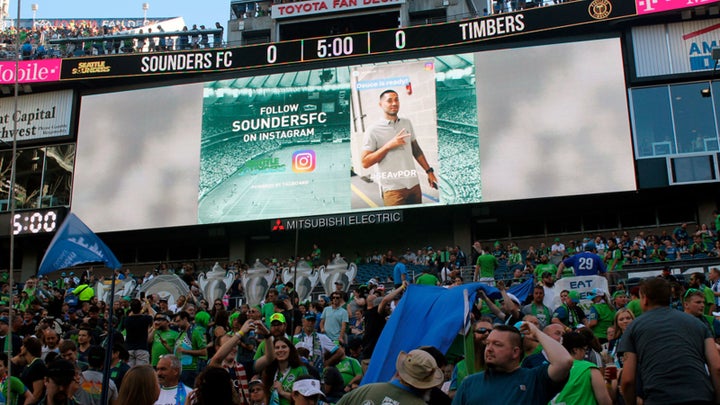 By Josh Decker, CEO, Tagboard
The rise of live streaming and on-demand media continues to redefine the fan experience, providing sports fans with a deeper connection to their favorite teams, while also opening up new opportunities for brands.
A few years ago, Twitter was the most common way for fans to interact in the moment. Today with one push of a button, fans are going live on Facebook Live, Instagram Stories or Snapchat to instantly share their pride and engage with their favorite teams and players. At the same time, they're consuming live social content from those teams, players, and even other fans as they get pumped up for a big game.
With Amazon Prime, Facebook, Hulu and Twitter now featuring live sports, fans today are more likely than ever to live stream or watch games on-demand, which in turn is disrupting traditional broadcast networks. Case in point: this season Amazon is live streaming NFL Thursday Night Football games, while Facebook and Twitter will broadcast college sports for the first time, in addition to MLB games on Friday nights.
Live content is now driving stronger engagement with fans, more so than any other media type. With that, brands are increasingly shifting their marketing dollars to live social platforms ahead of traditional channels. The result? A stronger reach and deeper fan engagement.
Here are 3 trends that are changing the future of fan engagement and how brands and marketers can benefit:
1. The Rise of Live Streaming
Content creation tools such as Facebook Live, Snapchat and Instagram Stories are fueling new opportunities for sports teams and brands to drive deeper engagement with fans than ever before.
Earlier this year, Nike utilized Facebook to live stream Eliud Kipchoge's attempt to run a marathon in less than two hours as a part of its #breaking2 campaign. The campaign provided incredible lift for Nike's product launch, with fans across the running community tuning in to watch it live and join the conversation.
Snapchat Stories has completely changed the way brands engage and build relationships with fans. Earlier this year, NBC and Snapchat debuted an NHL playoff beard filter to help bring the Stanley Cup "into the hands of fans." Another example is the video the NBA produced exclusively for Snapchat during this year's NBA Finals.
Instagram Stories has only been around for a little over a year. Today half of all brands on Instagram are producing Instagram Stories on a monthly basis – with many top brands or teams producing Stories daily. Red Bull is a great example of a brand that has tapped into Instagram Stories to produce incredible content and inspire user generated content with fans. This summer Red Bull leveraged Instagram Stories to post viewer-voted dance offs, with fans encouraged to video their #FridayFreak and direct message it to them.
2. Live Social Displays and In-Game Experiences
The opportunities for brands and sports teams to spur engagement with fans extends well beyond the app, thanks to the integration of live social media across broadcast, web and mobile properties, as well as in-stadium.
To turn up the conversational volume with fans, Tagboard has partnered with professional sports teams and brands around the world to create a 360 approach to fan engagement. The latest example is Tagboard's partnership with the Philadelphia Eagles and the Seattle Sounders FC to display Instagram Stories content live in-stadium for the first time ever with fans.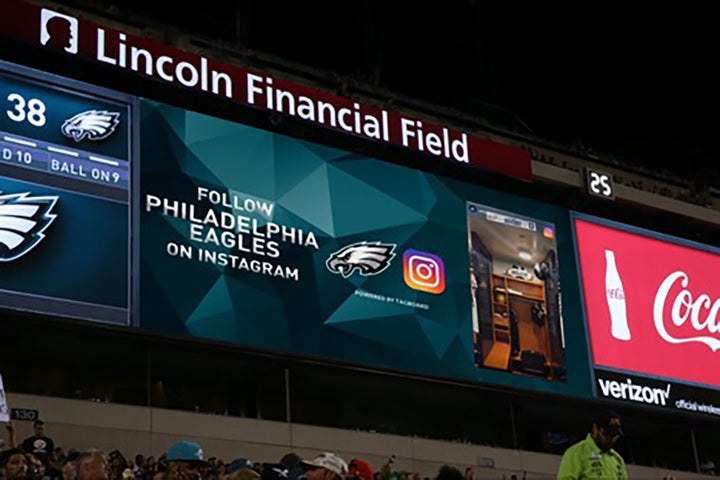 Along with the Eagles and Sounders, the San Francisco Giants (MLB), Golden State Warriors (NBA), and Arizona Coyotes (NHL) will also display Instagram Stories content live in-stadium with fans for the first time in their respected sports leagues. FC Bayern Munich (Bundesliga) will become the first sports team in Europe to launch this content in September.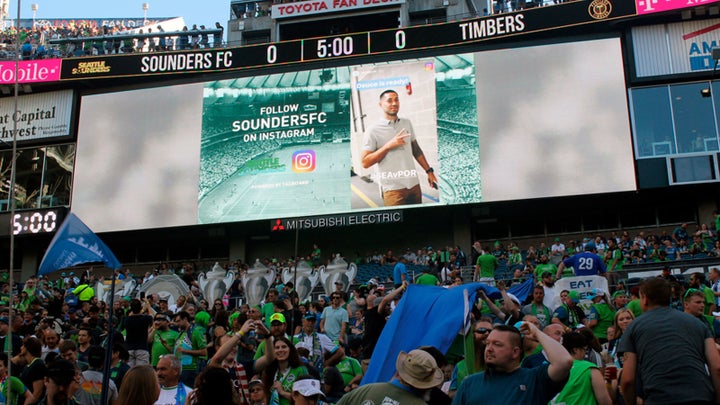 Broadcast networks are also jumping on the trend. Telemundo showcased Instagram Stories content in their live Premios Tu Mundo awards show on August 24, a first for live broadcast. NBC's Golf Channel is planning to do the same this Fall.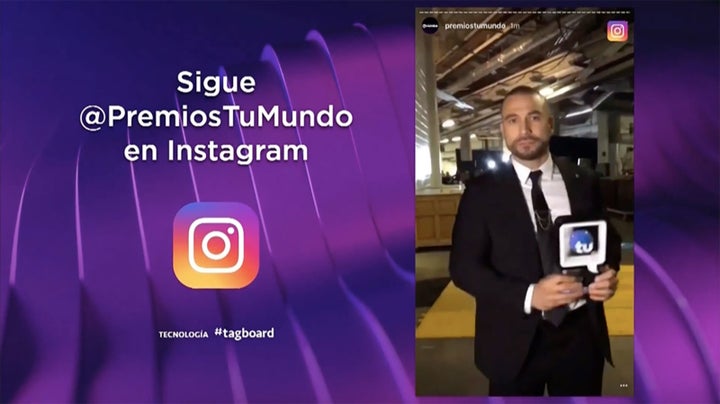 As Snapchat, Instagram Stories, and other live content platforms continue to gain traction, more and more brands are looking for ways to share that content in-stadium, on-air, and across their other owned channels. There's a huge market opportunity for live social media sponsorships, and we're only seeing the beginning of the trend.
3. Game-Enhancing Experiences from VR to AR
Augmented reality (AR) and virtual reality (VR) are two other trends that are redefining how fans interact with their favorite teams and sports in the moment. Snapchat's augmented reality filters have already changed real-time video storytelling, allowing fans to wear their team's favorite helmet or gear. And now, we're seeing professional sports teams taking AR and VR experiences to the next level in stadiums around the world.
The NBA is now showing one VR game per week in partnership with NextVR, while teams like the Golden State Warriors are live streaming VR events during home games such as the raising of the banner or ring ceremony. We'll continue to see VR gain momentum with fans invited to wear their VR headsets and be transported onto the field to watch replays or interviews with their favorite players, including brand and celebrity tie-ins.
As technology and live content platforms continue to evolve, marketers will have more opportunities than ever to reach sports fans with richer content and offer live experiences that bring them closer to the game, and the brands who sponsor it.
Josh Decker is the Founder and Chief Executive Officer of Tagboard, a trusted Social Media display partner for sports, entertainment, and broadcast media companies. He's also the company's lead evangelist. With a vision of a platform that would connect people and ideas from multiple social communities using hashtags, Josh's dream became a reality in 2011 when Tagboard officially launched. Josh is a lifelong entrepreneur with several ventures in the technology and automotive spaces, including QuattroWorld.com, an online Audi fan site. His passions include travel, motorsports, cheering on Seattle sports teams, and camping. Josh can be reached on Twitter @JDBT.
Popular in the Community