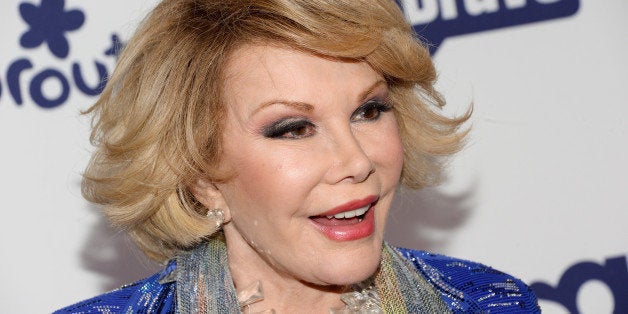 "Oh, Joan is going to HATE you!" were the words that welcomed me to my first day of work with my coaching client, Joan Rivers. She was the original trailblazer with a 50-year comedy career and over a billion dollars of products sold via QVC. It was a profound honor to serve her and her team. If you are to make the world a better place, don't let Joan's brashness or expletives dissuade you from life lessons her legacy can inspire in you today.

Don't Care
Stop caring. Stop it right now. Stop caring what other people think of you. Throw yourself fully into what you're here to do. I am not saying be rude and insensitive; take a lesson from her and be willing to do what it takes to make your mark. As a trailblazer woman, the world needs the gift that's yours to share.

For the most part Joan couldn't care less what you thought of her. It gave her the power to say what we were all thinking. She was on a mission to make you laugh. Period. End of story. When you care about your mission more that other's opinions you have tremendous power.

"God put me on this planet to make people laugh." She knew what she was here to do and she spent just about every waking moment doing just that.
Take the risk and share full out. It doesn't' matter if it's unpopular or misunderstood. When your mission is bigger than you, it's worth it to give it all you've got.

Care Deeply
What? Shhh. It's a secret. Behind the scenes Joan was a tender soul. If you listen to those close to her you will hear a very different side of the woman who told anal sex jokes in her 80s. Believe it or not this new age quote, "Yesterday is history, tomorrow is a mystery, today is God's gift, that's why we call it the present" is from Joan Rivers.

She treated the present as a gift and showed she cared. If she believed in you she would make it a point to help you. There is a reason her hospital room was filled with so many flowers that she had to be moved to a bigger room. She was beloved because she cared deeply about so many people and it's natural to give back. Her makeup and hair team were with her almost daily for over 20 years. They would carefully dole out a few M&M's for her to keep her energy up throughout the day. I know I am not alone in saying thank you to Joan Rivers for going out of her way to open doors for me.

Find the Fabulous
Life isn't a straight line for any of us. You are going to run into tests. The bigger your mission the bigger the tests. The real challenge is whether or not you will let the obstacles stop you. Joan once stated "If I can't make it through one door, I'll go through another door, or I'll make a door. Something terrific will come no matter how dark the present."

Take what ever you are given and find the fabulous in it. If you've got something to say or do stop sitting on the sidelines. Joan would "make a door" and you can too. When Costco rejected her book she chained herself to the carts outside the store to generate PR... and sell more books. OK, that may not be your style but find your way. "Take every chance and every opportunity you can. Don't say 'I can't' or 'I shouldn't' or 'I'm too tired.'" said Joan Rivers.

Just like Joan, don't let excuses stop you from finding your fabulous.
REAL LIFE. REAL NEWS. REAL VOICES.
Help us tell more of the stories that matter from voices that too often remain unheard.