If there is any lesson we can draw from the divisive US Presidential election, it is that we need to come together as a country. Whether people supported Trump or Clinton, the polarizing rhetoric and identity politics on both sides of the aisle have so saturated our collective consciousness that we are less inclusive and more fearful of the future not just here in the US but around the world. Business is not immune to the impact. And no amount of diversity and inclusiveness training or programs will change the palpable feeling that we are moving further away from one another, rather than truly embracing diversity and creating environments where people feel included and valued. For business, diversity is the easy part. We can recruit and hire across a diverse spectrum and yet still not achieve the desired outcomes of increased retention, promotion and engagement across our workforce. The reason is simple: Inclusiveness is damn hard to do and nearly impossible to measure. And yet we must strive for a truly diverse and inclusive business environment as it is a massive competitive advantage in the short and long term for companies who get it right.
Inclusion Begins and Ends with Listening & Learning then Leading...
Great, inspiring and enduring leaders know that leadership begins and ends with listening. Something that seemed to be in short supply throughout our Presidential election cycle. In addition to listening, they should never stop learning or adjusting based on what they'd heard and absorbed. From there they can lead most effectively over time because true leadership happens in moments. The listening and the learning should be continuous. We should keep this approach in mind as we consider how to re-imagine D&I in the post-election context, particularly on the listening and learning front.
Last month, I was working with a client here in San Francisco and LA on a D&I Master Class series where they would explore completely new ways of looking into their diversity and inclusion approach as a company. With a company like this - who works with Silicon Valley tech companies and whose workforce is primarily Millennial - it was refreshing to be given a clean slate for the content I could engage them on as they had no prior D&I programming locked in stone like so many others. We started with listening to their people and engaging them on a series of homework questions as well as short diagnostics so we could have a clear sense of how they were feeling about the issues before we began. It is important to note that their responses to all were submitted anonymously and managed by a neutral third party outside of the company, in this case I led these efforts, which allowed not only for full disclosure and candid responses but also a fresh perspective of the landscape we were engaging with. From there, we learned so much about the pieces necessary to start the dialogue and the path forward began to emerge. In going through this process, I uncovered three essential unorthodox approaches that we all should consider experimenting with and implementing going forward in 2017. The initial premise of these approaches flips conventional thinking on D&I strategies upside down because it focuses on the individual and team levels first and foremost rather than the organization and its external components. I firmly believe that if you engage people at a personal level and give them practical tools that they can implement in their professional and personal lives, the overall engagement and impact of any new effort will be more lasting long term.
Two quick caveats for the approaches below: 1) We need to move away from old modes of thinking that all we need to do is have another 'group' for people to belong to within a company and call it a day. Grouping people based on discrete characteristics like gender, nationality, sexual orientation, etc only serves to create a sense of 'other' and further exclusion and 2) We should focus on continual learning and discovery rather than training. It is a subtle difference but one that is important to keep in mind as telling people what not to do is the surest way to institutionalize resistance and resentment within and organization.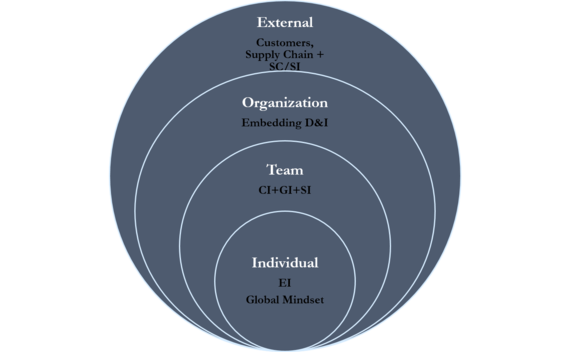 Three Unorthodox Approaches to Consider for 2017
• Inculcating A Global Mindset -- Whether you are a primarily US-based company with US-centric clients - like my recent client is -- or a global business, the principles of The Global Mindset are universal and apply as a practical foundation for further learning and discovery on the D&I front. The Najafi Global Mindset Institute, which was founded years ago by Dr. Mansour Javidan at Thunderbird, is a mapping of the essential skillsets, experience set and mindset for success in a cross-cultural environment. It is simple, straightforward and practical. I include it in the graduate courses I teach at The Hult International Business School on Corporate Diplomacy & International Negotiations as well as my Gender Intelligence work.
• The Intelligence Triad - Emotional, Collaborative & Gender Intelligence - After you have the Global Mindset foundation established and are ready to go deeper at the individual and team levels, the tools, diagnostics and exercises in the Collaborative and Emotional Intelligence space as well as Gender Intelligence are critical to expose people to on a regular basis. Much of Google's now massive Search Inside Yourself Leadership Institute (SIYLI) is based on this approach for a reason. The more people practice collaborating effectively and understanding, then modulating one's emotional intelligence to their and others benefit, the more lasting the effect is on our day to day behaviors. There is also substantial, longitudinal research now showing that Millennials in particular are in need of further developing the skills that their fluency with technology failed to teach them long ago - essential coping and resiliency skills or what psychologist Dr. Susan David at Harvard has coined Emotional Agility. On the Gender Intelligence front you need to follow two pioneers, Barbara Annis who started these efforts over two decades ago and has written extensively about the blindspots between men and women at work as well as Mitch Shepherd, founder of WiRL (Women in Real Life).
• Strategic Influence & Captive Value -- Once you have the global mindset and skillset foundation established at the indidivudal and team level, from here you encourage the development and strengthening of strategic influence and captive value skills, both of which are essential to effectively manage relationships internally and externally to your organization long term. Of the three approaches, this is the most difficult to engage people on because it is an experience set rarely taught, rarely mastered and yet one that is critical to create an environment where people truly feel included and valued over time.
New Year, New Approaches -- Radically Redefining D&I Going Forward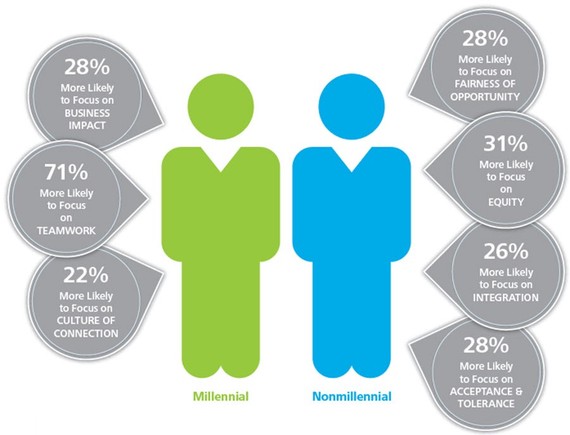 If there ever were a time for bold action and fresh thinking on diversity and inclusion efforts in business -- across the board -- it is now. Old thinking and old models won't work going forward and the companies that get this right will not only have a distinct competitive advantage globally but ultimately create an environment people want to work in and with for years to come. The investment in time, energy and resources to getting this right and inviting new thinking in will make all the difference. The work starts now and business is uniquely positioned to take the lead on this by starting to establish and spread new best practices for D&I. And perhaps our government might then learn something new as well and follow business' lead. One can only hope...
REAL LIFE. REAL NEWS. REAL VOICES.
Help us tell more of the stories that matter from voices that too often remain unheard.