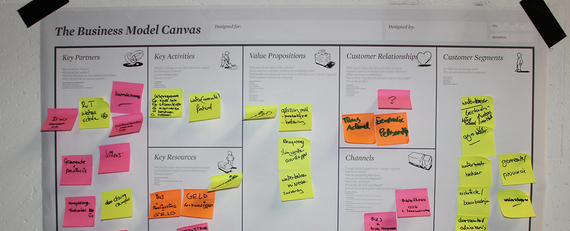 This post originally appeared on the Do It Better blog.
Business models are a crucial part of any company's success. The standard format of business models have changed over the past few years, from lengthy, detailed documents to concise, informative presentations.
This downsizing of business models has helped many founders identify what the most important parts of their business is, and remove any areas unrelated to their growth. The concept of the Lean Canvas is the epitome of the new, compact business model: it's one-page format necessitates founders to focus on the most important things.
Since the strategy outlined in your model is has a great impact on your business, it's key that you regularly re-evaluate your business plan, ensuring that it changes and evolves as your company does.
While making it a goal to consistently update your business plan can be difficult, developing the discipline to do so will guarantee you an awareness of your company that many owners don't have. If you are ready to commit to updating your business plan on a regular basis, there are 3 areas you should re-evaluate each time.
Your Target Demographic
When I developed my target demographic for my previous startup, Offmap.com, I created a persona that reflected my ideal customer. "Steve" became the focus of my development. For his full profile check out the original post here.
Every aspect of Offmap was designed with Steve in mind.
After about a year and a half, I re-evaluated Steve, to see if he was actually the majority of my target demographic. All purchases coming from my "Steves" were pretty much as predicted, but what I didn't expect to find is that age wasn't a large factor. I had customers from ages 18 to 40, not just in their late 20's or early 30s.
This hammered home the realization that my product was of interest to a much broader age range than originally predicted. What the actual data said was that there were younger customers without a steady income, as well as older adventurers with a steady income that were interested in my travel packages.
Had Offmap succeeded, I would have needed to adjust my business model and marketing strategy to address this observation. If I didn't, Offmap could have missed out out on a huge segment of acquisition because of not re-evaluating exactly who my target demographic was.
A practical way you can re-evaluate your own target market is to look at your top-performing blog posts, then compare that with your own "Steve". If the content your audience is consuming isn't in alignment with all things that define your customer, you need to re-evaluate both your target demo and your marketing strategy.
If you realize you've lost sight of your target demographic and are regularly producing content, you may need to re-focus by performing a simple marketing "sniff test". To perform a sniff test, ask yourself the following questions:
If I ran [ideal website of large ecommerce brand], would I read this blog post?
If I ran a startup in the ecommerce space, would I read this blog post?
Would an "e-commerce CEO influencer" share this blog post?
The answers to these questions can help you zero back in on your customer's interests, produce high quality content, and give your marketing efforts laser focus.
Your Marketing Strategy
When I first created the marketing strategy for Offmap, securing some early press to a targeted audience was key to my plan.
I refined my pitch and connected with both the LA Times and Wired. The buzz generated from both publications drove initial users to Offmap shortly after launch.
To incentivize sharing and generate more buzz, I decided to allow limited access to our travel packages at launch. If the user was able to share Offmap via social media and get two people to sign up, they could instantly access our travel packages. I also built some sharing milestones to further incentivize sharing:
Sign up 5 friends, get 25% off
Sign up 10 friends, get 50% off
Sign up 15 friends, you're entered to win a free trip (The winner was pulled from a hat each month.)
Both the early press and the social incentivisation worked in tandem, and drove great initial traffic. But as Offmap began to grow, I realized I needed to re-evaluate my marketing strategy and see which channels to cut and which to optimize.
I decided to shift our focus to content creation: I had validation. I had a user base. I had actual, paying customers. My next thought was to amp up my content marketing strategy. Sadly, I didn't get to execute that strategy. I killed my own startup (You can read about it, in full, here).
One company that currently has a killer content marketing strategy is WP Curve: They recently released their own content marketing strategy plan for 2016, and it focuses largely on providing high-quality content focused around core problem areas.
To emulate WP Curve's exemplary content marketing strategy, develop great content for your readers that will actually help solve their problems. Doing this will be a much better investment in your marketing strategy, and will pay off in the long run.
Had I been able to fully dive into this type of content marketing with Offmap, I'd have focused on creating content around the core problems that "Steve" was having and how my product could solve those problems.
Now, I'm currently trying to refine the content strategy here at Blue Stout in creating content to help ecommerce business owners grow their companies and scale effectively.
Your Customer Acquisition Strategy
When you first plan your customer acquisition strategy, it's ideal to devote your attention to just a couple of channels. As you grow, however, you begin to encounter more potential channels and need to carefully choose which to incorporate into your strategy.
Take apparel startup Outdoor Voices: They initially acquired customers through their seasonal partnership with J.Crew. This was a great customer acquisition strategy for a brand in its infancy, as they were relatively still unknown. Their exposure in J.Crew began returning a rising demand in their product outside of J.Crew, and an increase in online sales.
Margins on direct-to-customer sales are considerably more profitable, and so OV decided to re-visit their customer acquisition strategy, "pause" their relationship with J.Crew, and funnel more resources into more profitable channels with a lower CPA. Their collaboration with popular fashion blogger Man Repeller is just one example.
OutdoorVoices is a perfect illustration of a business plan growing along with a business. J.Crew was an effective channel to initally get Outdoor Voices on the map. However, once the company began to grow, it made sense to re-evaluate their strategy and invest in channels with a much more appealing Cost Per Acquisition.
You can read more about the case study we did on Outdoor Voices here.
How Often Do You Update?
Everyone has their own opinion about what a business model should look like, and how often they should be updated. I think that every 6 months (at least) is a good internal benchmark to set, and that Lean Canvases tend to be more effective than traditional, long winded business plans.
Calling all HuffPost superfans!
Sign up for membership to become a founding member and help shape HuffPost's next chapter