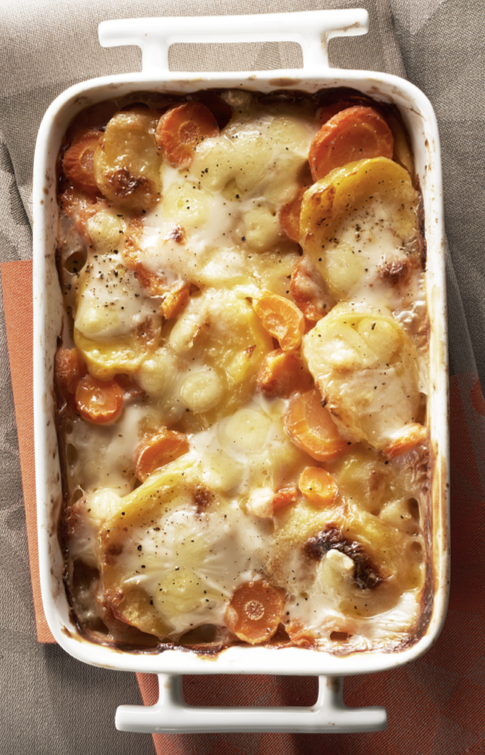 POTATO AND CARROT GRATINE
(Serves four to six)
1.3 pounds yellow potatoes 7oz carrots
4 oz of Emmenthal and grated Parmesan cheese
2 eggs
13 oz of milk
nutmeg
butter, salt and pepper
Peel the potatoes and carrots and cut into slices, not too thin. Wash them and leave to dry
on a towel. In a bowl, beat the eggs and milk, plenty of nutmeg, salt and pepper. Grease a mold with butter, place a layer of the vegetables on the bottom and sprinkle with grated cheese. Continue adding layers of the ingredients and finally pour on the egg mixture. Bake in the oven at 350°F for about an hour. Serve warm.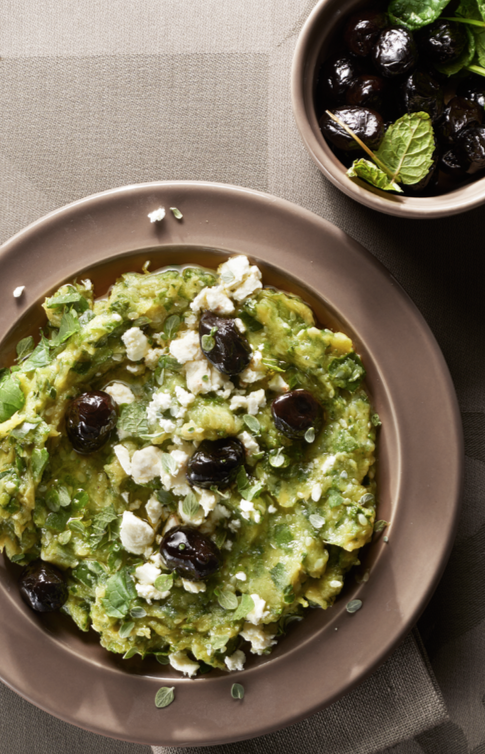 MEDITERRANEAN ZUCCHINI AND FETA SALAD
(Serves four)
4 zucchini
1 clove of garlic
juice and grated zest of 1/2 lemon
1/2 tsp ground cumin
1/2 tsp chili powder
mint leaves
7oz feta cheese
black olives
4 tbsp extra virgin olive oil
salt
Peel the zucchini and boil them whole in salted water. Drain,
put them in a bowl rubbed with garlic and mash immediately
with a fork. Add the lemon juice and zest, chopped mint leaves, cumin, pepper and salt to taste. Mix well and serve with crumbled feta and olives.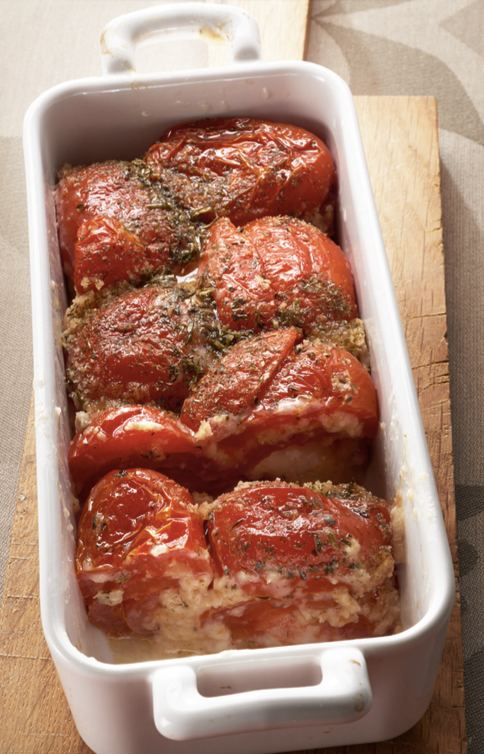 TOMATO AND ROBIOLA TERRINE
(Serves four to six)
12 plum tomatoes
3 tbsp grated Parmesan and pecorino
7oz of Robiola cheese
1 tsp thyme or oregano
1 tsp chopped chives toasted bread crumbs
Slit the skin of the tomatoes and plunge into boiling water for a few seconds. Drain and keep
in a bowl of cold water to stop them cooking; remove the skin, cut them in half and remove the seeds. In a bowl mix the ricotta, grated cheese, 2 tablespoons
of olive oil, herbs and a little salt. Line a loaf pan with parchment paper and layer the tomatoes, the cheese mixture and a sprinkling of breadcrumbs. Press down with your hands and keep in the fridge for 30 minutes, then bake in the oven at 350°F for 30 minutes. Serve cold.