Can a vegan cover a Southern-style cooking contest and do it justice? Read on to find out!
The theme for this year's cooking contest focused on local ingredients. I originally thought this would be quite hard, considering the end of February is not exactly the right growing conditions for fresh produce in Virginia! However, I learned rather quickly that the bed & breakfasts who participated in this contest use a variety of local ingredients that extend far beyond produce.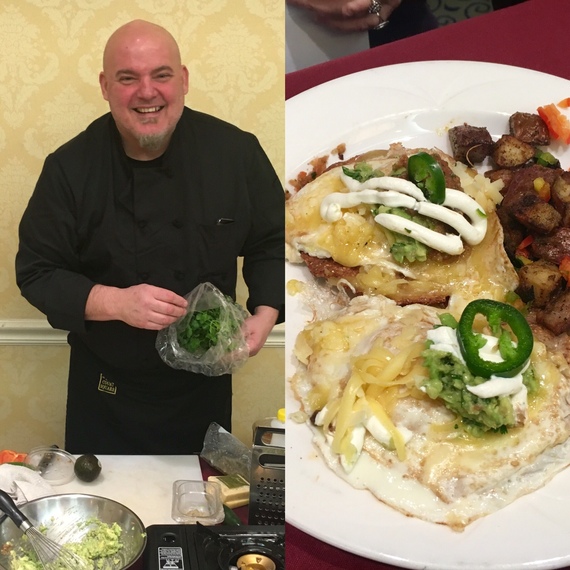 Jim is the chef at the Inn at Court Square in Charlottesville, Virginia. Jim got his start in the restaurant business at The Inn at Little Washington and Four and Twenty Blackbirds, where he worked with two of the best chefs in the world. He learned patience, kindness, and a good attitude, as well as how to pursue excellence. After many years of traveling and cooking on cruise ships, Jim decided it was time to stay close to his mom, and he was brought in as the chef for the Inn at Court Square. Jim is passionate about food and continues to explore new possibilities in cuisine at the Inn. His upcoming projects include revitalizing the lunch menu by adding new dishes, holding monthly wine dinners, and running private parties and special events at the Inn.

Jim's Cooking Contest Entree
Jim took First Place in this year's cooking contest, due to his use of bold flavors and creative culinary combinations. His locally-inspired menu included:
Huevos Rancheros with Hashbrowns and Chorizo Sausage, Fresh Salsa and Guacamole, and Sour Cream
Yellow stone ground cornmeal, sourced from Woodson's Mill, was used for the homemade tortillas.
The chorizo was purchased from The Rock Barn butcher.
The farm-fresh eggs were sourced from Langleigh Farm.
The cheese came from Everona Dairy.
A word from Jim: " I chose the dish because it has always been one of my favorites, and I liked the idea of using Virginia stone ground cornmeal to make the fresh tortillas."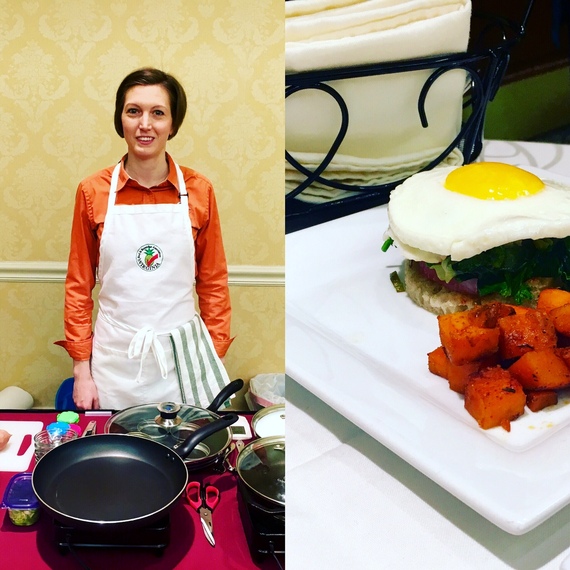 Meet Rachael Worsley, Innkeeper
Rachael is the innkeeper and owner (alongside her husband, Jonathan) at Waypoint House B&B in Berryville, Virginia. Rachel's contest dish was influenced through her research for new breakfast recipes and a favorite childhood author. She came across several different recipes for greens with eggs, which made her think of the Dr. Seuss book, Green Eggs and Ham. It was then that she decided to cook up a play on words with the dish and incorporate ham into the ingredients. Rachael is very fortunate to live in an area that has abundant farm markets throughout the growing season, and even a few markets are open year round, making it quite easy to source local ingredients throughout the year.

Rachael's Cooking Contest Entree
Rachael took Second Place in this year's cooking contest. Her sauteed leeks and greens on top of homemade English muffin bread were a huge hit. Her locally-inspired dish included:
Greens, Eggs and Ham with Sweet Potato Hash
Most of the ingredients were sourced from Mt. Airy Farm Market in Boyce, Virginia. Billy Eyles is the owner, and he sources multiple local Virgina items for the store. The sweet potatoes, spinach, eggs, and the Mainstreet Farmstead Original Shenandoah Cheese Clouds were all from his store.
The ham was sourced from pigs raised by Rachael's neighbor, Kelly Leary, and who has informally named her farm Coccinelle Farms.
The bread was homemade--and Rachael bakes nearly everything for her guests from scratch.
A word from Rachael: "The sweet potato hash was brought in as a side for the dish because Billy was featuring them at his store, and I knew the bright orange color would be a nice compliment to the greens."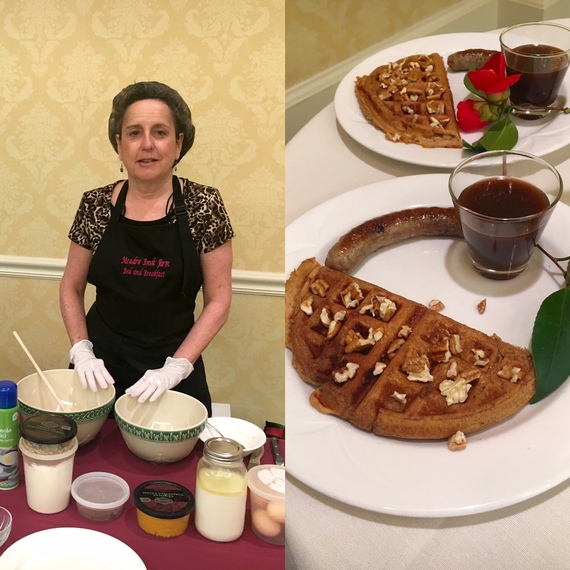 Meet Debbie Bryant, Innkeeper
Debbie is an innkeeper, as well as owner (alongside her husband, Allen) of Meadowbrook Farm Bed & Breakfast in Suffolk, Virginia. The couple converted their family home into a B&B after retiring from their civil engineering careers. After 35 years of being engineers, they wanted to do something completely different and share their farm with others. Agricultural activities at Meadowbrook include raising chickens, grazing black angus cattle in the pasture, an extensive vegetable and fruit garden, fruit trees, and pecan trees.

Debbie's Cooking Contest Entree
Debbie took Third Place in this year's cooking contest. The combination of pecan and butternut, paired with the apple butter syrup made for a delicious sweet treat. Her locally-inspired dish included:
Butternut Squash and Pecan Waffles with Apple Butter Syrup and Country Sausage
The squash, pecans, and apples are all grown on Debbie's farm.
The farm-fresh eggs were gathered from Debbie's hens.
Camellias were used for plate garnish and were also grown the bed and breakfast property. Locally-sourced sausage was purchased from Jeb's Meat Market and Diner in Carrollton, Virginia.
A word from Debbie: "This recipe was created by substituting the squash in a pumpkin recipe. Last year, due to rain, our pumpkins did not produce well; however, we had an over-abundance of butternut squash, which is easy to bake, mash, and freeze. The recipe is creative and maximizes the use of local ingredients available at this time of year."
It was fascinating to watch the contestants prepare their dishes and speak with such passion about their dishes and locally-sourced ingredients. I was impressed by the number of bed and breakfast owners at the conference who have partnered with local farms, dairies, and butchers. I guess when breakfast is a part of your business's name--you better make the experience one to remember!
Want to whip up some of the recipes for your next breakfast or brunch gathering? The chefs have happily shared their recipes for you to enjoy. (And...yes, I'll be modifying them to create delicious, vegan versions!)