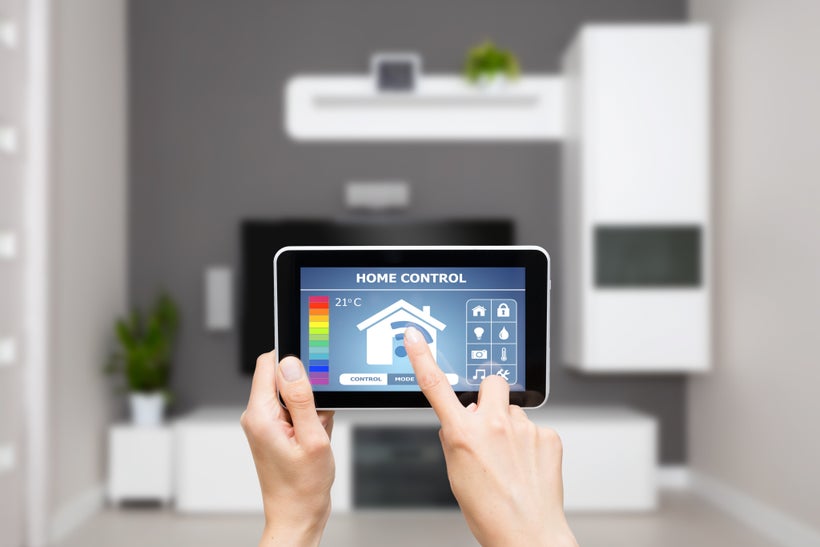 According to the Association for Advancing Automation (A3), last year the North American automation market set new records. 27,294 orders were placed for robots in the first nine months of 2017. These orders were valued at approximately $1.473 billion, the highest amount ever recorded in any other year during the same time period.
According to A3, the majority of orders were made in the automotive, metal, and food and consumer goods industries. Based on this evidence and other recent reports, it's clear that automation is on the rise. And many predict it could have far reaching implications on employment rates.
In a 2017 analysis by PricewaterhouseCoopers, an international tax and financial services company, researchers predicted 38 percent of jobs in the United States could potentially be at risk of automation by the early 2030s. That figure is higher than predictions for the United Kingdom (30%), Germany (35%) and Japan (21%). The analysis predicts the risks appear highest in sectors such as transportation, storage, manufacturing, and wholesale and retail, but lower in sectors like health and social work.
While some are waiting in fear of automation, others are using innovations in automation to revamp outdated processes or to make life easier for customers. Here are three ways people are embracing automation to simplify their lives.
With the rise of women in the workforce, strains are being put on childcare facilities to accommodate need while balancing the sociocultural implications and responsibility of caring for young children as a service. As a result, childcare facilities and nursery schools are looking for ways to automate their processes while keeping the children they serve safe and secure. Companies like Tadpoles automate daily reports, sending e-mails to parents at check-out including a record of activities, eating habits, and even photos and videos taken throughout the day.
Another company working to solve the needs of childcare facilities is MonDevices, which manufactures MonBaby, sleep monitoring devices for children. They've teamed up with Japanese companies Chinavi and UniFa to use their technology to track the sleep position of each child in a nursery.
In Japan, in order to ensure babies are safe, childcare workers regularly check a child's sleep position by hand. With MonBaby devices, this monitoring is automated. "Automation is changing our everyday lives and MonBaby, which will be keeping an 'eye' on thousands of children in Japan, is a part of that digital transformation," says Lev Grzhonko, CEO of MonDevices.
The device can detect a baby's body movements and automatically creates a check sheet, providing updates on a baby's status remotely.
How many times have you grown frustrated waiting in a long line at a grocery store or other retailer? Exacerbated by the holidays and poor weather conditions, long lines have become a common part of our lives. But in recent years, several companies have turned toward automation in an effort to improve customer experiences.
The increased availability of self-checkout terminals at many stores is reducing lengthy lines. Human-run registers are costly for retailers to staff, which often means businesses will staff the bare minimum of registers they can while still keeping a store running.
But self-checkout terminals require fewer resources to operate because once a retailer has made the investment and taken the steps to install a terminal, they don't have to pay to staff it. For this reason retailers can install a number of self-checkout terminals, reducing long lines, for minimal cost. As a result, companies, like Suning in China have devised ways to eliminate cashiers completely.
Smart devices like Amazon Echo and Google Home are becoming an integral part of our everyday lives. You can use them to set alarms, order groceries and other household supplies when you're running low and find out about the weather outside.
But more recently, these smart devices are being paired with other products that help people manage energy efficiency in their homes. Smart devices can monitor energy usage and tell you which parts of your home are wasting energy. They can automatically turn off energy-hungry devices when they're not in use. And you can use them to turn down the heat or turn off the lights if you've left home in a rush.
These devices take the guesswork out of being environmentally conscious. For those consumers who want to adjust their energy usage but don't know where to start, energy saving smart devices make things simple by automating these processes for you.
While concerns over employment implications surrounding the rise of automation are warranted, a number of industries and consumers stand to benefit. Striking a balance between the improved processes and conveniences offered by automation, and the economic health of workers in industries poised for disruption, is one of our greatest impending challenges.
REAL LIFE. REAL NEWS. REAL VOICES.
Help us tell more of the stories that matter from voices that too often remain unheard.
This post was published on the now-closed HuffPost Contributor platform. Contributors control their own work and posted freely to our site. If you need to flag this entry as abusive,
send us an email
.