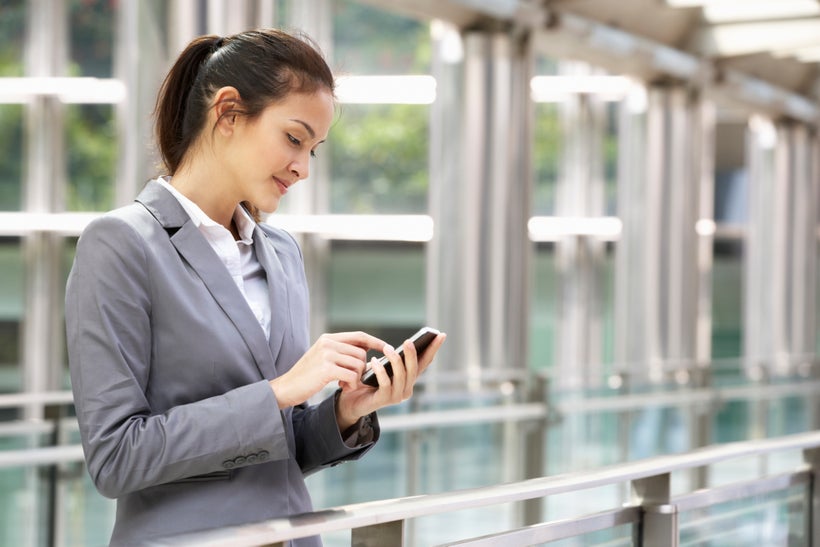 Several years ago, a friend sent me a text ending with "LOL." I responded, "Lots of love to you as well!" When I later discovered that he was laughing at me, I was slightly embarrassed, but I was more perplexed by the confusing language of so-called "text speak."
Thankfully, we're moving past the LOLs and TTYLs and on to greener pastures — emojis. 🙌
In 2015, 92 percent of online consumers used emojis, proving true the old adage that a picture is worth a thousand words. And Facebook's new Reactions solidified emojis' place in the social media world. Consumers are using emojis to express themselves quickly and more accurately, but women, in particular, are leading the charge.
At first blush, emojis are playful and innocent. But upon deeper inspection, it becomes clear that the tiny faces lean more toward the male demographic. Brands using the new wave of "emoji speak" to reach customers might soon find themselves in a tricky PR situation. However, careful consideration and research can not only eliminate precarious conversations, but also drive sales from the powerful female demographic.
Using Emojis to Win Over Women
Just like with any marketing effort, you should carefully think through your target audience and then use the emojis that best resonate. When reaching women, in particular, the following tips will help you stay on message:
1. Learn to speak the language. Women aren't a niche market anymore — they're the world's most powerful buyers. By 2018, their global income is expected to reach $18 trillion. For many brands, women are the decision makers who hold the key to future success. While you're familiar with doing research on any target market, take extra time to consult with women.
Watch how they communicate, check out blogs, conduct focus groups, and scan through forums. Get to know their language and how they speak it before crafting any campaigns. Uncover what emojis resonate with your audience and, most importantly, how they are used. A misused eggplant emoji can be detrimental.
2. Evoke a genuine emotion. Humans at large are emotional creatures, but women bear the brunt of the stereotypical "emotional" label. When Hillary Clinton teared up on the 2008 campaign trail, the media sprung at the opportunity to essentially call her a cry baby. Playing into the stereotype that women's emotional responses obstruct their logical thinking will harm your customer-brand relationship.
Always recently shined a light on this issue in its latest "Like a Girl" ad. The installment illustrates the large number of empowered male emojis versus the highly stereotypical female-focused emojis.
In lieu of branding everything pink and using "soft" language, appeal to deeper emotions through storytelling. Speaking to women as they are — strong and compassionate human beings — will translate to a deeper connection.
Heart eyes 😍, confetti 🎉, a shooting star 💫 — there are many ways to use emojis to convey a feeling or emotion that go beyond the "information desk person" 💁 or haircut 💇 emojis.
3. Avoid stereotypical scenarios. Women are multifaceted — parents, daughters, spouses, business leaders, and friends — and they deserve to be treated as such. Traditional gender boxes no longer fit, and brands that cling to outdated notions surrounding womanhood will fail to forge real connections with real people.
Avoid alienating your audience by expanding your emoji use away from the baby 👶  or dancer 💃 emojis. Instead, choose the gender-neutral surfer or one of the many tasty food items, making sure it connects back to your brand story. Creativity is key when avoiding stereotypes.
In early 2015, Dominos began tweeting out mysterious pizza emojis 🍕. Curiosity among consumers and the media soon mounted until Dominos finally unveiled its new delivery option: Customers could simply tweet a pizza emoji to trigger the order process.
In one day, more than 500 U.S. consumers used the system to order a pizza. The campaign even won the 2015 Cannes Titanium Grand Prix for the "most breakthrough idea of the year." Dominos showcased its emoji prowess without playing into stereotypes.
Women are fans of emojis — that's no secret. Leveraging this new language can either set your brand apart or launch you into a PR nightmare. Carefully consider your market, get to know it deeply, and execute on a strategic level. Good luck! 👍
Sarah Clark is the president of Mitchell, an award-winning public relations firm that creates real conversations between people, businesses, and brands through strategic insights, customized conversations, and consumer engagement. The agency is headquartered in Fayetteville, Arkansas — with offices in Chicago and New York City — and is part of Dentsu Aegis Network. Clark is one of the top strategic communications professionals in the country, with more than 25 years of experience in corporate communications and an exceptional track record in protecting corporate reputations and redefining perceptions in key areas of business.
Ellevate Network is a global women's network: the essential resource for professional women who create, inspire and lead. Together, we #InvestInWomen.
Calling all HuffPost superfans!
Sign up for membership to become a founding member and help shape HuffPost's next chapter
This post was published on the now-closed HuffPost Contributor platform. Contributors control their own work and posted freely to our site. If you need to flag this entry as abusive,
send us an email
.