The one politician clearly taking advantage of new age social media platforms is Hillary Clinton. Hillary Clinton is active on Twitter, Instagram, Linkedin and even Genius.com. Her first Instagram post generated buzz online with the level of wittiness we would expect from Hillary.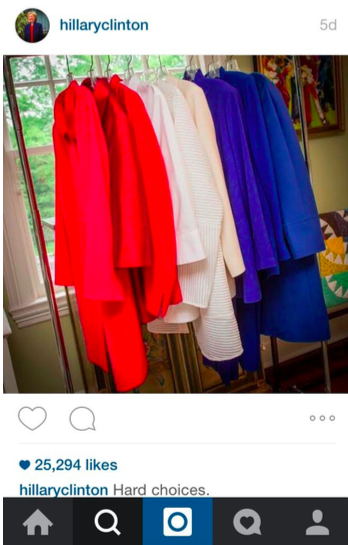 Her caption "Hard Choices" is a reference to the title of her memoir and her Instagram post pokes fun at her reputation for wearing pant suits. Hillary Clinton's willingness to engage her potential voters on these platforms is admirable but is she bold enough to take it a step further? Here are 3 bold suggestions for Hillary Clinton to continue to win over millennials for this upcoming election.
1. Snapchat. Snapchat has an incredible feature called "My Stories" which allows for users to share photos or videos to their own "Stories" section where it is visible to all friends. The stories can be accessed for 24 hours and then it is automatically deleted. For a candidate such as Hillary Clinton, Snapchat would be a great platform to just present everyday content of what Hillary Clinton enjoys doing during her free time or how she spends time with her family. Snapchat is an opportunity to convey how relatable she is to the average American. Since stories on Snapchat disappear in 24 hours there's no need to make all of the content of serious political nature. She can take the opportunity to show the general American public, in particular millennials, how personable she is and how she is not far removed from the average American. With a popular Instagram and Twitter page, Hillary could create a Snapchat username and easily gain a following by advertising that username to the previously mentioned platforms.
2. Vine. Vine is a pretty straightforward platform. It allows users to create up to 6 second videos that loop after completion. The platform makes it easy to "revine" or share Vines as well as the other standard functions of social media platforms of its type. Vines that become popular are usually due to the combination of comedy and wit which is surely needed to create anything impressive in 6 seconds. This is where Hillary Clinton may be able to thrive. She and her camp can use Vine to portray her position on certain political topics in a more light­-hearted manner that will still garner the attention of the American public. She can also use Vine to portray in quite an entertaining and clever way any inconsistencies or misgivings she may have about her opponents' stance on political topics as well. Hillary's stance on marriage equality and immigration for example could prove to provide great material for Vine content cleverly portraying her position while highlighting the issues of those running against her.
3. Working With Social Media Content Creators. President Obama did an incredible job collaborating with influential Youtubers to participate in Q&As. These Youtubers had large followings online and in particular had the ear of the millennial demographic. Hillary Clinton can work with influential creators on Instagram, Vine, Snapchat and Youtube to ultimately build brand awareness about her and her campaign amongst the millennial generation. These would be creators who have amassed large followings by creating entertaining content. She could participate in Q&As hosted by these influencers or even have some of these influencers reposting her content onto their own pages to millions of fans. It could even be as simple as inviting influencers to join her at particular rallies and highlighting to their fans Hillary's position on key political debates. She should definitely take advantage of these creators who have the ears of millions of fans and look to see what sensical collaborations she should participate in.
Overall it's exciting to see Hillary Clinton embarking on new social media territory and exploring different ways to reach new demographics. She has already embraced some of these new age digital platforms but it will be interesting to see if she is willing to go beyond what she's already done.
Calling all HuffPost superfans!
Sign up for membership to become a founding member and help shape HuffPost's next chapter