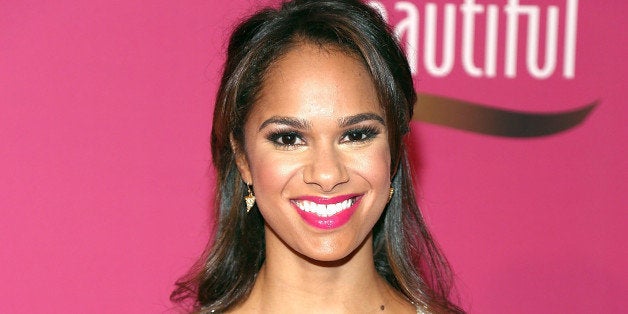 Last week my heart was filled with grief after the loss of the Charleston Nine and anticipating the president's eulogy of Rev. Clementa Pinckney. Although still grief stricken by the loss, the debate of the Confederate flag, the burning of black churches in South Carolina, Misty Copeland's epic announcement of becoming the first African-American female Principal Dancer at the American Ballet in the theater's 75 year brought inspiration to us all.
Watching Misty get filled up with emotion about her promotion at her press conference brought tears to my own eyes. I replayed the joy of her accomplishment in my own heart and head all week. All I could think about is that her spirit of perseverance is what I desire for everyone to have to towards their goals and dreams, including my own.
In a September 2014 news clip, she addressed how she handled people's objections to her dreams that challenged her late start at the age of 13 and her body shape, by saying,
"Why would I let someone's small minded opinions change my path?"
She is the hope of every young black girl to dream big no matter where she comes from, what she looks like, or when he starts.
She is the inspiration to every black woman to not give up on the relentless pursuit of the things God has placed in her hearts.
She is the legacy to every grandmother who only hoped they would live to see change like this.
Misty's news is life-changing, not only to her but to so many others.
For some, unfortunately, it's a celebration of someone else's life. For those who feel that way, life will continue on as usual, leaving the seed of their dream buried inside, never realizing that their name is Misty too.
For others, it's an inspiration to start or restart their own journey of change.
And for a few, it's sparks a new season of exploration towards their goals and dream, creating a renewed level of perseverance and commitment unlike anything they've ever seen.
I encourage you, to not just celebrate Misty Copeland. Become Misty Copeland.
Become the man or woman that looks adversity in the face and says, NO! I have to keep going!
Become the man or woman that looks ridicule in the face and says, NO! I have to keep going!
Become the man or woman that looks self-doubt and feelings of isolation in the face, and yells, NO!!! I HAVE TO KEEP GOING!
There is no objection, excuse, or experience that you've ever had that can prevent you from becoming all that God created you to be.
Congrats Misty! Thank you for being a life-giving force of inspiration to so many!