Your company has become a mobile experience for customers whether you are ready for it or not. Today's multi-device consumer is increasingly accessing your information, messaging and ads on a mobile device. Your challenge is how to utilize mobile to take consumer experiences to a higher level.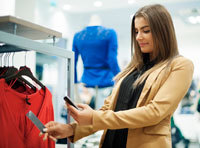 1. Mobile Has Changed the Path to Purchase
The following three types of conversations were identified as critical;
71% of shoppers who use loyalty programs still use their mobile for price comparisons.
88% of consumers say they trust online reviews as much as personal recommendations.
And, "technology, especially mobile, is having an impact on the store--changing the shopper's path to purchase."
With the knowledge that smartphones are innovating customer experiences, Outback Steakhouse is utilizing the medium to provide real-time wait time data via their "Clickthru Seating" app. The development of the app was driven by a consumer survey that discovered there was a wait of 40 minutes to be seated. According to Elizabeth Watts, director of media and community relations, "Our number one priority is to provide our guests with the best customer experience possible....Click Thru Seating empowers our guests [to] get a table when they want it."
Guests use a mobile device to access current wait times and place a reservation. This new feature is an addition to the company's existing 365 app which offers surprise deals with a countdown clock and notifications of nearby restaurant special events.
2. In-Store Mobile Use is on the Rise
39% said they would like the opportunity to earn loyalty points and save money by using in-store mobile phone offers.
45% want to receive real-time promotions via their mobile device.
3. Email Access via Mobile
Consumers and prospects are increasingly using mobile devices to access email messaging.
Email mobile-open orders increased by 58%.
Breakout of those orders by device type; 24% iPhone, 59% iPad, 16% Android phone.
Avenue, a plus-sized women's retailer understood two things about their clientele; they love their mobile phones and they love a bargain. So the company used SMS mobile messaging to connect with their customers to offer bonuses, discounts, and introductions to new fashions. The opt-in effort included traditional emails, in-store signage, and web signup links. The campaign was so engaging for customers that the company reports the mobile messages generated 97% percent open rate with 71% of users accessing deals from their smartphone.
Utilize mobile to take consumer experiences to a higher level. Don't embrace mobile for the sake of technology. Embrace it for the benefits it can bring to your consumers and for the insights that it can net for your company.
Use mobile as a positive influence tool. In the Telmetrics third annual Mobile Path-to-Purchase report it was noted that 60% of consumers used mobile exclusively to make a purchase decision.
Be sure to have responsive versions of emails and web. A study by mobile marketing firm NetElixir Inc. finds that "conversion rate for smartphone shoppers on mobile-optimized sites is 160% higher than the rate for smartphone shoppers on non-optimized sites."
Ernan Roman
President, Ernan Roman Direct Marketing Corp., (ERDM)
Inducted into the DMA Marketing Hall of Fame based on results companies achieve with three Customer Experience methodologies he created: Voice of Customer Relationship Research, Integrated Direct Marketing and Opt-in Marketing.
ERDM specializes in conducting Voice of Customer research to identify Customer Experience strategies that generate significant increases in response and revenue for clients including IBM, MassMutual, QVC, NBC, Microsoft and Norton AntiVirus.
REAL LIFE. REAL NEWS. REAL VOICES.
Help us tell more of the stories that matter from voices that too often remain unheard.